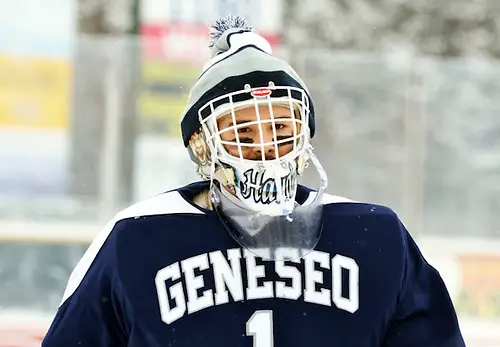 Life with those Ice Knights from Geneseo has been something of an elevator ride in recent weeks.
Up and down.
You need look no further than last weekend when the Knights, themselves SUNYAC title contenders, dispatched league leaders Plattsburgh one night, then were drubbed by last-place Potsdam the next.
Yet even with those waves and dips has been the steady presence of junior goalie Bryan Haude.
Haude has backboned six of Geneseo's eight conference wins this year – with sophomore Nick Horrigan racking up the other two – and now has three SUNYAC goalie of the week nods this season.
The latest honors came for last week's toil, which saw him set new career saves marks on successive nights.
It's fair to say that the Knights might not have toppled Platty without Haude's 39-save effort.
Even so, Haude felt that there was plenty of credit to spread around for beating the nation's No. 4 squad.
"We played an amazing team game," said Haude. "Everyone bought into systems and wanted to fight for one another every shift. I also felt that our coaching staff prepared us for everything Plattsburgh was going to throw at us. Lastly, our fans [2,239 strong in cozy Ira Wilson Arena] created an amazing atmosphere and really made us elevate our game to another level."
You might even say that without his 42 saves the following night, the margin would have been even more lopsided against the keenly-motivated, upset-minded Bears.
"Obviously, after winning a big game against Plattsburgh, losing to Potsdam is not a good way to end the weekend," Haude said. "The SUNYAC is a strong conference with any team being able to win on any given night. Potsdam came to play and came out on top that night. As a team, we are looking forward and not focusing on the past."
That said, Haude explained that he and his mates can feel the Knights gaining a head of steam as they head to the playoffs, three weeks hence.
"I think we have been playing some really good hockey as of late," he said. "We have had a few losses [Elmira, Nazareth and Potsdam] that we felt we should've played better. But we have great leadership from our seniors that will guide us down the stretch. We just need to bear down, learn from our mistakes and do the little things right all the time for success to follow."
Players of the Week
The SUNYAC's player of the week laurels went to Brockport sophomore d-man Chris Luker, who scored the game winner (plus an assist), for B-port in Friday's 4-1 win over Potsdam, then repeated the output the following night in the Golden Eagles' 5-4 loss to Plattsburgh.
Rookie of the week honors wen to Fredonia freshman forward Blake Forslund, whose two goals and one assist helped the Blue Devils to a pair of wins over Morrisville.