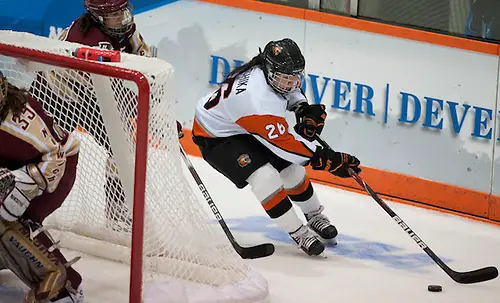 Depending on how a team's season has unfolded to date, the postseason can either bring the most excitement of the year or a time when people turn their attention to something else like spring sports or vacation getaways. Thirty of the 34 teams in Division I conferences are still in contention for tournament championships, so most still belong in the first category. Of those 30 teams, 13 have won their current league's tournament in the past, as has a 14th team in Brown that didn't qualify for the postseason, while the other 17 are attempting to make program history.
After the grueling marathon that is the five-month regular season, league tournaments are wrapped up in eight or nine days, requiring two, three, or four wins to earn the championship, depending on the conference and seed. The winner doesn't have to stand the test of time; it only need string a few great games together.
The initial step for any eventual playoff champion is to advance out of the first round. Only Mercyhurst and Robert Morris, with quarterfinal byes in the CHA, are assured of doing so. Beyond that, last year's history favors the higher seed playing on home ice. Because of the byes, the CHA only has two quarterfinal series, and a year ago, the home team prevailed in both. In the other three leagues, the higher seed advanced in three of the four series. The exception in each case was the fifth seed upsetting the team seeded fourth.
Each conference has at least one team that is seeking its first crown starting play at home. In the ECAC, top-seeded Clarkson falls into that category, and is perhaps best positioned to join the list of those having won a conference tourney as it hosts Dartmouth.
"I use the term 'the gap' between our top and our teams in the second tier, if you will, over the years," ECAC Hockey Commissioner Steve Hagwell said. "The gap has closed considerably in recent years, and continues to close. I wouldn't be surprised by any perceived upsets in our quarterfinals. If you look at the games last weekend, Princeton knocked off Cornell, Clarkson needed overtime to beat Union, and Yale has beaten Harvard at home earlier in the year as examples, and four versus five is always tight. I've been really impressed by our women's league, how tight the teams have been this year, and it has just been building that way. It's becoming more and more like our men's league from top to bottom."
The Big Green won their way into the field by winning games from Brown and Yale on the final weekend. Conversely, they got spanked, 6-1, by Clarkson two weeks ago. However, the postseason offers a fresh start for all, so parity may have life in even a series matching an eighth seed at a No. 1.
"There may have been a lot of times where we do the same thing," Hagwell said. "You talk about how tight a league is, you want that to come across, but gosh, just looking at this year, it really could be; I wouldn't be surprised by any matchup going with a lower seed."
That the regular-season battles in the ECAC for first place, fourth place and the final home-ice spot, and eighth and the last qualification into the tournament all went to the final weekend speaks to its competitiveness this year. The conference's other pairings include Harvard hosting Yale, as the Bulldogs return to the postseason for the first time since 2008, Princeton visiting Cornell in another all-Ivy tilt, and Quinnipiac attempting to fend off St. Lawrence and keep alive the dream of competing in the Frozen Four in addition to hosting it.
Parity is at a disadvantage in the CHA. Half of the teams are completing their second year competing at Division I and as league members, although RIT moving up to finish third serves notice that the Tigers don't intend to remain novices much longer. The other flaw in a doctrine of equality is that Mercyhurst always wins, or at least almost always. Robert Morris forced the Lakers to accept the role of CHA runner-up two years ago. The league's tournament gets underway Friday with RIT hosting Penn State and Lindenwood venturing to Syracuse.
Of course, the CHA isn't the only league that tends to be a bit top heavy.
"We like a lot of leagues have a little bit of a dynamic that's not as attractive where we have the same teams seemingly at the top of the pyramid all the time," said Hockey East Commissioner Joe Bertagna. "If you look at our tournament, BC, BU, and Northeastern in recent years have been pretty dominant at the top. In the early years, it was Providence and UNH. So we need to break that dynamic, as most leagues do, and it was good to see Vermont this year climb into the top four."
Fourth-seeded Vermont hosts Maine, a team that made a late surge up from the bottom all the way to the fifth spot. Northeastern made a charge of its own to tie Boston University in points, but the Terriers took the tiebreaker. Thus, BU will host Providence while Northeastern entertains Connecticut and New Hampshire journeys to Boston College. The Hockey East quarterfinals are single games, not best-of-three series, with the four winners moving on to the semifinals at Hyannis for at least one more year.
"The people down there have worked really hard," Bertagna said. "We have a contract for one year with an option for 2015 if certain incentives are met, both quantitative, the crowd, and qualitative with some of the things we've asked them to do. They've been absolutely terrific. If there's any issue going forward, it is when you bring a major event off campus, you don't have all of the comfort that exists in a campus facility. But having said that, I don't think the people could have done more. When this tournament is up, we'll look at the numbers, we'll look at all the suggestions that we made and how they responded, and if contractually they meet certain benchmarks, then 2015 we'd continue."
After March 2015, bigger changes are on tap for Hockey East with the addition of Merrimack.
"When you've only got eight schools, when you're playing the same schools, you've got 21 league games and 13 nonleague games," Bertagna said. "It's nice to get an extra opponent in there and shift that balance a little bit. I'm sure when we go to nine teams, we'll have 24-game league schedules, which I think is a little bit larger sampling to crown a champion and to spread the games out. I think the other part of logistics is just that. Geographically, [Merrimack] sits in the middle of our league and with the new resources they've put into their rink in the last three or four years, I think all that just plays to being a plus for us all."
Bertagna doesn't think there will be any undue haste to grow beyond nine teams.
"We went through it this year on the men's side with 11 schools and it created down the stretch a lot of teams with a bye weekend," he said. "Next year when Connecticut comes into our men's league, we're just going to plug them into those bye weeks, and we'll be fine. But you're right, we're kind of blessed with what is considered a long trip for us in Maine and Vermont, which in reality isn't really that far away. Because of the number of local schools, we play midweek or break up weekends. We can probably do a schedule that keeps everybody playing, even if it's a single game right through February. So we're excited about it.
"The other part that comes with that last question is will we feel a need to even it out to get to a 10th team? We never looked at it as a math problem. We never wanted to get to a number; even if it is easier in many ways to have 10 than nine, we're not going to compromise who we go after to get to a 10th spot. Any men's program that wants to add women's hockey, under our bylaws, can automatically do it. So for example, if the University of Massachusetts or Mass.-Lowell wanted to go varsity and go into the Hockey East Women's League, it's not a matter of having to apply, it's automatic. But there really wouldn't be an attempt to just to get to team number 10. It would have to be somebody that we think would be a good addition qualitatively, not just quantitatively."
Neither will the arrival of the Warriors mandate an addition to the playoff field.
"We haven't confirmed this because we haven't had league meetings, but I believe the intent is to do what the men did when they had nine teams and that would be to keep it an eight-team tournament," Bertagna said. "We didn't go to everybody gets in on the men's tournament until this year, actually. We've always eliminated somebody. And I think there's a philosophy that, hey, if you're at the bottom, then you haven't really earned a playoff position. And I think there's a lot of support for keeping that. On the women's side, there's also a little bit more of a challenge financially. The women's tournament doesn't make money. Pretty much across the board, these tournaments lose money. Whereas on the men's side, you might add an extra position, an extra round, to get everybody involved, but it also pays for itself."
In the WCHA, Sara Martin will be retiring as commissioner after the season, and she doesn't see many changes coming to the league. She said that while there always tend to be conversations centered around, "What if?" scenarios of certain schools adding women's hockey, no one in the WCHA's geographic area has made plans to join the conference.
With the membership stable at eight teams, Martin expects a continuation of the league's schedule format, where each team plays each rival WCHA team twice at home and twice on the road. Martin says that although the 28 conference games place limitations on the teams' nonconference schedules, the programs are happy with the arrangement and not looking for a change.
The WCHA has changed its playoff format a few times during its history that began with the 1999-2000 campaign. For its first two seasons, all seven teams participated in a single-elimination at a single site. For the next three years, only the top five qualified for the tournament. When North Dakota joined the league in 2004-2005, all eight teams were included. The tournament was single-elimination at one site over four days in 2005, but in 2006, it moved to the current format of best-of-three quarterfinals hosted by the higher seed, followed by semifinals and finals at one location on the following weekend.
This year, Minnesota meets St. Cloud State, Wisconsin hosts Minnesota State, Bemidji State goes to North Dakota, and Ohio State travels to Minnesota-Duluth.
Martin has served as the league's commissioner since its inception, and it has produced a national champion every year. For the first six years, those banners were split between UMD and Minnesota, before Wisconsin joined the mix for both NCAA and WCHA titles.
While she has been happy to see the improvement of teams throughout the standings, Martin said it would be nice to see the championships spread more evenly throughout the league. While she can at times feel a bit sorry for the coaches of the teams that have to try to compete with fewer resources, she notes that teams in the men's WCHA over the years have been able to rise to the top in spite of such disadvantages.
Last year, North Dakota became the fifth program to reach the WCHA's championship game, and Ohio State has also only played in the title game once. With Minnesota and Wisconsin ranked first and second in the country, this may not be the season where a new team breaks through.