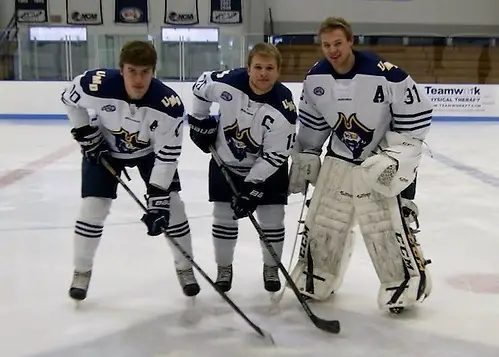 The Massachusetts-Dartmouth bounces just didn't go the way of the Corsairs in the 2013-14 season.
The defending MASCAC champions saw their season come to an end this past Tuesday night with a 4-2 loss to the Fitchburg State and will miss the postseason for the first time in 30 years.
A win would have propelled them into the conference tournament with a Worcester State loss to Salem State.
UMass-Dartmouth finished the season 5-18-2 overall and 5-13-0 in the MASCAC.
"It was just one of those years," UMass-Dartmouth coach John Rolli said. "At the beginning of the year, we had leads most of the games in the first semester."
Rolli said two things on the season that did his team in were giving up leads and giving up late goals.
He stated examples against Salem State early in the season where they jumped out to 3-0 lead only to lose 4-3 in overtime or giving up the game-winning goal against Framingham State with seven seconds remaining.
"Even though we were one point ahead of Worcester [State] and then we fell one point behind Worcester, making the playoffs was really in front of us," Rolli said. "For as bad of a season as we had, it went down to the very last game, very last period. We kept telling the team we needed to do something to help ourselves because we were losing and so was Worcester."
UMass-Dartmouth won two out of three games against Worcester State, but Worcester State's 3-3 tie with Framingham State was the one-point difference that put the Lancers into the quarterfinals against No. 3 seed Westfield State on Saturday.
Rolli said his squad couldn't muster a third goal in the third period to try to tie the game up before Framingham State added the fourth goal into an empty net with three seconds remaining in the game.
The coach also explained how he knew it was going to be a learning year after losing 11 players from last season's squad.
"We knew it was going to be a challenging season ahead for us and it proved to be more challenging then we could have expected," Rolli said. "That's what happens to programs. We will see some resiliency and we will bounce back sooner rather than later."
For Rolli, he will spend the weekend recruiting and has already picked up a handful of players for next season.
"You can feel sorry for yourself or you can cry about it or do something about it," said Rolli. "Certainly, we have been working hard in recruiting this year. We already got five commitments for next year and we are looking to add more. We are looking to redesign our lineup, so to speak."
The other quarterfinal game on Saturday is Framingham State hosting Fitchburg State. The winner will play No. 1 seed Salem State next Tuesday (March 4). No. 2 Plymouth State will get the Worcester State-Westfield game winner, also on Tuesday.