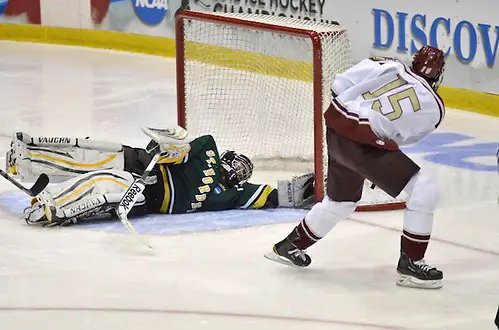 The NCHA announced Friday the men's All-NCHA Team, player of the year, coach of the year, freshman of the year and All-Freshmen team.
The awards were voted on by the league's head coaches.
St. Norbert junior goaltender David Jacobson is the NCHA player of the year. Through games of Feb. 27, Jacobson posted a 17-1 record, a 1.28 goals-against average (1.08 in the NCHA) and a .935 save percentage.
"David is a very competitive kid and he's a very athletic kid," said St. Norbert coach Tim Coghlin in a press release. "He makes some saves that he shouldn't make. He can do things like that … He's a confident young man and that stems from his work ethic and his preparedness."
Coach of the year is third-year Lake Forest bench boss Ryan McKelvie and top freshman is St. Norbert defenseman Blake Thompson.
St. Norbert led all schools with five players named to the All-NCHA team and Adrian was the lone school to send two players to the six-member All-Freshmen team.
2013-14 NCHA All-Conference Team
| Player's Name | Position | Class | School |
| --- | --- | --- | --- |
| Mason Baptista | F | Jr. | St. Norbert |
| Bobby Barrett | F | Jr. | Lake Forest |
| Duston Hebebrand | F | Jr. | Adrian |
| Tyler Klein | F | Sr. | Marian |
| Brandon Nowakowski | F | Sr. | St. Scholastica |
| Joe Perry | F | Sr. | St. Norbert |
| Ben Certo | D | So. | Lake Forest |
| Marian Fiala | D | Jr. | St. Norbert |
| Ryan Gieseler | D | Jr. | Adrian |
| Blake Thompson | D | Fr. | St. Norbert |
| Tyler Bruggeman | G | So. | St. Scholastica |
| David Jacobson | G | Jr. | St. Norbert |
| Leo Podolsky | G | So. | Lake Forest |
2013-14 NCHA All-Freshmen Team
| Player's Name | Position | School |
| --- | --- | --- |
| Jack Lewis | F | Lake Forest |
| Brett Pinkerton | F | Adrian |
| Blake Roubos | F | Lawrence |
| Michael Hoy | D | Adrian |
| Blake Thompson | D | St. Norbert |
| Austin Campbell | G | Milwaukee School of Engineering |