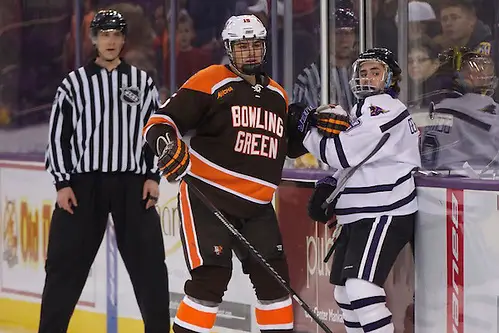 If you're wondering how the first round of the WCHA tournament might play out, all you need to do is go back a week, Minnesota State coach Mike Hastings said.
"Such a fine line," he said.
WCHA playoffs
See the tournament bracket and get links to schedules and stories at WCHA Playoff Central.
Ferris State won the MacNaughton Cup as the league's regular-season champion,
twice
edging
Lake Superior State 2-1. Meanwhile, Hastings' Mavericks missed out on a share of the trophy by one point after
a 3-0 win
(with all three goals coming in the game's final four minutes) and
a 1-1 overtime tie
with Michigan Tech.
"We needed a little more finish; we had some opportunities," Hastings said.
Saturday's tie was costly for the Huskies, too. Instead of hosting a playoff series this weekend, they will go on the road to Bowling Green.
According to Michigan Tech coach Mel Pearson, a another trip to Ohio is better than a trip to Fairbanks, which is why he didn't pull his goaltender for a shot at the program's first home playoff series since 1993.
"We talked about it as a staff, but had we given up an empty-net goal and Alaska-Anchorage won their game later tonight, we would have been traveling to Fairbanks," Pearson said after Saturday's tie. "Plus, it would have been tough walking out of here without at least a point with how well we played."
Bowling Green swept Bemidji State, keeping the Beavers in an eighth-place tie with Lake Superior State. But since the Beavers held the tiebreaker, they're still playing and the Lakers are looking for a new coach.
In Fairbanks, Alaska split its final series against rival Alaska-Anchorage, which meant the two teams will face each other again in the playoffs, starting Thursday night (the rest of the league begins play on Friday).
"I don't believe there's any secret to success this time of year," said Hastings, whose team hosts Northern Michigan. "It's the willingness to do some real hard things — finishing checks, blocking shots. Your special teams have to be playing at a high level, and your best players have to be your best players.
"It's the same old, same old."
That might be true in style of play, but it's not when it comes to the first-round matchups in the new-look league.
Adding to the flavor of this year's playoffs is that each series pits a leftover WCHA team against an old CCHA team.
Here's a look at the matchups:
1 Ferris State vs. 8 Bemidji State
The Bulldogs took three of four games from the Beavers, winning 5-4 (OT) and 5-3 in Big Rapids Nov. 8-9 and 4-1 on Feb. 14 in Bemidji. The Beavers picked up a 2-1 win on Feb. 15, which proved to be pivotal. Bemidji State tied Lake Superior State for ninth place with 24 points. A loss or tie on Feb. 15 for the Beavers could have meant Lake Superior State was traveling to Big Rapids instead — and Jim Roque would still be with the Lakers, as would Kevin Czuczman.
About the Bulldogs
Record: 25-9-3 (20-6-2 WCHA)
Top scorers: Garrett Thompson (15-12–27), Justin Buzzeo (11-16–27), Cory Kane (12-12–24)
Top defensemen: Jason Binkley (3-19–22), Scott Czarnowczan (5-16–21)
Top goalie: CJ Motte (27-4-3, .925, 2.28)
X-factor: Ewigleben Ice Arena has been the Bulldogs' secret, but not so quiet, weapon this season. Ferris State is 14-1-1 at home this year and 13-0-1 at home in league play.
That's a fact: The Bulldogs became the third school to ever win a WCHA and CCHA regular season title on Saturday when they clinched the MacNaughton Cup. The other two schools to do it are Northern Michigan (CCHA in 1980 and '81; WCHA in '91) and Michigan (WCHA in 1964; 10 CCHA titles). Ferris won CCHA titles in 2003 and 2012.
About the Beavers
Record: 10-19-7 (10-14-4)
Top scorers: Cory Ward (18-10–28), Markus Gerbrandt (15-10–25), Radoslav Illo (10-6–16)
Top defensemen: Matt Prapavessis (5-17–22), Graeme McCormack (3-14–17)
Top goalie: Andrew Walsh (7-11-4, .912, 2.18)
X-factor: Ward is having a career year and his 18 goals are the most by a Beavers sophomore at the Division I level.
That's a fact: In four WCHA playoff appearances, the Beavers are 3-5. The Beavers reached the WCHA Final Five semifinals once by beating Minnesota-Duluth in the Final Five quarterfinals in 2011.
2 Minnesota State vs. 7 Northern Michigan
These two teams never played each other before this season, and the Mavericks took three of four games. They swept the Wildcats 3-2 and 3-0 in Mankato on Dec. 6-7 and split Jan. 31-Feb. 1 in Marquette, with Northern Michigan winning 5-2 and Minnesota State bouncing back with a 5-1 victory the next night.
About the Mavericks
Record: 22-13-1 (20-7-1)
Top scorers: Jean-Paul LaFontaine (20-19–39), Matt Leitner (9-29–38), Johnny McInnis (19-15–34)
Top defensemen: Zach Palmquist (4-17–21), Sean Flanagan (5-9–14)
Top goalie: Cole Huggins (17-7-1, .922, 1.96)
X-factor: Sophomore forward Bryce Gervais has seven of his 12 goals and 10 points in his last 11 games.
That's a fact: The Mavericks closed out the regular season on a nine-game unbeaten streak, going 8-0-1. They also had a seven-game winning streak earlier in the season.
About the Wildcats
Record: (15-19-2, 13-14-1)
Top scorers: Stephan Vigier (15-15–30), Reed Seckel (12-11–23), Erik Higby (11-6–17)
Top defensemen: Mitch Jones (3-19–22), Luke Eibler (2-14–16)
Top goalie: Mathias Dahlstrom (14-17-2, .912, 2.57)
X-factor: Freshman forward John Siemer has 18 points in 19 games since getting clearance to play on Dec. 14.
That's a fact: The Wildcats' last first-round series win was in 2009-10 in the CCHA playoffs.
3 Alaska vs. 6 Alaska-Anchorage
Due to their 2-2 record against each other during the regular season, these rivals went to a shootout last Saturday to decide the Governor's Cup (won by the Nanooks). But there's much more on the line this weekend. "Alaskans are getting their money's worth in this rivalry this season," coach Matt Thomas told the Anchorage Daily News.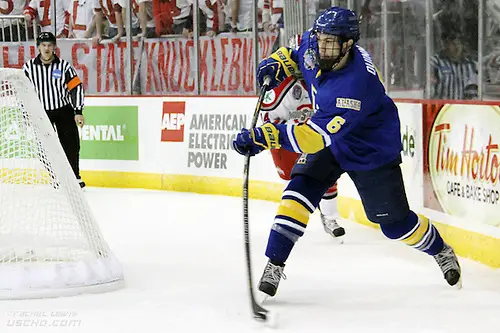 About the Nanooks
Record: 17-13-4 (14-12-2)
Top scorers: Cody Kunyk (22-20–42), Colton Beck (13-23–36), Tyler Morley (17-17–34)
Top defensemen: Colton Parayko (4-19–23), Michael Quinn (2-19–21)
Top goalie: Sean Cahill (9-4-1, .906, 2.28)
X-factor: Defenseman Josh Atkinson leads the WCHA in plus-minus at plus-25.
That's a fact: The Nanooks closed out the season with a 9-2 record and are 12-5-2 since Dec. 7.
About the Seawolves
Record: 16-14-4, 12-12-4
Top scorers: Matt Bailey (18-17–35), Scott Allen (16-12–28), Jordan Kwas (12-16–28)
Top defenseman: Austin Coldwell (4-12–16)
Top goalies: Rob Gunderson (7-5-2, .910, 2.30), Chris Kamal (5-5-1, .896, 2.70)
X-factor: Sophomore Blake Tatchell leads the Seawolves with 19 assists and was the team's leading scorer as a freshman.
That's a fact: In the teams' only postseason meeting, Anchorage defeated Alaska 4-3 in overtime. That was on March 7, 1992, in the NCAA Division I independents tournament.
4 Bowling Green vs. 5 Michigan Tech
The Falcons and Huskies met four times this season with each team finding more success in the opposing team's rink than their own. Bowling Green won 3-2 and tied 4-4 on Dec. 6-7 in Houghton while the Huskies revived their season with a sweep in Bowling Green 5-2 on Jan. 31 and 5-4 on Feb. 1.
About the Falcons
Record: 16-14-6 (13-11-4)
Top scorers: Dan DeSalvo (7-21–28), Bryce Williamson (11-15–26), Mark Cooper (14-10–24)
Top defensemen: Ralfs Freibergs (3-18–21), Sean Walker (2-11–13)
Top goalie: Tommy Burke (12-6-6, .909, 2.48)
X-factor: Burke has been his best at home, going 7-2-2 with a 2.05 GAA and .912 save percentage. One of his two home losses came against Tech.
That's a fact: The Falcons are facing a team from Michigan's Upper Peninsula for the fourth time in four years in a first-round playoff series, but this is the first time they've hosted in that span. All three series have gone three games with a Bowling Green loss Friday and wins on Saturday and Sunday. The Falcons upset Northern Michigan in 2011 and 2012 and Lake Superior State in 2013.
About the Huskies
Record: 14-17-7 (12-11-5)
Top scorers: Blake Pietila (8-19–27), Alex Petan (11-15–26), Tanner Kero (15-10–25)
Top defensemen: Shane Hanna (4-18–22), Riley Sweeney (0-8–8)
Top goalie: Pheonix Copley (10-11-6, .912, 2.47)
X-factor: No one has taken one for the team more than defenseman Cliff Watson. He finished the regular season with a nation-leading 97 blocks in 38 games, or 2.6 pucks to the body each night.
That's a fact: The Huskies tied on seven occasions this season and went into overtime 11 times in 38 games. Tech went 2-2-7 in OT during the regular season.
Around the WCHA
• As mentioned above, coach Jim Roque and junior defenseman Kevin Czuczman are no longer with Lake Superior State. Both left the program Tuesday afternoon, but on different terms. Czuczman, who is graduating this spring, decided to forgo his senior season and sign with the New York Islanders. Meanwhile around the same time, Roque was told his contract would not be renewed after nine seasons as head coach of the Lakers. The university was quick to tout Czuczman's good news but waited until 10:30 p.m. EDT to announce it was making a coaching change.
• The WCHA will be announcing its all-conference teams and postseason awards around 5 p.m. EDT Thursday. Awards are voted on by coaches, sports information directors and players.
• The first round of the WCHA playoffs will be streamed online through America One Sports, but those who bought WCHA TV season passes won't get access to the games. Fans must pay $9 per game — not per day or for a 24-hour pass, but for one game — meaning a three-game series for your team can cost up to $27. The Final Five will not be streamed online. The league is announcing WCHA Final Five TV coverage on Friday, but if you check your TV listings, you'll find it listed on Fox Sports Detroit, SportsTime Ohio, FS North and FS Wisconsin. FS Ohio doesn't appear to have complete coverage.
• WCHA players of the week: Alaska forward Cody Kunyk and Bowling Green's Kevin Dufour (co-offensive), Ferris State defenseman Scott Czarnowczan (defensive) and Bowling Green defenseman Sean Walker (rookie).