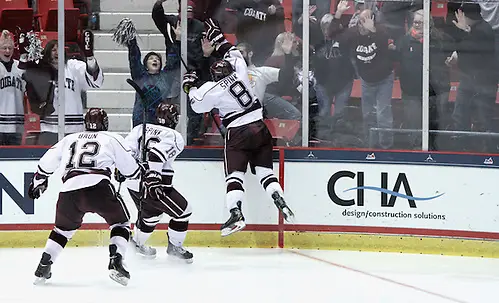 LAKE PLACID, N.Y. — Is it Colgate fate?
Let's not get ahead of ourselves, but there is no denying that Friday's thrilling last-minute, comeback, overtime victory over Quinnipiac signified a multilayer breakthrough for the program from Hamilton, N.Y.
ECAC Hockey playoffs
See the tournament bracket and get links to schedules and stories at ECAC Hockey Playoff Central.
First layer: Sophomore right wing Kyle Baun scored his first goal since notching a hat trick against Princeton on Jan. 25, and boy was it a big one.
Baun's goal at 19:04 of the third period lifted Colgate into a tie, and ultimately forced overtime for only the 15th time in 52 years of ECAC Hockey semifinal action.
"To be honest, I didn't even really see it. I was just whacking away, and luckily my stick hit it," Baun said.
"I think progressively, we've been sorta getting there, getting there, getting there," Baun said later, assessing his team in terms that could easily be applied to his own evolution. "And now that we have the opportunity to actually finish in overtime, it's a breakthrough."
Second layer: Not only had Colgate not won an overtime game this season; it hadn't even experienced a decision. In five extra-time contests, the Raiders had five ties.
The team had a big "win" at Minnesota in the Mariucci Classic in early January, but that was a tournament shootout win. Otherwise, there has been a lot of sister-kissing for these guys.
Third layer: In nine tries this season, the Raiders had been unable to manufacture an extra-attacker goal at the end of the game. And yet, here in try No. 10 …
"We just stuck with it," Baun said. "One goal they had, they got a lucky break on a play down the middle four-on-four. That was a mental lapse on our end, so we felt like we almost gave that to them.
"We were due. We felt that it was our game in overtime, we felt like the dominant team, and honestly I think we could've won that game a little earlier … but it's fun to keep it entertaining."
Fourth layer: The Colgate program had not — until Friday — made it to a league championship game in 24 years.
Only one member of the team was even alive in 1990, and that was redshirt junior Spiro Goulakos, born Feb. 16, 1990. Back then, the team was still the Red Raiders, the coach was Vaughan's predecessor Terry Slater, and the 31-6-1 Red Raiders made it all the way to the national championship game before losing to Wisconsin 7-3 at Detroit's Joe Louis Arena.
"Me, personally, I've been here a number of times," said coach Don Vaughan. "It's the first time we've been to a final. We've been to the semis a lot, so it's exciting for everybody.
"It feels like a breakthrough game simply because we haven't been there," he said. "So until you get there, it has to look and feel like that. The guys in the room know. They know the number. They know that we haven't been there in a while, but they don't talk about it. The team is — it's probably one of the most focused teams I've ever coached, and for a young group. That's been one of the defining points of this team."
In 1990, Vaughan was an assistant coach at Cornell, working under Mike Schafer's predecessor Brian McCutcheon. Team captain Goulakos was a month and a half old. The maroon Raiders were Red, and national championship contenders.
Two-dozen years later, these Raiders are red-hot and feeling like contenders again. Who knows … maybe it's meant to be.