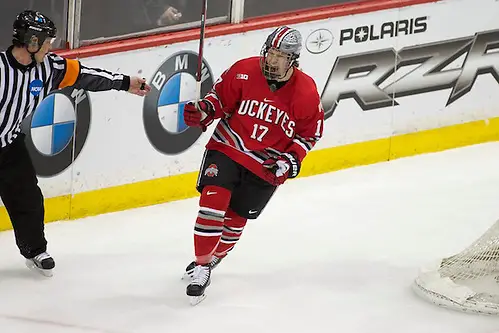 ST. PAUL, Minn. — Ohio State came into the Big Ten tournament knowing that it needed three wins to advance to the NCAA tournament.
With the thought of being a bubble team not even on their radar, the Buckeyes didn't have far to look for an example that what they were trying to accomplish was indeed possible.
Big Ten tournament
See the tournament bracket and get links to schedules and stories at Big Ten Playoff Central.
"I told them it can be done," Ohio State coach Steve Rohlik said. "I was there. I just told our guys, 'You've got the two games behind you, tomorrow you're going to feel great.'"
Rohlik was an assistant coach on the 2008-09 Minnesota-Duluth team that won the championship at the WCHA Final Five and advanced to the tournament. He hopes to do the same thing as the head coach of the Buckeyes in the inaugural Big Ten tournament.
"It's three games in three nights, but we also have another opportunity to play another good hockey team in Wisconsin and you're playing for a Big Ten championship and you're playing a chance to get in the NCAA tournament," Rohlik said. "I think our guys are pretty excited about that chance. And, like I told them before, this can happen."
The Buckeyes defeated Michigan State 2-1 in overtime on Thursday night and followed that up with a 3-1 victory over top-seeded Minnesota on Friday. Ohio State will play Wisconsin in the Big Ten tournament championship game at 7 p.m. CDT Saturday.
"I'm really proud of our guys," Rohlik said after Friday's game. "To come out here and play the No. 1 team in their backyard, obviously our guys have never played here on a big stage, and I thought we played well. We played well enough to win the game tonight. We bent but we didn't break."
Sometimes players tend to shy away from talking about the big picture and claim that they are taking things game by game. Forward Ryan Dzingel was not bashful after the game on Friday.
"I definitely would look a little bit ahead," he said. "None of these guys in our locker room have ever felt that feeling or ever gone [to the tournament]. We look ahead, but that's not going to affect our game at all here. We know the task at hand and we have to win tomorrow."
Dzingel added that knowing that they have to win has changed the way the Buckeyes have played a little, and that the motivation to keep winning is easy to find.
"You look at those four seniors in our locker room, they're done if we lose," Dzingel said. "So that feeling is a lot different."