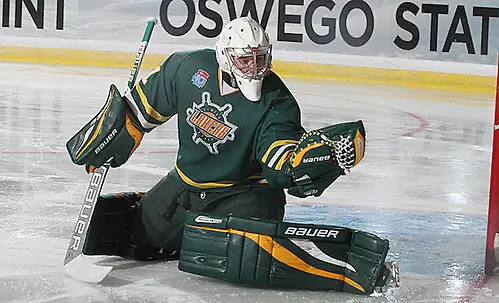 LEWISTON, Maine — Brandon Jaeger has been stellar all season long for Wisconsin-Stevens Point.
This season, he's 20-5-1 with a 1.88 GAA and a .928 save percentage.
Friday night was more dominance in the national semifinal against Oswego as he made 45 saves in the 2-1 victory to send the Pointers into the national title game.
He made 18 saves in the third period to hold the Lakers at bay.
"You definitely get in a zone when there's a lot of shots," Jaeger said. "You don't have time to think in between every shot when you get peppered all night. You certainly get focused and mentally into the game."
UWSP coach Chris Brooks said Jaeger likes to show up in the big games. He pointed to last week's quarterfinal game over St. Thomas where he made 25 saves for the 3-0 shutout
Brooks wanted to make sure he didn't want to put Jaeger in an unbearable position by getting in a run and shoot-type of game.
"We didn't want to open the game up with them in a track meet transition game," Brooks said. "We wanted to play the game in a cycle."
At the other end, Matt Zawadzki was also stellar in stopping 29 shots for Oswego. He made 17 of those in the first period.
"When you see shots early in the game, it gets you in a rhythm and get a good sweat on early," said Zawadzki. "When you are at the point of the season like this, you are, I am expected in the first 10 (minutes) or last 10 (minutes) to hold down the net whenever they attack and I was able to do that early."
He knew his team was throwing everything at Jaeger and he just needed to keep his team in striking distance in the third period.
"They brought a good offense all game long," Zawadzki said of the Pointers' offense. "In my mindset in the second and third, we needed to try to keep it within one if we wanted a chance to get back in. We did a very good job of that and we took it down to the very last second. It's disappointing we couldn't get the job done, but we maintained ourselves and played a good hockey game."
Zawadzki finishes the season with a 15-3-2 record, a 2.16 GAA and a .922 save percentage.