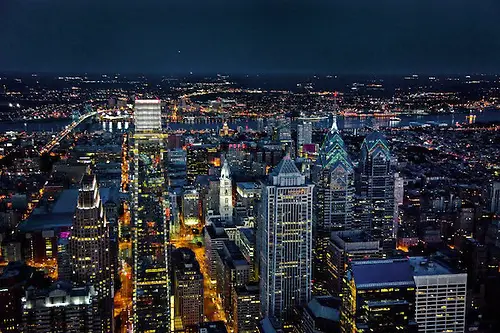 PHILADELPHIA — This weekend, Philadelphia will host its first Frozen Four. It's hard to imagine that a city with such a sports history, particularly in hockey, hasn't hosted this event in the past.
But it is only recent years where the college game has begun to grow in popularity across the Keystone State.
2014 Frozen Four
Follow all of USCHO's coverage at Frozen Four Central.
So after traveling to the western border of the state a year ago, we're now embarking on a journey through the southeastern part of Pennsylvania. And while there will be plenty of great hockey to watch regardless, here are five things you should know about this city that might make your stay even more enjoyable.
1. This might not be D.C., but there is plenty of history in this city.
Many people remember the 2009 Frozen Four in Washington, D.C., for the ability to be surrounded by history.
While you may think of next year's Frozen Four in Boston as the next city in which you can make it an educational visit for those who love history, don't forget that Philadelphia is the birthplace of the Declaration of Independence and the Constitution.
"For people who are staying downtown, you have Independence Hall at 5th and Chestnut and the Liberty Bell is right across the street," said longtime college hockey scribe Ken Schott, who covers Union hockey for the Schenectady Daily Gazette and will be covering his team in the Frozen Four in his hometown of Philadelphia.
"You also have Betsy Ross' House and a lot of historic buildings in downtown Philadelphia."
If you're looking for old sports landmarks, you can venture to Boathouse Row, where some of the nation's greatest rowing races have taken place on the Schuylkill River, or the Germantown Cricket Club, a national landmark and one of the four principal cricket clubs in the city.
If culture is more you're thing, Philadelphia is the site of the houses of poet Edgar Allen Poe and famed jazz saxophonist John Coltrane, both national landmarks.
2. We all know Philly is famous for cheesesteaks, but when you ask around, there are only two places to get one.
Just as the focal food of last year's Frozen Four in Pittsburgh was Primanti's loaded sandwich, across the state in Philly you better not leave without having a cheesesteak.
But if you ask around to those in the know, there are only two places you should go for that cheesesteak: Geno's or Pat's.
The two are located across the street from one another at the intersection of 9th and East Passyunk Avenue, about five miles from the Wells Fargo Center. Think one is preferred to the other? Think again.
Two national champions each gave their input.
"Geno's, definitely Geno's," said Boston College's Johnny Gaudreau, who hails from nearby Carney's Point, N.J., and won the title in 2012 (and is looking for another this weekend).
The same isn't true for Colby Cohen, who grew up in Villanova, Pa., before winning the 2009 national title with Boston University. He prefers Pat's.
"It's all about personal preference," said Cohen.
3. Cheesesteaks aren't the only good food in this town.
In addition to the city's famous sandwich, there are plenty of great restaurants in this city. Cohen suggests heading to historic Rittenhouse Square to check out places like Parc, Devon and Serafina.
The Reading Terminal Market, located in the historic train depot that once was headquarters of the famed Reading Railroad (remember the board game Monopoly?), is a huge indoor farmer's market where you'll find almost anything your palate desires.
"Reading Terminal Market is a great place to sample foods," said Schott. "It's a great place I remember from when I was growing up."
And if you want your typical low- and high-end chain restaurants, the King of Prussia Mall is just 25 minutes from downtown and is perfect to find whatever dining options you want.
4. If you want to feel like Rocky, here's your chance.
If you're a fitness enthusiast, Philly may be the place where you get to emulate one of the silver screen's most iconic boxers.
Run up the stairs at the Philadelphia Museum of Art to duplicate the run made by the best on-screen boxer of all time, Rocky.
Worried that you'll be too "touristy" by doing so? Don't.
"People do a [running] loop and that's part of it," Cohen said of the iconic stairs.
You just may want to avoid getting to the top and celebrating with your arms in the air — unless, of course, you're looking to mimic the champ next to his statue, which is located at the top of the stairs.
5. If your team wins the Frozen Four, be nice to the locals — they're not used to winners.
Whatever you do, don't over-celebrate winning in Philadelphia. The locals will certainly be jealous.
Yes, the Phillies won the World Series in 2008, breaking what many called the "Curse of Billy Penn." According to legend, many Philadelphians believe that in 1987, when One Liberty Place was built in Philadelphia, so began the curse.
Prior to One Liberty, the tallest building in the city was Philadelphia City Hall, atop which stands a statue of city founder and the original proprietor of the then-British colony of Pennsylvania, William Penn.
After the curse began, Philly teams formed a long line of losing when championships were on the line. Eight times Philly teams reached either a conference final (football) or played for their respective sport's championship, only to lose.
The good news was that in 2007 the Comcast Center was built in downtown and became the city's tallest building. Hoping to reverse the curse, two workers placed a small figurine of Penn at the top. And in 2008, of course, the Phillies won.
Still, Philly fans have suffered a lot of sports futility, so be sure to be nice to the locals. They know too much about sports pain.
"We're passionate sports fans," said Schott. "We want our teams to win. We want them to do well. Sometimes we just get frustrated to the point where you wonder if they're really putting in the effort."