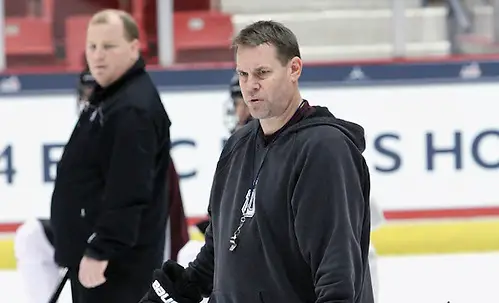 Union coach Rick Bennett has been named the Division I men's coach of the year by the American Hockey Coaches Association.
Bennett, who on Thursday leads his Union team into its second Frozen Four in three years, will get the Spencer Penrose Award at the coaches association's annual banquet in Naples, Fla., on May 3.
Related: Spencer Penrose Award winners
Union has won a program-best 30 games this season and plays Boston College in the national semifinals. The Dutchmen have a 15-game unbeaten streak (14-0-1) entering the Frozen Four.
In three seasons coaching the Dutchmen, Bennett has a 78-27-16 record. His teams have won five of the six ECAC Hockey championships awarded during his tenure, including both the regular season and playoff titles this season.
Bennett is the second Union coach to win the award in the last four years. His predecessor, Nate Leaman, won the Spencer Penrose Award in 2011.