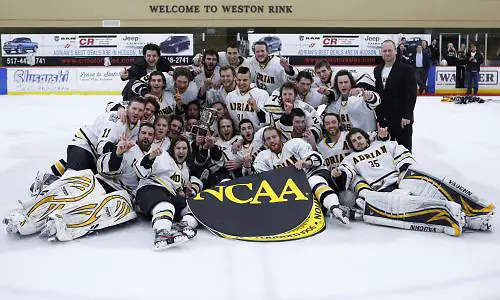 Ron Fogarty, who leads all active NCAA coaches in winning percentage, has been named the head coach at Princeton.
Fogarty has spent the past seven seasons as head coach at Division III Adrian.
"I am thrilled to have Ron join our distinguished team of coaches at Princeton," said Princeton incoming director of athletics Mollie Marcoux in a statement. "Ron is an accomplished coach with a proven track record of success, both as a player, assistant coach and head coach. I am confident that he will provide the knowledge, experience and creative leadership needed for our program to thrive on an Ivy, ECAC and national level. Ron also brings to Princeton an appreciation of the demands of being a high-level student-athlete and will work hard to help provide our players with a first-rate experience, on and off the ice."
Fogarty began the program at Adrian and has posted a 167-23-10 record. The Bulldogs have competed in the NCAA tournament four times in the last five years and was the national runner-up in 2011. The Bulldogs won six regular-season titles competing in the NCHA and MCHA and five Harris Cup playoff championships.
"It was an honor to be considered for this position and now a privilege to be named the head coach of the Princeton hockey program," Fogarty added. "With great enthusiasm, I look forward to building a program that will consistently compete for Ivy League and ECAC championships. Our players will be recognized for excellence in the classroom, ambassadors for the university in the community and relentless competitors on the ice.
"Thank you to search committee for entrusting me with the hockey program. I am excited to connect with the alumni, our fan base and the Princeton community. My primary task is to develop relationships with the current players and incoming freshmen."
Fogarty led the Bulldogs to unprecedented success as they set an NCAA single-season record for wins by a first-year program at 26-3 in 2007-08. The program became the fastest to reach the NCAA tournament and 100 wins. Fogarty was named the MCHA coach of the year three times and was a four-time finalist for national coach of the year.
Academically, the Bulldogs had a combined team GPA of 3.00 or greater in all seven years.
A 1995 graduate of Colgate, Fogarty left the school ranked 20th on the all-time scoring list with 141 points.
"Ron has worked very hard to get to this level in his coaching career," Colgate coach Don Vaughn said in a statement. "I can't think of anyone more deserving of this opportunity. He has great positive energy, is very hard-working and possesses a creative hockey mind. He is innovative in his approach to the game and perhaps most importantly, his experience as both a player and assistant coach in ECAC Hockey will serve him well. In short, he knows exactly the kind of student athlete who will succeed at Princeton both on the ice and in the classroom. I am very happy for Ron, his wife, Monica, and their family and welcome them back to ECAC Hockey."
Fogarty began coaching as an assistant at Colgate from 1996 to 1999 and then went to Clarkson in a similar role from 1999 to 2002. From 2002 to 2006 Fogarty was an assistant at Bowling Green and then took over at Adrian.