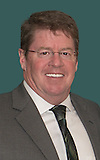 Bemidji State announced Tuesday that James Scanlan has been named the new head coach of the BSU women's program and the fifth in school history.
Scanlan, an 18-year high school educator, coach and administrator, was a two-time All-American goaltender at Bemidji State, leading the Beavers to a pair of NAIA national titles in 1979 and 1980.
"We are really excited to have Jim on board as the new women's hockey coach here at BSU," said Bemidji State director of athletics Tracy Dill in a statement. "He brings a wealth of experience, not only at the collegiate level, but also a tremendous amount of success at the high school level. More importantly, he has a deep love for Bemidji State University and I really believe he will do a great job on the recruiting scene and will continue to move our women's hockey program forward."
Scanlan replaces Steve Sertich, who retired in March after eight seasons behind the BSU bench.
"I am extremely humbled to be given this opportunity," added Scanlan. "I don't think there is any other place I would have tried to get back into coaching at this level. Bemidji State has meant so much to my family and me. Now to be able to come back and work here as the head women's hockey coach is a once-in-a-lifetime opportunity. It's really, really special."
Scanlan recently completed his sixth season as head coach of the East Grand Forks High School girls hockey team, compiling an overall record of 110-51-6. His 2013-14 Green Wave team posted a 26-3-1 record, earned a Section 8A championship and climbed to No. 1 in the state's Class A ranks before falling to The Blake School 3-2 in the 2014 Minnesota State High School League championship game. After the season, Scanlan, a two-time Section 8A coach of the year, was named Minnesota Class A coach of the year.
Scanlan was also the boys hockey coach from 1996 to 2005, leading the Green Wave to a 148-109-15 record. He led the East Grand Forks boys to four section titles (1998, 1999, 2001 and 2002), and four Minnesota state tournament appearances (1989, 1999, 2001 and 2002), finishing as high as second in 1999. Scanlan was named Section 8A boys coach of the year in 1998, 1999, 2001 and 2002.
On the college scene, Scanlan also has 12 years of coaching experience. He was a men's assistant coach for North Dakota from 1989 to 1996, at Western Michigan from 1985 to 1989 and was a graduate assistant coach at Northern Michigan in 1984-85.