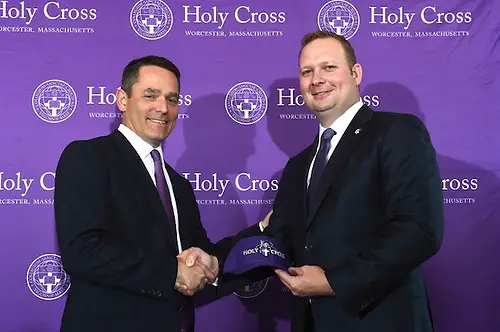 Two years ago, David Berard got his first taste of being a head coach in college hockey.
The longtime assistant at Providence had held a similar position at Connecticut for just over a full season when longtime Huskies coach Bruce Marshall took a leave of absence from the team just five games into the 2012-13 campaign and later made that decision permanent, resigning on Jan. 6, 2013.
Berard took over for Marshall and guided UConn to a 16-8-3 record the rest of the way, including a spot in the Atlantic Hockey semifinals. That 2012-13 season was the penultimate one for the Huskies in Atlantic Hockey. UConn had already announced its plan to move to Hockey East for the 2014-15 season.
Berard's success made his case for the permanent job at UConn, and he was a candidate for the position, but in the end the school went with longtime Boston College assistant Mike Cavanaugh.
Berard went back to Providence last season and worked for Nate Leaman, helping to guide the Friars to a 22-11-6 finish and a spot in the NCAA tournament, where Providence lost in the East Regional to eventual national champion Union.
But a few weeks ago, a chance to return to Atlantic Hockey arrived. Holy Cross coach Paul Pearl resigned from his position after 19 seasons and 297 wins, accepting an associate head coach position at Harvard.
Berard applied to fill the open slot at Holy Cross and on June 23, Crusaders athletic director Nathan Pine made the announcement that Berard was coming back to Atlantic Hockey, this time with the "interim" label removed.
"This is a great opportunity and I'm honored," Berard said a few days later. "First and foremost I want to recognize the job Paul [Pearl] did in his 19 years in Holy Cross. We're really good friends and seeing him and this team over the years made me appreciate the job that he did. The tradition and culture here, he laid the foundation."
Berard said he's not planning an overhaul of the program at Holy Cross, which had a down year in 2013-14 (14-22-3) after a pair of 20-win seasons, but looks to make his mark incrementally.
"We're not reconstructing anything," he said. "It's more putting my touch on things. Holy Cross has emphasized hard work, emphasized discipline. We might do things a little differently — be more aggressive. I might teach some things in a different way."
Pearl's Holy Cross teams were known for their defense, and Berard said he plans to build on that.
"Good defense means working hard without the puck, a smothering defense that gets the puck back," he said. "We're going to play an aggressive defense. Not too aggressive in our [defensive] zone where you're 200 feet away, but when we are 100 feet away, a good forecheck to generate turnovers."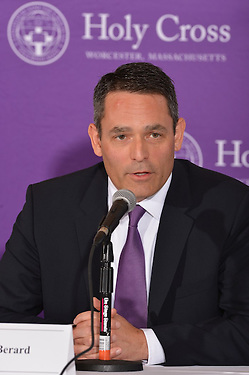 The Crusaders struggled to score at times last season and finished seventh in offense in the AHA for the second straight season, but their new coach said things should improve.
"I'm hopeful," said Berard. "Last year we had some early injuries to key players and guys returning recovering from injury. We got off to a slow start. Hopefully, knock on wood, we are coming into this season injury-free.
"Once we got healthy and got going we were 10-7-1 after Jan. 17 and can build on that."
Berard again will be taking the reigns from a longtime coach and working with players he didn't have a hand in recruiting.
"We're bringing in big freshman class," he said. "I believe that talking to Paul and the assistants they tried to address scoring concerns. We have freshman that can add to the offense and support the older guys. We're going to manufacture goals by supporting each other.
"[Taking over for Pearl] is similar to Bruce [Marshall], replacing guys that have been at an institution for a long time and had some success. They were the face of the program. We're going to work hard to enhance that winning culture that has already been here, the championships won at Holy Cross and playing in the NCAA tournament."
Berard said he has the school's support in continuing that tradition.
"One of the most critical reasons for taking this job was working for [athletic director] Nate Pine," said Berard. "He wants us competing every year for an AHA championship. We're aligned and I want those same things and want to have those expectations put on me. With the resources I have and the academic reputation of the school, I think there's a formula for success at Holy Cross."
Pearl had changed his recruiting style in recent years, looking more to junior leagues for players instead of bringing in a majority players from New England prep schools.
Berard said he plans to continue with that model.
"I think our best formula is to look at more mature players who come in as 20- or 21-year-old freshmen," he said. "An older, mature player who may have a better appreciation of what Holy Cross has to offer. We'd be making a big mistake if we think we can go after the very best players in the USHL.
"We can build a culture based on winning that attracts the kind of players who will fit in here."
His brief previous stint in Atlantic Hockey made Berard aware of the challenges and opportunities he's going to face.
"Every year the league is more successful," Berard said. "Being on the other side of it maybe those big programs don't respect Atlantic Hockey as much as they could. We take those older players who have fallen through the cracks and help them to grow at a place like Holy Cross and become the players that those big programs want but maybe couldn't see at the time."
Berard had a long apprenticeship waiting for this opportunity, and he said he's planning on implementing all he's learned.
"I was thinking of this driving to the press conference," he said. "I started with Scott Borek at Colby and then Lake [Superior] State. I worked for Paul Pooley [at Providence] who's now [an assistant] at Notre Dame. Tim Army is coaching in the NHL. Bruce at UConn. Rick Bennett at Providence when we were there as assistants.
"I've been blessed to have my coaching philosophy shaped by some of the best coaches in college hockey. I used my experience at UConn as an interim, running a team yourself and building a philosophy. And then being with Nate Leaman on that great [Providence] team that was nationally ranked, close to getting to the Frozen Four.
"I'll use all of that experience to help us play the best hockey that we can. I wouldn't have gotten here without all the people who shaped my coaching philosophy."
A small but important perk of Berard's new job is a shorter commute from his home in Rhode Island. Holy Cross' campus is about a 45-minute drive, but it's much better than Berard's daily trek to Storrs when he was at Connecticut.
"Forty-five minutes is an average commute for this area," he said. "But that commute to UConn was an hour and a half and sometimes up to two hours each way. That was rough."