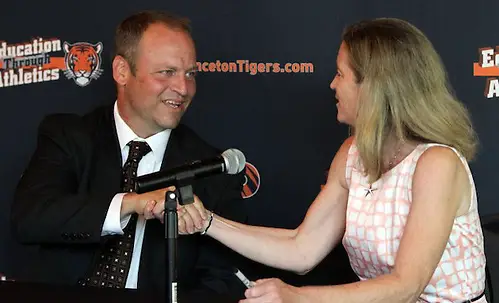 Ron Fogarty is settling in nicely at Princeton. Hired by the university as the Tigers' coach in June, the former Adrian coach felt like he's going over some familiar ground.
"It's similar to starting a new program at Adrian," said Fogarty, 42, in early July. "I'm prioritizing everything, but you can't do it all in one day or one week."
He said that he has already made contact with his players and is now getting acclimated to the Princeton environment.
"It's an immaculate campus," he said of the storied Ivy League institution in central New Jersey. "The people are the same. They're genuine and very accommodating, and they made me feel welcome immediately."
Fogarty succeeded Bob Prier, who resigned in May after three seasons at Princeton. Prier had taken took over from Guy Gadowsky, who left Princeton to start Penn State's NCAA Division I program after guiding the Tigers to two of the three NCAA Division I Tournament berths in school history.
Fogarty is looking forwarded to putting his own imprint on the Princeton program with an up-tempo, creative, harrying style of play.
"I know our guys are big," said Fogarty. "I want them to take away time and space, but I also want them to be quick in transition. The offensive system we'll bring, it will allow the players to create and take chances with the puck.
"I want our players to be in desperation mode from the start and for the duration of the game, and more conservative at the end."
Though he built Adrian into an NCAA Division III powerhouse from scratch, Fogarty felt the program was in good hands when he decided to become the 17th head coach in Princeton's long history and also take his first such position at the Division I level.
"The players took ownership in the program, and I was surrounded by great people," the Sarnia, Ontario, native said of moving on from southeast Michigan. "It's a great place. I felt very comfortable in leaving, and I feel great about starting the next chapter in my life."
"Ron was more than just a coach, he was a mentor for all the coaches," Adrian athletic director Michael Duffy said. "From the day he stepped on campus he brought a sense of pride and determination not only to his team, but the whole department."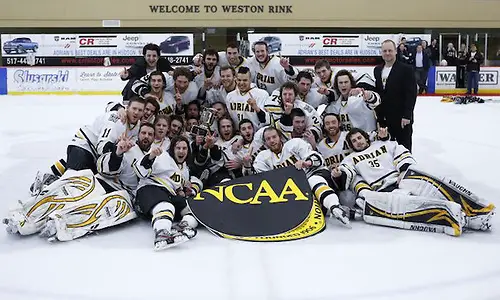 The Bulldogs went 167-23-10 under Fogarty and earned six league regular season titles, five league playoff championships and four NCAA Division III tournament berths in his tenure. Adrian was the national runner-up in 2010-11, when it lost the championship game 4-3 to St. Norbert, the same school that ousted the Bulldogs in last season's tournament.
"He set a standard over his time that all programs are trying to reach — that of winning not only conference championships but to be a power at the national level," Duffy said. "More importantly, he set a standard for his athletes to be great young men not only on the ice, but great young men that gave back to the Adrian and college communities."
Fogarty has since been succeeded at Adrian by Adam Krug, an original Bulldogs player who starred on its first two teams and also served as captain.
Taking the Princeton job is something of a homecoming for Fogarty, who is no stranger to ECAC Hockey. He played four seasons as a forward at Colgate, where he scored 51 goals and added 90 assists for 141 points between 1991 and 1995 before becoming an assistant coach with the Raiders in 1996-97.
"I have familiarity with the ECAC as a player and a coach," said Fogarty. "You work with exceptional student-athletes, and the league has grown by leaps and bounds in the perception level, with Union and Clarkson winning the men's and women's national championships in 2014, and Yale [men's hockey] the previous year."
After moving on to Clarkson in 1999-2000, Fogarty later spent four years as an assistant coach at Bowling Green before taking the nascent reins at Adrian in 2007-08. His staff at Princeton will include former Colgate teammate Brad Dexter, who joins the Tigers after a nine-year stint with the alma mater.
"The ECAC is a great coaching fraternity, and I decided to be a part of it again," Fogarty said.
He'll have his work cut out for him in Mercer County. Princeton finished 6-26 overall in 2013-14 and wound up last in the ECAC with a 4-18 mark.
Despite losing nine seniors from last year, including top scorers Andrew Ammon and Andrew Calof, Princeton still will return nearly 20 players with college experience, including sophomore goaltender Colton Phinney. The Tigers also will bring aboard nine freshmen.
Besides the usual ECAC slate, the Tigers' regular season schedule also will feature a late December trip to 2014 NCAA tournament participant Minnesota State, preceded by a post-Thanksgiving series at Hobey Baker Rink against Michigan State.
"I wish Michigan State was on the road this year," laughed Fogarty of possibly getting back near his previous home. "We'll see what teams emerge, and we'll be ready for our schedule. I look forward to coaching and getting better every year."