Call it the Attack of the Martin St. Louises.
In an era where hockey size is still emphasized almost as much as skill, USCHO's list of 10 forwards to watch for 2014-15 features a majority of individuals who check in around the 5-foot-8, 175-pound mark, just like the former Vermont All-America selection, Stanley Cup champion and current New York Rangers star.
And like St. Louis, their play is also bigger than their measurements.
This list was compiled after consulting with coaches in the six NCAA Division I conferences and professional scouts. As always, it's not necessarily meant to be an all-inclusive rating, or a lineup of the highest-scoring skaters, or even the best-perceived NHL prospects.
They are, however, 10 players you might want to keep an eye on this season, from the time the puck drops this weekend until the NCAA trophy is hoisted aloft at the Frozen Four in Boston in April.
Here they are, in alphabetical order: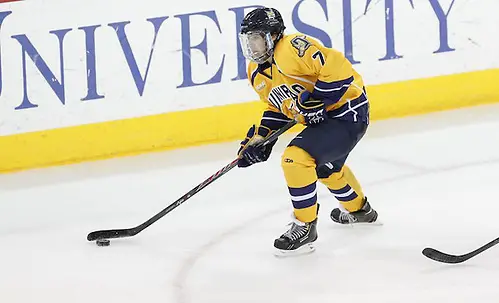 Sam Anas, Quinnipiac sophomore
Anas burst onto the scene in a big way as a freshman last year, leading the Bobcats in scoring with 22 goals and 21 assists for 43 points in 40 games. The small (5-foot-8, 150 pounds) but shifty Maryland native also finished seventh among ECAC Hockey scorers with 12-16–28 in 25 league contests. He also recorded two or more points in a single game a dozen times.
Anas showed last season that he could score from both sides of the ice. He was just as adept uncorking a wrist shot from the right wing over a goaltender's glove as he was one-timing a puck home from the opposite circle. He also didn't shy away from the front of the net to clean up rebounds.
The top-scoring rookie in the nation last season, Anas also was the Division I national rookie of the year and the top rookie in New England. He also was the ECAC Hockey rookie of the year, an ECAC Hockey all-rookie team member and an ECAC Hockey second-team selection.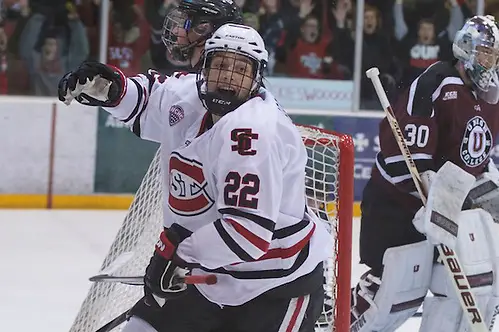 Jonny Brodzinski, St. Cloud State junior
A 2013 draft choice of the Los Angeles Kings, Brodzinski was another balanced scorer last season, notching 21 goals and 20 assists for the Huskies in 38 games. He was among the top 15 players nationally in goals, and in the top 12 in power-play tallies (9) after notching just one power-play score as a rookie. He also recorded 13 goals and 26 points in 26 NCHC contests in the league's first season.
"A dynamic forward who is a consistent threat on the ice," said an opposing coach.
After lighting the lamp 22 times as a freshman, Brodzinski has 43 goals and 74 points in 80 collegiate games. Even after leading the Huskies in scoring last season, more will be counted on from the 6-foot-1, 215-pound native of Blaine, Minn.
The Huskies will need to replace second-leading scorer and Hobey Baker Award finalist Nic Dowd, among others, if they are to earn a third consecutive NCAA tournament berth and try to get back to the Frozen Four for the second time in three years.
Daniel Ciampini, Union senior
Ciampini lit the lamp 23 times last year and saved his best performances for the biggest stage. He registered a hat trick and the game-winning goal in a national semifinal victory over Boston College, then garnered a goal and an assist in the NCAA championship game win over Minnesota.
He was named to the Frozen Four all-tournament team, and also was tabbed an All-ECAC Hockey third-team member. He just about doubled his output from his sophomore year by tallying 41 points in 2013-14 and also recorded 12 multiple-point contests while collecting five game-winning scores.
The second-leading scorer last year for the Dutchmen, Ciampini has come a long way from the freshman who finished with six points in 15 outings, and now has 37 goals and 68 points in 91 career starts. With Union needing to replace three of its top four scorers from last year's multi-title team, the 5-foot-11, 185-pound native of Concord, Ontario, may have to have even more of a nose for the net in the upcoming campaign if the Dutchmen are to come close to last year's success.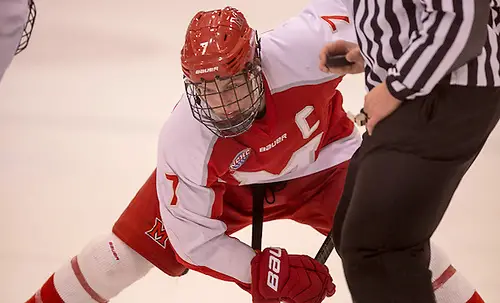 Austin Czarnik, Miami senior
Czarnik improved upon his sophomore season by notching 47 points and leading Miami in scoring for a second straight season. He also finished sixth in the nation with 34 assists as the RedHawks just missed out on a ninth straight NCAA tournament berth.
He was still named to the NCHC first team, and also was a second-team All-America selection.
"He makes plays every shift, makes the players around him better, and is a fierce competitor," said an opposing coach. "His combination of skill and will make him special."
A true setup man, the 5-foot-9, 150-pound native of Washington, Mich., has notched 87 assists among his 124 points in 119 career games with the RedHawks.
"A dynamic forward who could lead the country in scoring," said another coach.
Along with Brodzinski, Czarnik was named to the 2014-15 NCHC preseason all-conference team. A major goal this year will be to lift the RedHawks out of the basement of their new league and back to the heights they enjoyed in the now-defunct CCHA.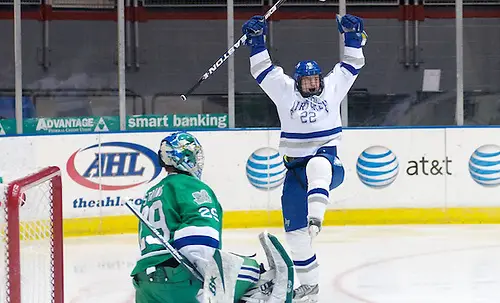 Cole Gunner, Air Force senior
Sporting perhaps the best surname for someone playing for a military academy, Gunner fired home 15 goals last year, equaling his total from his first two seasons combined with the Falcons. Three of his goals were game-winners, and five salted away victories.
The 5-foot-9, 180-pound native of Richfield, Minn., also put up 29 assists in 39 appearances. He also had just eight penalties all season — all minors — and was voted team MVP.
"He plays with an edge," said an Atlantic Hockey coach. "He competes hard and can go."
Gunner, who put up 11 goals and 33 points in 30 Atlantic Hockey games last year, was a second-team all-conference selection. He attended the Chicago Blackhawks development camp in July as a free agent, and is one of just a handful of AFA players to ever be invited to an NHL development camp.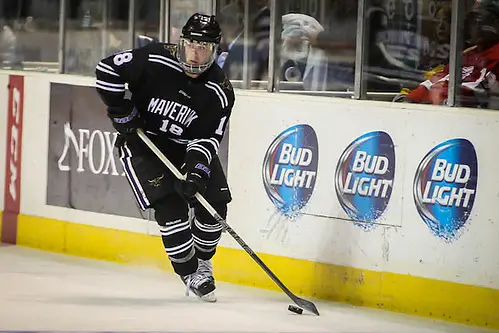 Matt Leitner, Minnesota State senior
The 5-foot-9, 175-pound Leitner led the Mavericks to the NCAA tournament for the second straight year, and for just the third time in the school's Division I history, by tallying 12 goals and 45 points in 33 games. He was just two points off the pace from his sophomore season.
"Matt is very experienced and has generated offense since his freshman year," said an opposing coach. "He's a versatile player and a gifted playmaker [and] that makes him dangerous [at] even strength and on the power play."
The California-born Leitner started off slowly last season, recording points in just two of his first eight outings. He caught fire after that, picking up a point in all but five games the rest of the way.
"Most dynamic forward in the WCHA," said another coach.
"Very talented offensive player that excels on the power play," added a third.
Leitner has 40 goals and 121 points in 118 career contests at Minnesota State, including 14 power-play tallies.
Kyle Rau, Minnesota senior
Rau hit the 40-point mark for the third consecutive campaign last season, tallying 14 goals and 26 assists in 41 games as the Gophers claimed the inaugural Big Ten regular season crown and ultimately finished as the national runner-up.
Rau had two goals and three assists in five NCAA tournament games and earned second-team All-America recognition. He has averaged just over a point per game (123 points in 121 games) so far in his collegiate career.
Far from a giant on skates, the 5-foot-8, 173-pound speedster from Eden Prairie, Minn., nonetheless has made extensive use of the extra room afforded him on power plays, scoring 22 goals over three years when the Gophers have had a man advantage. He especially likes to perch just off to a goaltender's left, and then put home a pass or stuff in a rebound.
Rau, a 2011 Florida Panthers draftee, will serve as Minnesota's captain this season and also was named to the Big Ten preseason watch list.
Kevin Roy, Northeastern junior
Roy surpassed a solid freshman campaign where he was named Beanpot tournament MVP by recording 19 goals and 46 points in 37 games last winter. The 5-foot-10, 170-pound Quebec product, who prepped in the USHL before journeying to Huntington Avenue, has led the Huskies in scoring in both of his NCAA seasons.
"As skilled as any player in the country, especially around the net," said an opposing coach.
Roy, who was drafted by the Anaheim Ducks in 2012, is seemingly always around the enemy cage. He has great hands in tight, and time and again seems to find a hole with a wicked wrist shot.
Roy opened the 2013-14 campaign with a four-point game against Alabama-Huntsville and was held off the score sheet only eight times on the year. He put up two or more points in one evening a dozen times, and also had a four-assist performance against Hockey East rival Maine.
The Huskies hope to improve on last year's fifth-place league finish and get back to the NCAAs for the first time since 2008.
Devin Shore, Maine junior
A 6-foot-1, 185-pound native of Ajax, Ontario, Shore will serve as alternate captain with the Black Bears this year after registering 14 goals and 43 points in 35 outings as a sophomore. He paced Maine in scoring for the second straight season while more than doubling his freshman goal output.
Shore earned Hockey East first-team honors and second-team All-America accolades, was chosen as the Black Bears' MVP and was a three-time choice as Hockey East player of the week.
A Dallas Stars 2012 draft choice, Shore fashioned an 11-game point streak at midseason in which he racked up a total of 21 points and had five multiple-point outings, including a five-point night. On the season, he finished with 11 games of two points or more. He's adept on a backhander in close or can easily wrist the puck home from the top of the circle.
Shore was tabbed as the Maine scholar-athlete award winner last season and also was a repeat member of the Hockey East all-academic team.
Cody Wydo, Robert Morris senior
Wydo scored more goals (31) last season than anyone in Division I hockey not named Johnny Gaudreau and had more points (54) than he did in his first two seasons combined with the Colonials.
"Most dynamic goal scorer in the league," said one coach. "Good on both sides of the puck with scoring goals. Scores them pretty, ugly — just scores."
Wydo, a 5-foot-9, 175-pound native of Allen Park, Mich., had six multiple-goal games in 2013-14, including three hat tricks, and also posted at least one point in 17 of his last 19 games. A former 40-goal scorer in junior hockey, he tallied three goals and an assist in the Atlantic Hockey title game against Canisius, then added a goal and an assist against Minnesota in the Colonials' first-ever NCAA tournament appearance.
He likes to skate to the high traffic areas and put away rebounds, and his 65 goals to date are a Robert Morris career record. Expect that number to change quickly.