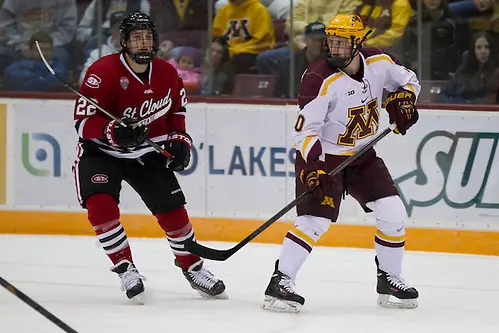 When you're born into a hockey family, you're expected to live up to the family name.
But St. Cloud State forward Jonny Brodzinski and his brother, Minnesota defenseman Michael Brodzinski, have done more than that. They've both been drafted by NHL teams and both have found success by doing their own thing.
It started with their father, Mike Brodzinski, who set the tone when he played for Minnesota to begin his collegiate career.
"Back then they probably had 40 players. They had varsity and JV just like high school does," Mike said. "I was only there for about a year and a half before I decided it wasn't for me. There was just too many players there."
Mike then transferred to St. Cloud State upon hearing about the chance to play under the man who orchestrated the Miracle on Ice in the 1980 Olympics. Herb Brooks coached at SCSU for the 1986-87 season, posting a 25-10-1 record and claiming third place in the NCAA Division III championship before helping the Huskies move to Division I the following season.
"I got to be the captain for Herbie my senior year," Mike said proudly.
Herb Brooks died at the age of 66 in August 2003, but since then St. Cloud State honored what he brought to the university as well as the game of hockey by renaming the newly renovated National Hockey Center after him. Since April 2013 it has been known as the Herb Brooks National Hockey Center.
"Herbie was probably the biggest influence of St. Cloud going Division I," Mike said. "They probably accelerated it by 10 years by just him being there."
Mike passed on what he learned to his sons at an early age. Jonny and Michael, as well as their two younger brothers Easton and Bryce, put on the skates early.
"Me, Michael, Easton and Bryce were all about 3 when we started skating," Jonny said.
Once they got the skating going, hockey came naturally. But Jonny and Michael don't get their competitiveness from just hockey — some of it comes from family rivalry.
Over the summer, the Brodzinski family was playing a game of football. To raise the stakes a little bit, anyone who dropped the ball had to pay $5 to whomever was covering them.
While nobody ended up paying up in the end, it did keep the sibling rivalry alive and it only made the brothers want to beat each other even more.
That carries over to the ice, including last weekend when Jonny's Huskies and Michael's Gophers split a home-and-home series.
"I get competitive," Michael said. "Nobody likes to lose. I think I'm the most competitive in the family on the whole losing side of the point. I get pretty competitive in literally anything we do. I don't like losing very much."
"It's all for fun," Jonny said, laughing. "It's fun when we can get underneath each other's skin. We just say that for the sake of having a little more incentive to play harder."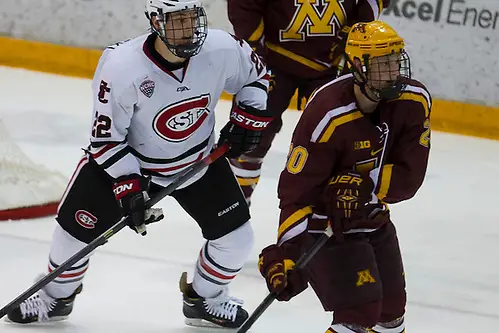 And for the sake of not letting that opponent on the other side of the ice — or, in this case, field — beat you.
Of course, it's different when Jonny and Michael face each other on the ice than when they're face-to-face across the line of scrimmage. Their teams have played each other in four college hockey games since the start of last season.
"It was a different experience, but I'll never forget it," Jonny said of the matchups with Michael.
Michael's Gophers have beaten Jonny's Huskies three out of four times, including the 4-0 victory at the NCAA West Regional final last March that sent Minnesota to the Frozen Four and ended St. Cloud State's season.
But once that game was over, all Michael wanted to do was find Jonny.
The moment time expired at the Xcel Energy Center, they were no longer opponents. They were brothers again and they showed it by sharing a long embrace on the ice. It was a great game, but it was hard for Mike and his wife Kathy to watch their two oldest sons face each other.
"It's one of the most unsettling things, watching your kids compete against each other," Mike said. "They'll do whatever it takes to win. You're really proud of their accomplishments but it's tough to watch them play against each other."
"One of their successes is another person's failure," Kathy said. "It's nice because I get to watch them both play, but I don't want one of them to be successful at the expense of somebody else not being [successful]."
While Jonny was in high school in Blaine, Minn., a suburb of the Twin Cities, scouts originally came to watch his teammate and linemate, former Golden Gophers and current Florida Panthers forward Nick Bjugstad.
Jonny was never discouraged and just kept doing his thing. He eventually did get noticed by scouts, and after graduating from Blaine at the age of 17, he went to play for the USHL's Fargo Force for the majority of two seasons, scoring a total of 12 goals and putting up 15 assists.
In his season and a half up in Fargo, Jonny developed a better defensive style.
"I sharpened the edges of my defensive game," he said.
After visiting with a handful of schools including Maine, Jonny eventually decided on St. Cloud State. Even though his father played there, Jonny has made his own name with the Huskies — with a little bit of help from the coaching staff, of course.
"[SCSU's Bob Motzko]'s a great coach," Jonny said. "He said, 'Defensively, you're gonna follow my systems, but once you get in the offensive zone you can do whatever you want.' That's one of the things that makes him such a great coach."
Michael got scouted in his junior year and ended up graduating high school in Michigan after he joined the Muskegon Lumberjacks of the USHL. During his time there, he put up 16 goals and 19 assists in 67 games.
Michael valued his time with Muskegon, saying it made him a better all-around hockey player.
"It really helped me a lot," Michael said. "Being away from home elevated me into college. My defensive game really grew at Muskegon."
It was a little bit harder for Michael to decide on a college after fielding around 20 offers and visiting schools like the North Dakota and Minnesota. Eventually, he met Minnesota associate head coach Mike Guentzel, who had the same defensive mindset as Michael.
Michael then made the decision to develop his defensive game under Guentzel and committed to playing for the Gophers.
"[Guentzel] knows everything there is to know about hockey," Michael said.
Mike and Kathy were pleased with his choice.
"It was a pretty good fit for Michael to go with Guentzel," said Mike, who played with Guentzel at Minnesota.
"Guentzel was the same type of defenseman that Michael is," Kathy added.
But there's more to the Brodzinski family than what meets the eye of a hockey fan. They are also very avid outdoors people.
Mike taught his boys how to hunt and fish at a young age, and they like to take trips to visit their grandparents in the Brainerd Lakes area in central Minnesota, where both hunting and fishing are plentiful.
"Mike's always been a hunter," Kathy said. "They went fishing and hunting up at Grandma's. As soon as they [the four brothers] could, Mike had them out hunting with them.
"They really enjoy bowhunting," she added. "Up in Crosslake, they also go bowfishing. They go at night and use a bow. It's almost like spear fishing."
The Brodzinskis have backing from family, but also from fans. And the brothers never fail to let their fans know how much their support means to them.
After Minnesota's 4-3 overtime win at home over St. Cloud State last Saturday, Jonny and Michael met with friends, family and fans to take pictures and sign autographs. Not one person walked away without a smile on their face.
Jonny and Michael were both drafted into the NHL in the summer of 2013, just after Jonny's freshman year at SCSU and just before Michael's at Minnesota. In the fifth round, Michael was selected 141st overall by the San Jose Sharks, while Jonny went seven picks later to a team 340 miles south from there in the Los Angeles Kings.
They became the first non-twin brothers drafted in the same round. Once Jonny and Michael eventually go to the NHL, you can bet Mike and Kathy will be delighted to watch them in the league for the first time.
"Maybe they'll buy us a couple plane tickets," Mike said, laughing.
Herb Brooks once said, "Great moments are born from great opportunity." Jonny and Michael Brodzinski are making plenty out of theirs.