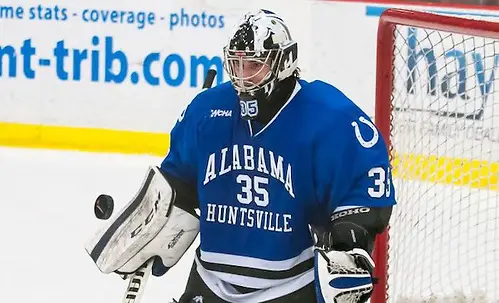 Mike Corbett doesn't want anyone to throw his team any parties.
Still, Alabama-Huntsville's accomplishment last weekend at Air Force shouldn't be ignored. For the first time in five years, the Chargers went into a weekend series against a Division I opponent and didn't lose.
"We're not going to have a parade around here, but we're trying to get that mentality back that we're good enough," said Corbett, UAH's second-year coach. "We've earned these things. The guys have put in the time and it's nice, from my standpoint, to see them reaping some rewards."
UAH beat Air Force 4-2 Friday in Colorado Springs, then held on for a 3-3 tie Saturday, taking the proverbial three points from Corbett's old employer.
"Just knowing Air Force like I do, it was kind of a pick 'em game," Corbett said. "We felt good about getting a little confidence and getting a win on the road."
In Saturday's game, the Chargers had a chance for the sweep after going up 3-0 in the second period but allowed the Falcons to score three third-period power-play goals.
"As bad as it looks to say, we gave up a 3-0 lead in the third period, and three power-play goals, we didn't lose it," Corbett said. "Maybe the team last year, we would have lost that game. But we were able to sustain. We didn't let their comeback turn into a loss.
"We're just a better team this year."
The Chargers are 1-7-2 overall and 1-1-2 in their last four games. Last year, they finished 2-35-1 overall. Maybe that's not quite the turnaround that inspirational sports movies are made of, but there's a noted difference in how the Chargers have played this season.
Last year, UAH gave up five or more goals in a game 14 times. This season, it's happened just once — a 5-0 loss to WCHA foe Bowling Green. Otherwise, the Chargers have been competitive in every game they've played.
That's partly due to their outstanding goaltending tandem of sophomores Carmine Guerriero and Matt Larose. The two have split their time in Huntsville's 10 games and have each seen almost 200 shots in five games (Guerriero has faced only 198 compared to Larose's 214).
"As much as we'd love them to win games, they aren't losing games," Corbett said. "And they can't win games because they can't score goals.
"If they could score goals we'd be at the top of the league," he joked.
Scoring has been an issue for the Chargers, but UAH's 17 goals are still more than defending WCHA champion Ferris State's 11.
Corbett said he doesn't have a go-to scorer just yet, but a bulk of his players are still trying to figure out Division I college hockey. Remember, it was just three years ago that the UAH program was nearly eliminated.
"We just want to get 20 Division I players on the ice," Corbett said. "I know that sounds silly, but it takes time. We don't have the depth we want, but we're a lot closer and we're better.
"We're still probably overall a half-a-step slower for our league, but last year we were a full step slow."
Most of the players in UAH's normal rotation — including seven of the 10 leading scorers — are either sophomores or freshmen.
Defenseman Brandon Carlson, who leads the team with five points (two goals, three assists) is a sophomore, as are Brent Fletcher and Matt Salhany (one goal and three assists each). Brennan Saulnier, who had two assists last weekend against Air Force and also has four points, is a freshman.
The Chargers get a chance to get up to speed with at least one conference foe this weekend, as they host struggling Lake Superior State in just their second home series of the year. The Lakers are 1-9 overall but are two points ahead of UAH in the standings (Huntsville's 1-1 tie at Northern Michigan two weekends ago was a nonconference game so did not count in the standings).
Corbett hopes to score some conference points this weekend, but also hopes to use it as an opportunity to gain some more confidence.
Mostly, however, he wants to send the message to the rest of the league: Don't count the Chargers out. Not this season, and not for the long haul.
"The biggest thing people in the WCHA need to know is we're stable," Corbett said. "We're stable with our personnel, we're stable with our president and we're stable with the support we're getting here. Just give us a little time and we'll keep getting better.
"My biggest fear is people regret us coming in. I don't want people to think that. The only way we can stop that is continuing to get better week by week."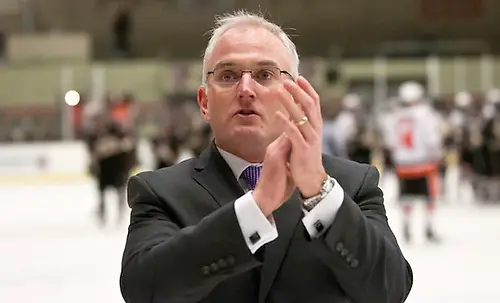 Bowling Green getting noticed
Bowling Green has won three games in a row and is unbeaten in seven of its last eight games.
At 7-2-1, the Falcons are getting some attention — they moved into the USCHO.com Division I Men's Poll at No. 19 this week. It's the first time Bowling Green has been ranked since the 2007-08 season.
Coach Chris Bergeron said on bgsufalcons.com that he tries not to pay too much attention to the polls, whether his team is in them or not, but he hopes his players can feel good about them, provided they handle it properly.
"I don't want to downplay the fact that our guys have worked really hard to get recognized from a national perspective," he said. "And they deserve that."
The Falcons are coming off their first series sweep of Alaska at Fairbanks since the 1995-96 season.
"You can never downplay going to Alaska and winning two games," Bergeron said. "That's not easy to do. It's a long trip; they always play well at home. We were definitely excited about the result."
This weekend, Bowling Green steps out of WCHA play for an in-state showdown against Ohio State. The home-and-home series begins Friday at Bowling Green before moving to Columbus.
The Falcons hope to improve the WCHA's nonconference record, specifically its 9-3-1 record against Big Ten teams.
Looking for goals
Alaska-Anchorage goes to Ferris State for a rare Thursday-Friday series. The two teams will play a similar schedule when they meet again in early January in Anchorage.
Their last meeting took place in the WCHA Final Five semifinals last March in Grand Rapids, Mich., where the Bulldogs escaped with a 5-4 overtime victory.
As for this year, neither team is scoring a whole lot.
The Seawolves have just 10 goals in their last six games and have lost three straight.
The Bulldogs are 2-5 in their last seven games and have just four goals in that span (getting shut out three times), while allowing just 11.
Both of Ferris State's wins in that stretch, including last Friday at Northern Michigan, have been 1-0 shutouts for senior goalie CJ Motte.
Commissioner Bill Robertson is scheduled to be in attendance on Friday night.
Ice chips
• Alaska has until Nov. 26 to appeal the postseason ban and other penalties handed down by the NCAA last week.
• After starting the season with five consecutive wins, Alaska is on a five-game losing skid. The Nanooks are idle this weekend and will travel to Lake Superior State next week.
• No. 9 Minnesota State is idle this weekend after winning five of its last six. Junior forward Bryce Gervais leads the country with 14 points and tied for first with nine goals, while senior Zach Palmquist is tied for the national scoring league for defensemen with 11 points.
• Mathias Dahlström is still the national leader in GAA. The Northern Michigan sophomore has allowed just six goals in the eight games he's played this season (0.74 average). He's also second in save percentage at .970 (191 saves against 197 shots). The No. 18 Wildcats are idle this weekend before heading to Alaska for two full weeks. They'll take on Alaska-Anchorage for a series Nov. 21-22 then head to Fairbanks to take on the Nanooks Nov. 28-29.
• Michigan Tech is the only Division I team to have won every game it has played. At 8-0, the Huskies are off to their best start since the 1972-73 season. Robert Morris and Harvard are the only other teams without a loss.
• The Minnesota Wild fired AHL affiliate Iowa Wild coach Kurt Kleinendorst this week. Kleinendorst coached Alabama-Huntsville for one season, 2012-13, before stepping down.
Players of the week
This week's WCHA players of the week are Minnesota State forward Teddy Blueger (offensive), Bowling Green goalie Tommy Burke (defensive) and Alabama-Huntsville forward Brennan Saulnier (rookie).