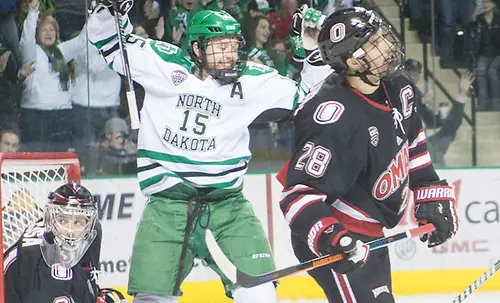 Dave Hakstol isn't really much of a polls guy. This week, it's probably just as well.
On Tuesday morning, the North Dakota coach learned that UND had been named the No. 1 team in the country in both major national polls. After several upsets took place around the country over the week of Thanksgiving, UND moved up this week from No. 2 into the top spot.
UND could've been one of those victims when it welcomed No. 11 Omaha to Grand Forks last weekend. Games between UND and UNO have always been fast-paced, entertaining affairs, and UND had a big job on its hands.
It was reminded of that on Friday when it fell to UNO in a shootout after the teams skated to a 2-2 tie after 65 minutes. Mavericks goaltender Ryan Massa stopped all three UND shots he faced in the shootout, while UNO captain Dominic Zombo scored the session's only goal on UNO's final attempt.
UND then bounced back to the following night and picked up a deserved 3-2 win. First-period goals from Jordan Schmaltz and Mark MacMillan gave UND an early 2-0 lead before a short-handed goal from Stephane Pattyn with 1:53 left in the second period stood up as the eventual game-winner.
After UND picked up four points last weekend in the continuation of what's become a must-watch rivalry over the past few years, Hakstol's team was deemed the No. 1 team in the country. He thinks that's a good thing to create buzz around, but he said he and his team don't look much into UND's perceived station.
"It doesn't make a lot of impact on what we're doing, I've got to be honest," Hakstol said. "It's great and all good and well, but we're trying to win games and build our team and grow, and I don't think the polls have any effect on the team right now. But it's fun for the fans, and that's a good thing."
Whatever UND thinks of where it's perceived to be, it hasn't gotten there the easy way. Injuries to key pieces like MacMillan, Bryn Chyzyk and freshman phenom Nick Schmaltz have led to Hakstol having to move healthy players around.
One success story there has been freshman Tucker Poolman. He was brought into UND as a defenseman, but already this season Hakstol has used him as a winger or center in six games.
On both Friday and Saturday, Poolman played up as a winger against UNO, a school from the area in which he played his junior hockey for the Omaha Lancers of the USHL.
Hakstol said that Poolman has settled quickly into UND's system.
"He's done such a good job," Hakstol said of Poolman. "He's got good hockey sense, he's got good play-making ability, and most importantly he's a great teammate.
"He's going to do whatever the team needs him to do in order to be successful, and for a young guy, you like to see those attributes."
UND (10-3-2, 5-2-1 NCHC) is at home this weekend against nonconference opponent Lake Superior State before heading west to face another big rival next weekend, No. 10 Denver.
The Denver-UND rivalry is arguably the most heated in the NCHC, and eyes throughout the country will be fixed on Magness Arena when the two teams meet there. Hakstol suggested, however, that his team can't and won't look past the Lakers.
"We've got a couple of tough nonconference games first with Lake State, and we just have to improve on what we've been doing, and it's critical to be successful and win nonconference games," he said. "That's what our focus is right now, and I haven't even thought about the week after that yet. Right now, it's just full short-term focus."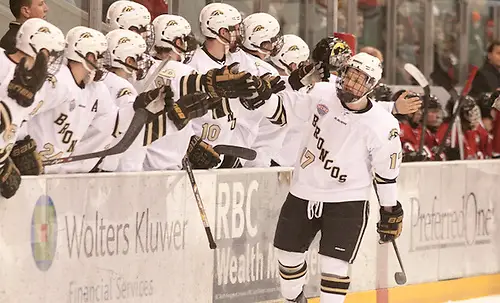 Western Michigan putting the pieces together
Fourteen games into this season, Western Michigan coach Andy Murray feels that his team still hasn't quite established its identity.
That can become a frustrating process when weeks turn into months like they have for the Broncos. After last weekend, however, there's hope around Kalamazoo that Western might be figuring it out.
To date, the Broncos have suffered from a severe chronic case of feast or famine. Western has already been shut out three times this season, and the goals that have gone in have normally come in big but maddeningly sporadic bunches.
It's partly because of that that, up until last weekend's Shillelagh Tournament hosted by Notre Dame, the Broncos hadn't yet picked up two wins in the same weekend this season. At the Fighting Irish's invitational, however, WMU broke its streak.
Very little went wrong for the Broncos last weekend in South Bend, Ind., and Western's offense was the least of Murray's concerns. His team conceded two goals to both Ohio State on Friday and No. 17 Union on Saturday, but the Broncos netted a staggering 14 goals against their two tournament opponents.
In a 6-2 win over OSU on Friday, freshman WMU forward Frederik Tiffels was the star of the show. A hat trick for the German against the Buckeyes kicked off the Broncos newcomer's best weekend so far.
Western then outdid itself the following day when it gave defending national champion Union an 8-2 shellacking. The Broncos scored four first-period goals, including the first three of forward Justin Kovacs' five assists on the day, and cruised to a big win to pick up the tournament title.
The Broncos (5-8-1, 1-6-1 NCHC) have had a largely rough start to the season, and it hasn't helped that they've had their share of injury concerns thus far. Murray said, however, that last weekend might've been proof that everything's starting to finally come together for his team.
"I don't know how to describe it other than to say that we've been trying to score goals all year but have had a difficult time of it," Murray said. "We've outshot our opponents in most of the games we've played this year, and the big difference is that the puck was going in the net more often last weekend.
"Part of it, I think, is that we're starting to get some bodies back that have been injured for quite a while, and we're starting to get some more continuity on who's going to play on a specific weekend, so that's helping things get a little better."
As for to what degree the Broncos have figured out their identity this season, however, Murray said the jury's still out on a team that is just as young as it was this time last year. Inroads have clearly been made, however, into solving the identity crisis.
"I think we're still trying to figure out what we are. Last year we had a really young team with four seniors, and this year we only have that many, too, and on a given night only two of them are playing," Murray said. "We're still trying to feel our team out and see exactly where it is and how we good we are, but we certainly think we're getting better."
Western is idle this weekend ahead of Colorado College's arrival in Kalamazoo next week.
Players of the week
Offensive player of the week — Justin Kovacs, Western Michigan: The senior forward was an assist machine last weekend at the Shillelagh Tournament, dishing out seven of them — and five on Saturday in an 8-2 win over Union — en route to being named the tournament's most valuable player.
Defensive player of the week — Kenney Morrison, Western Michigan: The junior blueliner picked up a goal and two assists last weekend in South Bend for a Broncos team that allowed only four goals in two games played.
Rookie of the week — Frederik Tiffels, Western Michigan: The freshman forward from Germany had the best weekend so far of his time with the Broncos at the Shillelagh Tournament. Tiffels picked up three goals and one assist and finished the Broncos' two-game set in South Bend with a plus-3 rating.
Goaltender of the week — Zane McInture, North Dakota: The junior goaltender continued his strong start to the season last weekend in a win and shootout loss against Omaha. McIntyre ended UND's series against the Mavericks with a .938 save percentage in the two games.