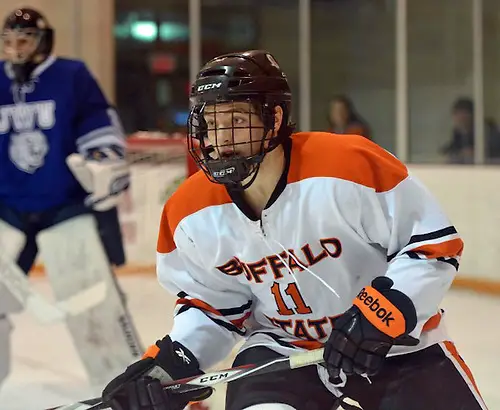 It's time for a well-earned and well-deserved break for our two men's D-III columnists, Dan Hickling and Brian Lester, but first, let's run down this past weekend.
WEST
MIAC – In a showdown against nationally-ranked St. Scholastica, St. Thomas took an early lead and never looked back en route to a 4-2 non-conference victory on Saturday. Four different players scored in the win, with Willie Faust and Alex Altlenbernd each tallying their sixth goals of the season. Jordan Lovick and Connor McBride also scored. Their goals gave the Tommies an early 2-0 lead. Drew Fielding earned the win as he tallied 25 saves. The Tommies held a 29-27 edge in shots, going 2-of-5 on the power play. St. Thomas, which is 3-0-2 at home this year, improved to 5-3-3 overall…Concordia ended a three-game winless streak as it knocked off Northland 4-2 on Saturday. The Cobbers won for the first time since beating Middlebury on Nov. 28 and will head into the holiday break with a 6-4-3 record. The Cobbers pulled away in the third period, scoring twice to seal the deal. Jordie Bancroft broke the 2-2 tie and Jeremy Johnson added a goal as well in the third. It was Johnson's second goal of the night. Andrew Deters also scored for the Cobbers, who owned a commanding 36-15 advantage in shots. Deters and Bancroft each tallied an assist as well. Jordyn Kaufer started in goal and racked up 13 saves. Kaufer improved to 2-2-2 on the season.
NCHA – Marian opened up its weekend with a 5-2 win over Superior behind two goals from Rjay Berra. Berra also tallied an assist in the win. Brodie Jamieson scored a goal and dished out two assists as the Sabres snapped a two-game losing streak and improved to 6-6 on the season. Jacob Ryd and Derek Thorogood also scored for the Sabres, who held a 34-29 edge in shots. Mike Baldwin won his third game of the season has he made 27 saves. Marian didn't have as much luck on Saturday as it lost 2-1 in a hard-fought game against nationally-ranked Wisconsin-Stevens Point. Jamieson scored the lone goal for Marian. It was his fourth of the year. Mike Gudmandson made 26 saves. The Sabres are off until Jan. 9 when they travel to Wisconsin-Eau Claire…Finlandia picked up its second win of the year as it topped Aurora 4-2 on Friday. The win snapped a seven-game losing streak for the Lions. Lucas Lahnals, Thomas Malkmus, Kyle Pavlack and James Devlin all scored goals for the Lions, who fashioned a 30-23 advantage in shots. Jordan Marr made 21 saves as the Lions improved to 2-10 on the season. The Lions battled Aurora again on Sunday and skated to a 2-2 tie. Devlin and Lane King both scored goals for Finlandia. Walker Enstad made 27 saves. It was the first tie of the year for the Lions.
WIAC – Eau Claire continued its dominance of the Milwaukee School of Engineering on Friday night, knocking off the Raiders 4-0. The Blugolds have won all six meetings in the series, outscoring the Raiders 42-4. The win on Friday marked the third time Eau Claire has blanked MSOE. The Blugolds scored twice on the power play, getting goals from Preston Hodge and Ethan Nauman. Nauman finished the night with two goals. Patrick Moore scored as well for the Blugolds, who held a 43-34 edge in shots and ended the Raiders' six-game win streak. It was the fifth consecutive game in which Eau Claire did not give up a power play goal. The Raiders were 0-for-9 in power play situations. Tyler Green earned the win in goal, racking up 34 saves. The Blugolds ran their win streak to three games on Saturday with an 11-2 win over Lawrence. Eau Claire scored five power play goals in the win, with Nauman and Brandon Wahlin each scoring two of them. Ross Andersen scored on the power play as well for Eau Claire, which improved to 7-3-2 overall. Jay Deo racked up 24 saves for the win….Wisconsin-River Falls is off to its best start in program history after a 3-1 win over Hamline on Friday night. The Falcons are 11-0 and their 11-game win streak ties the record for longest win streak. It's the first time since the 1995-96 campaign that River Falls has won 11 in a row. Tanner Milliron came through with 30 saves, although his shutout streak, which lasted more than 167 minutes, was broken in the second period. River Falls was outshot 31-22 but it didn't matter as three players scored in the win. Mike Fazio, Michael Williams and Russ Jordan all scored for the Falcons. The goal by Jordan was the first of his career. River Falls is 20-3-1 all-time against Hamline and this marks the second time this season that the Falcons have beaten the Pipers. River Falls improved to 6-0 at home and won't play again until Jan. 2nd when it takes on Aurora in the first meeting between the two programs.
EAST
Not much weekend action in the East and what few games were played were all out of conference.
Nonetheless, there were some notable performances that sent their respective teams into the Christmas break on a high note … In Fredonia, Hunter Long scored his third goal of the season with 5:07 gone in the third period to lead FSU to a 2-1 squeaker over Johnson and Wales Friday. Goalie Jeff Flagler stopped 36 of 37 to give the Blue Devils their second win of the season. … The next afternoon, J & W stopped off in Buffalo and were bested again, this time by Buff State by a 5-3 count. Jason Zaleski scored three goals for the Bengals, and Ryan Salkeld added two more. … Hamilton rallied from a goal down three different times and eked out a 3-3 overtime tie with visiting Cortland, Friday. Pat Curtis netted the deadlocker with just 40 seconds remaining in regulation. … Also, Friday, Curry handed host Potsdam a 4-2 loss after the Bears had mounted a third period rally with goals by Billy Pascalli and Jake Rivera. Adam DiBrina's empty netter with 26 seconds remaining sealed the deal for the Colonels. … On Saturday, Curry's Jordan Reed scored twice (Nos. 8 and 9) in a 5-4 win over Canton. … Plymouth State went winless in its two starts, playing to a 4-4 overtime tie at New England College, then losing to Castleton State 4-3 in overtime. Josh Woody scored at 14:05 of the third, allowing the Panthers to salvage the tie with NEC. The next day, Castleton freshman Ryan Smith picked an opportune time to net his first varsity goal, at 1:32 of the extra session, which finished off the Panthers. … Lastly, Framingham State gave up four unanswered special teams goals to D-II Franklin Pierce to fall 5-3.
Happy Holidays and Happy New Year!