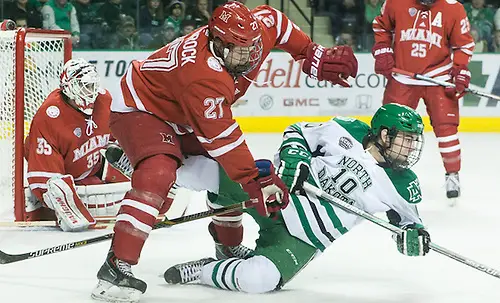 The first half of the season has been a successful one for the NCHC, which had as many as six teams in the USCHO.com Division I Men's Poll at one point. At the close of the first half, five teams are in the top 12, with three in the top seven.
With so many teams having good seasons, it's no surprise that the league is once again ultra-competitive. Miami and Minnesota-Duluth sit in a tie for first place with 21 points, one point ahead of Omaha and two points ahead of North Dakota. Denver sits in fifth place with 12 points, but has three games in hand on the four teams above it, which potentially equals nine points.
The second half is shaping up to be a fierce race for the Penrose Cup, awarded to the league's regular season champion, so we'll start by looking at some key series in the second half, predict a champion and the overall standings, predict some stat leaders, and look at who from the league might be in the NCAA tournament come March.
Key series
Jan. 9-10: Minnesota-Duluth at North Dakota
The Ralph is always a tough place to play, and with these two neck-and-neck in the standings, this series could go a long way to determining the league champ.
Jan. 9-10: Denver at Omaha
As stated earlier, Denver has three games in hand on Omaha and trails the Mavericks by eight points. Denver needs to at least split, and preferably sweep, to have a chance at home ice in the league playoffs.
Jan. 23-24: Denver at Miami
Another key series for the Pioneers, who will be in a dogfight for home ice, as well as an important one for the RedHawks, who have to get points to stay in first.
Jan. 30-31: North Dakota at Omaha
In the two weeks before this series, each squad plays Colorado College, the current NCHC cellar dweller, but a team that has shown it is a problematic out. If CC gets points against either, this series becomes even more critical.
Jan. 30-31: Minnesota-Duluth at Denver
Expect another battle between these two huge rivals.
Feb. 13-14: Denver at North Dakota
These two played to close the first half in Denver, and it was an incredible series that resulted in a split. Both teams demonstrated exceptional speed and toughness. This could be the series of the second half.
Feb. 20-21: Minnesota-Duluth at Miami
Depending on what happens in the first six weeks of the second half, this series could decide the Penrose Cup champion.
Feb. 27-28: Omaha at Minnesota-Duluth
Again, a huge series that could decide the Penrose Cup.
Feb. 27-28: Miami at Denver
There won't be many places for either team to gain ground after this series.
March 6-7: North Dakota at Miami
Talk about a way to end the regular season. These are two top teams that both could have a chance to win the Penrose Cup. Last season, North Dakota lost the Penrose Cup in the regular season's final game when it fell to Western Michigan. Will history repeat itself?
Predicted champ
The NCHC is such a tough league to pick a champion for. With the way five teams are potentially bunched up right now, I think you could flip a coin and have a better chance of picking a regular season champ.
Of the five teams that could be in contention (six, if Western Michigan builds momentum from its closing weekend in the first half), I've seen only two: North Dakota and Denver. In some ways, Omaha has the best chance to gain points, because the Mavericks are the only team in contention that has four games against Colorado College in the second half, though I still think CC is better than its record shows.
That said, I picked Miami at the start of the year, and I think I'll stick with it, with the last series of the season in Oxford deciding it.
Predicted standings
I'm not the best prognosticator, but here's my best guess at a finish order:
1. Miami
2. North Dakota
3. Omaha
4. Minnesota-Duluth
5. Denver
6. St. Cloud State
7. Western Michigan
8. Colorado College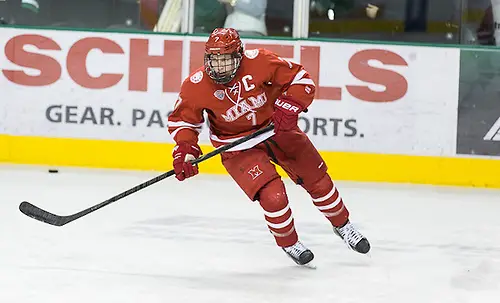 Predicted stat leaders
This is a tough one as well. The NCHC has four players in the top 20 in scoring nationally: North Dakota's Drake Caggiula and Michael Parks, Omaha's Austin Ortega and Miami's Austin Czarnik.
Dominic Toninato of Minnesota-Duluth leads the league in goals scored with 13, two ahead of Ortega. Jay Williams of Miami leads all goaltenders with a 1.66 GAA, with Denver's Evan Cowley second at 1.89. North Dakota's Zane McIntyre leads the league in wins with 13, one ahead of Williams.
My best guess on the league scoring champ is Czarnik. The reason: Through 18 games, he has 20 assists and no goals. That has to change, and when Czarnik starts potting a few goals of his own, I expect he'll overtake Caggiula, who I think will finish second in points.
Toninato and Ortega, both sophomores, are 1-2 in goals scored. Jonny Brodzinski of St. Cloud State is third, although he has played two fewer games than both Toninato and Ortega. Given that, I'm going with Brodzinski to finish atop the league in goals scored, as I think his extra year of experience will get him a few more points. Further, St. Cloud will be playing desperate hockey and trying to get back into contention for an NCAA tournament berth, and I think the Huskies might try to open up their offense a little more as a result.
For goalie wins, I expect North Dakota's McIntyre to lead the league, partly because I think he will likely play more games than Williams in the second half. However, I think Williams will continue his excellent play and lead the league in GAA. I expect Omaha's Ryan Massa to lead in save percentage, however, in part because Omaha tends to play a more open style and Massa will face more shots as a result.
NCAA tournament
Last year, the NCHC sent three teams to the 16-team NCAA tournament field. Could more make it this year? It's certainly possible.
All five NCHC teams ranked in the USCHO.com Division I Men's Poll are also in the top 16 in the PairWise Rankings, which means barring upsets in the conference tournaments, all five would make the NCAA tournament. Denver is the lowest, at 15th, while Minnesota-Duluth and Omaha are third and fourth, Miami is sixth and North Dakota is 10th.
Why not? I'll be a league homer and pick all five to make the NCAA tournament field and make it an NCHC party. After all, the games each play against the other will help in the PairWise.
Minnesota-Duluth is the only team with more than two out-of-conference games left, and while those games are tough (two against Northern Michigan, one against Bemidji State and one against either Minnesota or Minnesota State), I think the Bulldogs are strong enough to at least split those four and keep their PairWise high.
I also think the winner of the league autobid is likely to be one of those five teams.
Random prediction
All the USCHO writers were asked to make a bold prediction in this second half preview, so after thinking it over, here's mine: The NCAA tournament champion will be a team from the NCHC.
I'm not sure which yet, but I think in the league's second year, one of its teams will be crowned national champion.
Bring on the second half!