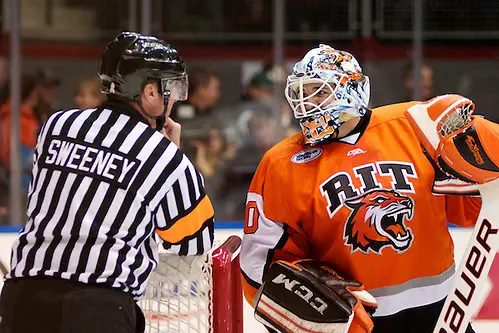 As we sail into 2015 and say goodbye to holiday tournaments, Atlantic Hockey teams are preparing for an eight-week sprint to the end of the regular season.
Four teams participated in holiday tournaments, with mixed results. Robert Morris came the closest to winning a trophy, placing second in the Three Rivers Classic. The Colonials defeated Penn State 4-2 in the opening round but fell to Colgate 6-1 in the title game.
The other three AHA teams went winless in their tourneys:
• Sacred Heart lost to Massachusetts-Lowell 5-1 and Union 3-1 in the Frozen Holiday Classic in Bridgeport, Conn.
• Rochester Institute of Technology fell to host Minnesota 3-2 in overtime in the Mariucci Classic, as well as dropping a 7-3 decision to Massachusetts-Lowell (which managed to play in two tournaments) in the opening round.
• At Vermont's Catamount Cup, Air Force fell 4-2 to the hosts, followed up by a 5-1 loss to Massachusetts.
For RIT, the trip to Minneapolis was a chance to see where it stood with a pair of teams in the top 10 of the USCHO.com Division I Men's Poll.
"I was happy with our overall play as a team," said RIT coach Wayne Wilson. "But we had some individual plays that were poor, times when guys turned the puck over and the other team was able to capitalize on our mistakes. We made some really poor decisions with the puck."
This was evident in the Tigers' 7-3 loss to Lowell in the opening round, when the River Hawks opened a 4-0 lead through 30 minutes and never looked back.
"They were unforced errors," said Wilson. "It wasn't a case of being pressured to turn the puck over. If you can score three goals against a team like Lowell, you need to find a way to win."
Wilson liked his team's performance against Minnesota, but again the Tigers fell short.
"[Minnesota is] a very skilled team and on the big ice surface we were OK giving them a lot of perimeter shots," said Wilson. "We tried to minimize chances in front of the net and did that for the most part, but their [game-winning goal] was from in close.
"We felt good about our game and weren't overwhelmed against two teams that are very capable of winning their leagues and are NCAA [tournament] teams for sure."
Those opponents kept RIT's top line of Matt Garbowsky (23 points), Josh Mitchell (19 points) and Brad McGowan (15 points) to a single goal on the weekend, but other lines pitched in, something the Tigers will need down the stretch.
"We need to be more consistent to be successful," said Wilson. "We're looking for more balanced scoring so it was good to see Caleb [Cameron] get a goal, [Dan] Schuler get a goal, Smitty [Danny Smith] and Tommy [Brandon Thompson] get goals."
Senior goaltender Jordan Ruby had allowed five goals total in his previous five starts but surrendered five goals in two periods against Lowell. Sophomore Mike Rotolo got the start against Minnesota and made a career-high 46 saves on Saturday.
"We've got some decisions to make [about goaltending] but they are good decisions to have," said Wilson. "Jordan has put together a good body of work and Mike played very well against Yale [a 2-0 loss on Nov. 29] and Minnesota, two very good teams."
RIT is in eighth place in the Atlantic Hockey standings, three points out of fourth but also three points from last place. Wilson said he thinks the Tigers have the potential to move up in the standings over their final eight weeks.
"I have a very strong belief in this particular group," he said. "They need to believe in themselves more. We're a lot closer to our goals than maybe they think we are.
"We're on the cusp."
Keeping pace
Robert Morris has garnered the majority of attention thanks to a 12-4-4 record, 9-2-3 in league play. But thanks to a win and a tie against Air Force last weekend, Holy Cross has kept pace with the Colonials, and at 7-1-5 in conference play is just two points behind Robert Morris with a game in hand.
The Crusaders are undefeated at home in league play (3-0-3) and physically dominated the Falcons, holding them to just two goals last weekend in a 1-1 tie and 3-1 win.
Air Force coach Frank Serratore put it this way in the Colorado Springs Gazette: "It was just a great big glob of purple that just kept coming at you."
New places, familiar faces
Last weekend's action saw some Atlantic Hockey being played in nontraditional venues.
On Friday and Saturday, Mercyhurst hosted the inaugural "Snowtown Throwdown" with a pair of games against Ohio State played at the Erie Insurance Arena, home of the OHL Erie Otters. The Lakers lost 6-3 on Friday and tied 2-2 on Saturday.
Friday night's attendance was 2,431 the largest crowd Mercyhurst has played in front of, home or away, so far this season.
[youtube_sc url=https://www.youtube.com/watch?v=P5u8qlD53GE]
Robert Morris also had a change of scenery, facing off against Bowling Green in the program's first outdoor game, played at downtown Toledo's Fifth Third Field, the home of the AAA baseball Mud Hens.
Conditions were not ideal, but 3,806 saw a pretty good game, with the Colonials coming back from a 2-0 deficit midway through the third period to earn a 2-2 tie. Highlights can be found here.
A hockey guy
Effective March 1, Air Force will have a new athletic director. Jim Knowlton, currently the AD at Rensselaer, will take over at the Academy for the retiring Hans Mueh.
Knowlton is a former Army player, and currently chairs the NCAA Division I men's ice hockey committee. He's also on the board of College Hockey Inc.
This is a nice pick-up for Air Force and Atlantic Hockey.
Weekly awards
I'm going with the same honorees as chosen by the league:
Player of the week — Alexander MacMillan, American International: The senior factored in five of the six goals scored by the Yellow Jackets in a split with Army. MacMillan had a pair of assists on Friday and three on Saturday.
Goalie of the week — Matt Ginn, Holy Cross: Ginn stopped 47 of 49 shots last weekend to help the Crusaders to three points against Air Force. Ginn leads Atlantic Hockey with a 2.01 GAA and a .933 save percentage.
Rookie of the week — Tyler Pham, Army: Pham had a goal and three assists against AIC. His 19 points are tops for both the Black Knights overall as well as all Atlantic Hockey rookies.
Defensive player of the week — Jake Bolton, Holy Cross: The junior blueliner had a goal and two assists against Air Force. He also blocked three shots and was a plus-3 on the weekend.