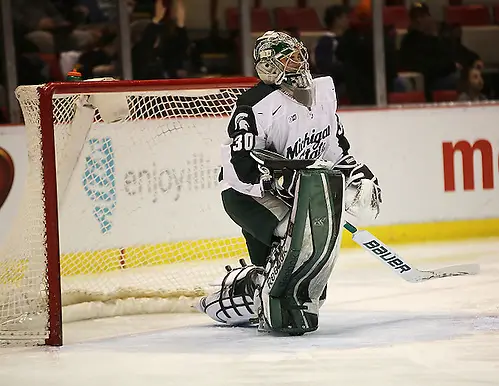 DETROIT — Michigan State junior goaltender Jake Hildebrand faced an absolute blitzkrieg on Friday night against a Michigan offensive machine ranked first in the nation in scoring.
The Butler, Pa., netminder faced 49 shots in a 4-1 loss to Michigan, one shy of his career high of 50. The Wolverines racked up an impressive 24 shots on goal in the opening period and were sitting at 30 just 26 minutes into the game.
Big Ten tournament
See the tournament bracket and get links to schedules and stories at Big Ten Playoff Central.
Hildebrand let in three of the final 16 shots he faced, en route to a 45-for-49 night in the saves department.
"They're a really skilled team and they can put the puck in the back of the net," said Hildebrand. "They just executed tonight."
"We gave up shots too easy, and you can't rely on your goaltender to make that many saves on a consistent basis," added Spartans coach Tom Anastos.
Hildebrand took home both Big Ten goaltender of the year and Big Ten player of the year honors this season. Coming into Friday's game, he had a 2.12 GAA with a .930 save percentage and six shutouts.
Since Jan. 1, he has led the nation in save percentage (.950) while the team enjoyed a 10-5-1 record over that time.
"He's been phenomenal," said Anastos. "He was really good tonight. I thought he played really well all season long."
His numbers this season against Michigan weren't as stellar, but they were respectable. In five regular season games, he allowed 13 goals in five games, while leading the team to a 2-3 record against their archrivals.
"You always want to get a lot of shots on any kind of goaltender, especially Hildebrand," said Michigan's Boo Nieves. "He's a really good goalie and he's definitely shut us out before. But we have to get that out of our mind and have kind of a short-term memory when we're playing against him.
"I think we had 50 shots on net, and you've got to pepper the goalie and eventually they're going to start going in."
"He's probably the best goalie we've played against all year long," added the Wolverines' Alex Kile. "When you play against a goalie like that, you've just got to get shots. You can't try to get too cute. You just have to keep shooting and try to get bodies in front and try to bang home rebounds."
Hildebrand, who started every game in net for the Spartans this season, finished 17-16-2 on the year.