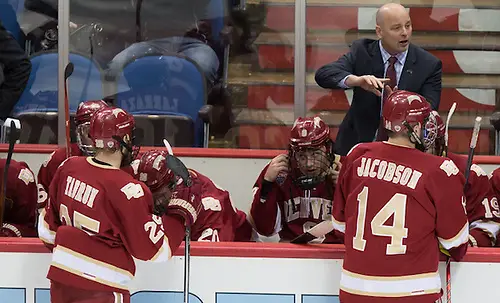 MINNEAPOLIS — Miami putting up six goals certainly fits the RedHawks' brand of hockey. But on the losing side of that effort Friday night was a Denver team that will look in the mirror and try to rediscover who it is at a critical point in the season.
After giving up countless odd man rushes in losing 6-3 in the NCHC semifinals on Friday, Saturday's third-place game against North Dakota will be an opportunity to get on track and be the strong defensive team the Pioneers strive to be.
NCHC playoffs
See the tournament bracket and get links to schedules and stories at NCHC Playoff Central.
"We've just got to have better balance," coach Jim Montgomery said. "Our F3 [forward] wasn't in a good enough position and our D men were unfortunately making too many risky reads. We pinch pucks when pucks are on walls and unfortunately we were pinching down when they were breaking out clean. That's what leads to two-on-ones and three-on-ones.
"We've just got to shore up. We just don't usually give up that many odd-man rushes. That's not us when we're playing our game, and I'm sure we'll get back to it tomorrow."
Miami attacked early and often, and the guys that the Pioneers needed to avoid giving opportunities to got those opportunities early and often.
"It was actually a big emphasis of ours was to be really good in the first 10 minutes," Montgomery said. "I don't think we were poor, but we didn't execute our game plan. Give Miami credit: Their speed and their tenacity and winning one-on-one battles was the difference in the game. We gave too much time to their best players and their best players made us pay."
Miami's opportunism Friday night was certainly not unique to its style of hockey, and it was exactly what was needed to move on to the NCHC tournament championship.
"Denver's a great team that loves to play in transition," Miami coach Enrico Blasi said. "If you don't play good team defense and stop them, you're going to pay for it. There's never an easy moment when you're playing a team like Denver. They come at you in waves. You can bend but you can't break, and you've just got to keep going."
The RedHawks stormed out to a 4-1 lead, but the Pioneers had a bit of a comeback brewing with responses from Daniel Doremus and Trevor Moore to bring them within one. But another big Miami rush resulted in a backbreaking goal from Louie Belpedio that took all the wind out of the Pioneers sails.
"We felt good about our ability to come back, but we consistently had big breakdowns," Montgomery said. "We had six two-on-ones in the first 30 minutes of the game. That's very uncommon — I mean, we're playing Denver hockey. The other part is, we get that goal [from Moore] and for the next three minutes, Miami was the better team again. We were in our end and had a huge breakdown and Louis has all kinds of time and their defenseman is wide open on the back door."
North Dakota, Saturday's opponent for the Pioneers, certainly has players that can make defenses pay on two-on-one opportunities, and more powerful offenses loom in the NCAA tournament. A repeat of Friday night's game down the road obviously would be costly.
"One of the emphases of our team is to have a short memory and learn quickly," Doremus said. "We're fortunate that this doesn't end our season, but we have a lot of veterans on our team, so a lot of experience. We know that if we take the lessons from tonight and turn the page, tomorrow's a new day."