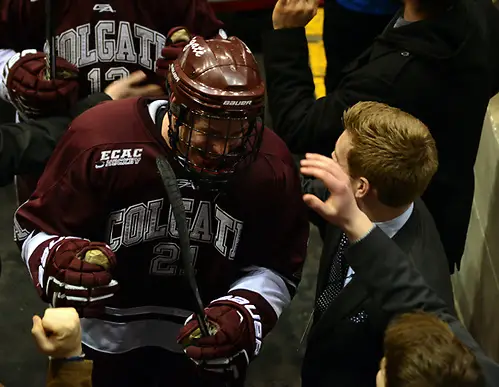 LAKE PLACID, N.Y. — While the main story line in the second game of the ECAC Hockey semifinals was the overtime win by Colgate over St. Lawrence, the play of the Raiders' second line of Darcy Murphy, Mike Borkowski and Joe Wilson was equally impressive.
Most people would think of the Spink twins, Tylor and Tyson, when it comes to offensive chemistry and Colgate, but the second line left its own impression on the 5,025 fans in attendance Friday night. The three players were responsible for all four of Colgate's goals, with Murphy scoring the first two, Harrison the third and Borkowski the overtime winner.
ECAC Hockey playoffs
See the tournament bracket and get links to schedules and stories at ECAC Hockey Playoff Central.
It was not just the goal scoring of the line that was impressive. Both Murphy and Borkowski figured on all four Colgate goals, while Wilson tallied a goal and two assists, failing to factor statistically on just Borkowski's overtime goal.
The chemistry between the three skaters was clearly evident on the ice, with crisp tape-to-tape passes throughout regulation and overtime. For Murphy, the chemistry wasn't something new.
"Me and Joe and Borkowski were clicking tonight," he said. "I felt like it was coming in the last few games. Against Dartmouth we really felt like we were starting to get our legs under us and finding each other."
Finding each other led to two goals from Murphy, both placed far side from the wing on St. Lawrence's Kyle Hayton. Tic-tac-toe passing led to Wilson's goal at the side of the Saints net to open the third period, as each member of the trio seemed to always know where the other two were.
"Tonight we we're able to find each other in the right spots," said Murphy. "We were really starting to come together and develop as a line."
That development is something that Borkowski said has been happening for years. Juniors Murphy and Borkowski and senior Wilson have been a consistent line for close to three years for Don Vaughan's Raiders, something Borkowski credited with helping them develop together.
"I think we've had chemistry for a few years, we've been a trio for a few years," he said. "Obviously, it takes time to mesh with other guys, but they're such good players that it's easy to develop chemistry with them."
That chemistry culminated in a dramatic overtime goal by Borkowski, 9:34 into the extra frame.
"Murphy had a great forecheck; we were able to get some sticks in there," Borkowski said. "Lough had it, made a nice button hook play and got it to me, and I wanted to get it off my stick as soon as possible. I was thinking top half of the net, maybe far side, and I was lucky enough to have it go in."
The chemistry on Colgate's second line will look to shine again Saturday when the Raiders face off with the Harvard Crimson in the ECAC championship game, looking to guarantee themselves a berth in the NCAA tournament.