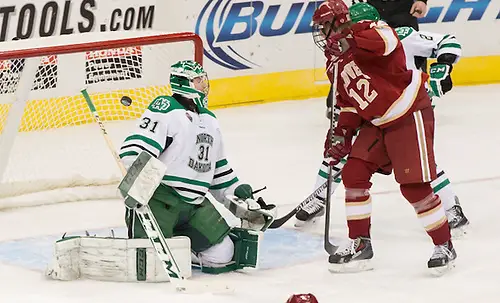 MINNEAPOLIS — Despite back-to-back losses in the final two games before NCAA tournament play begins, the proverbial panic button isn't being hit at North Dakota.
UND heads into tournament play with a lot of questions on the front lines, and it'll need to figure it out in a hurry. But if there was any concern about scoring just one goal in each of his team's NCHC Frozen Faceoff games this weekend, it didn't show in Dave Hakstol's reaction.
NCHC playoffs
See the tournament bracket and get links to schedules and stories at NCHC Playoff Central.
"I think we just get back to work," he said after a 5-1 loss to Denver on Saturday. "Don't overanalyze a whole lot here. Tough results for our team this weekend. We couldn't ever really get ourselves into a rhythm. We couldn't find a lot of energy, even tonight other than in a couple of spurts."
Despite resting seniors Daniel Doremus and Joey LaLeggia in the third-place game Saturday afternoon, Denver was able to dictate play throughout the game and clobber UND with five goals on 35 shots. In the process, the Pioneers' first-period barrage that built a 2-1 lead was done so with 20 shots — the second time North Dakota has allowed 20 or more in a period in a month (March 6 at Miami).
"It just seemed to be one of those weekends where things weren't going our way," senior Nick Mattson said.
The loss for the season of Mark MacMillan and his 16 goals on Feb. 28 started raising some questions about where UND's offense was going to come from going forward. MacMillan had his line clicking, and since his season-ending knee injury against St. Cloud State, his two linemates — Michael Parks and Tucker Poolman — have combined for just one goal.
Getting lines clicking again was one goal of Saturday afternoon's consolation matchup for North Dakota, and Hakstol used the opportunity to try to get a few different combinations to go.
"I actually kind of followed a plan coming into today," he said. "There were some things I wanted to look at. That was the value of today. … We wanted to flip-flop a couple of right wingers at some point during this game and take a look and see how those combinations looked and we were able to do that."
Connor Gaarder, who has provided some of the offense in MacMillan's absence (including on Saturday), remained optimistic that the offense will return.
"We've got a really mature group in there and we understand what happened," he said. "We have to put that behind us. We've got a lot to work at this week, but with the group we've got in there I'm pretty excited and look forward to getting back to work with these guys."
Mattson agreed. "We have some extremely talented players and extremely confident players," he said. "I have no doubt in my mind that we'll get back to it. Sometimes, things just don't come together for whatever reason. I think we're going to put it in the rear-view and take what we can out of it, but we'll come back confident as ever next weekend and I'm sure we'll be making plays."