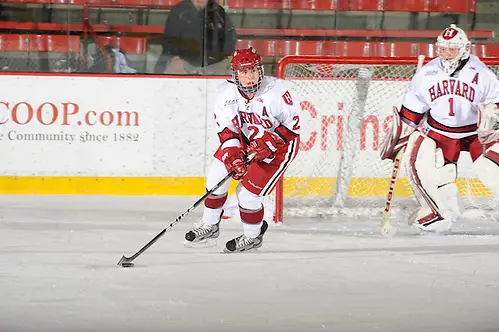 MINNEAPOLIS — The 2014-15 season was my first as a voter in the USCHO.com Division I Women's Poll. There were many Sunday nights where the decision on how to rank the teams was far from clear, and unlike other recent seasons, that uncertainty would at times reach all the way up to the top spot.
Minnesota started the season ranked atop most ballots, mine included, although I felt that the Gophers might be a year away. The graduation of Kelly Terry and Sarah Davis left them with two unknowns at the center, a position that is key to what Brad Frost's team hopes to accomplish.
Once Minnesota (33-3-4) fell to Bemidji State, most voters switched their allegiance to Boston College; with good reason — the Eagles were destroying everything in their path. I voted for Harvard (27-5-3), because I felt that its goaltending, blue line, and depth up front made it most likely to be successful once the postseason arrived. I wasn't alone in that estimation.
"When we looked back at the beginning of the year and we're looking at rosters, we thought that Harvard would end up being here, that they would be one of the last teams standing," Frost said. "In particular out East, up and down their line-up, they're as deep as anybody. They've got as good a goaltending as anybody, and up front as well as on the blue line they're tremendously talented."
My valuation of Harvard didn't last, as the Crimson didn't win again until the end of November, and were ebbing big time while BC flowed.
So do I deserve a pat on the back because the first two teams I voted at No. 1 are meeting on Sunday to decide the NCAA Champion? Hardly. I waffled numerous times along the way. Even now, the picture doesn't look all that sharp, in part because Harvard and Minnesota look a lot alike.
"They've got weapons all over the ice," Crimson coach Katey Stone said. "I think they're a very balanced team, similar to us. I anticipate it's going to be a great hockey game."
The defensive corps for each team is particularly strong; they may have the top two blue lines in the country, of a caliber not always seen in this event.
"In 2003 in that epic game in Duluth, there were some incredible hockey players on the ice and they were forwards; the best players were the forwards," Stone said. "Now the game has developed to the point where we've got some great defensemen as well, and it's just awesome to see."
Harvard's defense was elevated after the break when senior Josefine Pucci joined the team.
"At the banquet on Thursday night, the question was asked what was the turning point in Harvard's season, and Marissa Gedman said it was probably when Pucci came back," Frost said. "You can see the success that they've had ever since that point in time."
Harvard has gone 21-3-1 during 2015.
Frost has experienced running into a team that received a second-half addition before. He mentioned falling to Minnesota-Duluth in the semifinal in 2010 after Jocelyne Larocque helped transform the Bulldogs into a national champion.
"Imagine getting a Lee Stecklein back for us last year from the Olympic team," Frost said. "It would have been a huge thing for us. All of a sudden, your No. 1 defenseman becomes your No. 2 defenseman, and so on and so forth. Especially on the blue line when you only need five for the most part, to get another player of Pucci's caliber, somebody who has played in the Olympic Games and played in a lot of big games for Harvard, it's a huge boost in the arm for them."
The Gophers' blue line has evolved as well, although not as dramatically. After a couple of months at forward, sophomore Megan Wolfe returned to the position she played in her first season. Sydney Baldwin started to find her place in the college game.
"The other piece of it is everyone has a fantastic goaltender, and that wasn't the case back in the early 2000s," Stone said.
These teams' seasons are likely over without that, as junior goalies Emerance Maschmeyer of Harvard and the Gophers' Amanda Leveille came up huge in wins on Friday.
Should all of that even out, it likely favors Minnesota, because it has the type of threat in Hannah Brandt that Harvard lacks. Brandt has piled up more points on the season than any two Harvard players. She'll play her first collegiate game against Stone, the coach of the 2014 U.S. Olympic Team, from whose plans Brandt was dropped fairly early in the process.
"Her skating has improved dramatically," Stone said. "She's polished her game. She's always been a threat with the puck, but she really has become much more threatening off the puck. It's awesome to see, and she has an incredibly bright future."
For her part, Brandt isn't dwelling on past national team roster decisions.
"When it comes to a game like this, I want to play my best game of the year, just like everyone on the team, because it's the national championship," Brandt said. "That could be a storyline for people to talk about, but for me, it's not about that at all. It's just about playing my best game of the year for this team and this program and all the fans that are going to be there supporting us."
Friday's semifinals were sold out, and another capacity crowd is expected for Sunday.
"These are the kind of crowds that our women that play this game deserve to play in front of," Stone said. "We talk about that a lot, that the bigger the crowd, the better it is. We'll embrace it and try to make some noise of our own."
A couple of her players, seniors Hillary Crowe and Samantha Reber, will be wrapping up their careers close to home.
"It's truly a dream come true," Crowe said. "It's been my goal, our goal the moment I came here. It's awesome being back in my hometown and having a good crowd."
Crowe expects about 50 of those in attendance to be her own friends and family.
"For me, having been in this awhile, it's just great to see the caliber of play so high and kids handling the pressure as if it were just another day," Stone said.
Brandt thinks that the pressure might dip now that everyone has reached their goal of playing in the title game, particularly for the host Gophers.
"There's pressure for us, just like there was two years ago to get to this game, and now that we're here, [we] can kind of forget about all that and just play," Brandt said. "We have one more game to play, and that's all we have to worry about. There's nothing that you have to think about past that. That's nice, but Harvard probably feels the same way, so it's not just us. But it's definitely exciting to lose a little bit of pressure."