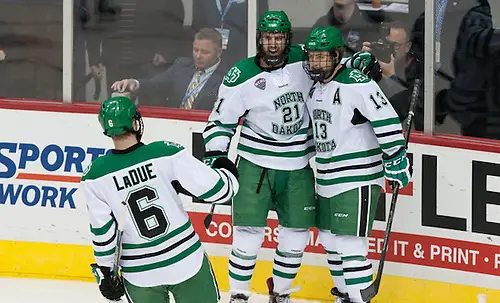 North Dakota is the host of the West Regional in Fargo, N.D., about 80 miles south of Grand Forks, so UND knew it was going to be there if it made the NCAA tournament.
On Sunday, we found out which three teams will join UND at Scheels Arena: Michigan Tech, St. Cloud State and Quinnipiac.
West Regional (Fargo, N.D.)
• Michigan Tech vs. St. Cloud State, 3:30 p.m. CDT Friday, ESPN3/WatchESPN (tape delay: 9 a.m. CDT Saturday, ESPNU)
• North Dakota vs. Quinnipiac, 7 p.m. CDT Friday, ESPNU
• Regional championship game, 8 p.m. CDT Saturday, ESPNU
Here's a quick look at the teams in the West Regional:
No. 1 seed: North Dakota
North Dakota, making its 13th consecutive NCAA tournament appearance (the longest active Division I streak), has been one of the best teams in the country all year.
UND has a great goaltender in Hobey Baker Award finalist Zane McIntyre (2.04 GAA, .929 save percentage), a fantastic defensive corps led by Nick Mattson and Jordan Schmaltz, and a powerful, deep lineup of forwards led by Drake Caggiula and Michael Parks.
UND took a step back this weekend at the NCHC Frozen Faceoff, losing to St. Cloud State 3-1 in the semifinals after not getting anything done on offense. Then they got overwhelmed by a surging Denver team 5-1 in the third-place game.
Despite losing leading scorer Mark MacMillan for the season a few weeks ago, they'll be ready to go next weekend.
No. 2 seed: Michigan Tech
Michigan Tech has had a great turnaround season under third-year coach Mel Pearson. Making their first NCAA tournament appearance since 1981, the Huskies finished second in the WCHA regular season standings and in the WCHA Final Five.
Goaltender Jamie Phillips has won 28 games for Tech this season, and he has a tremendous 1.71 GAA. He alone can have an impact in the West Regional. The Huskies also have a great group of forwards.
Hobey Baker Award finalist Tanner Kero leads Tech with 19 goals and 26 assists, and Tyler Heinonen has been hot lately, putting up six goals and nine points in his last six games.
No. 3 seed: St. Cloud State
A team that had been inconsistent many times during the season, St. Cloud State got it going at the right time, and coach Bob Motzko is taking his Huskies to their third straight NCAA tournament.
Despite losing to Miami 3-2 in the NCHC Frozen Faceoff championship game, St. Cloud State is playing its best hockey of the season right now. Goaltender Charlie Lindgren is only 18-17-1 on the year, but it's because of his performance in net recently that the Huskies have won four of their last five games.
Jonny Brodzinski and Joey Benik are SCSU's scoring leaders, and Brodzinski leads the team with 20 goals.
No. 4 seed: Quinnipiac
Even after a tough ending to the ECAC Hockey tournament by getting ousted by Harvard in the semifinals, Quinnipiac was able to sneak into the NCAA field.
The Bobcats were able to end Union's season in three games in the ECAC quarterfinals, but they enter the NCAAs having lost three of five.
Michael Garteig has been good for the Bobcats in net this year, allowing only about two goals per game and winning 22 games. Sam Anas is Quinnipiac's leading scorer with 23 goals and 16 assists, but his availability is in question because of a leg injury.