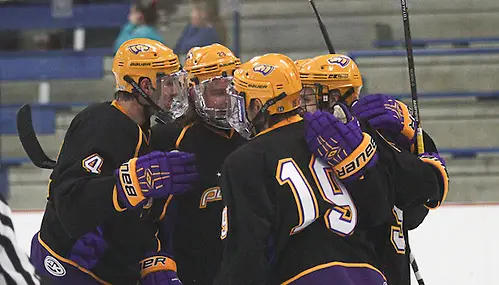 Who gets to the men's Division III Frozen Four?
Dan and Brian have ideas…
Brian Lester
Adrian (24-3-3) vs. Trinity (23-3-1): The Bulldogs and Bantams have never met on the ice. The Bulldogs have won 12 consecutive games and are the hottest team in the nation. They are in the final four for the first time since 2011 and feature a high-powered attack that cranks out nearly five goals per game (4.77). The Bantams are in the national semifinals for the first time since 2005 and have lost only once in their last 10 games. They average more than four goals per game (4.26) and allow less than two (1.78). I'm going with the hot team. Adrian, 5-4.
Wisconsin-Stevens Point (22-6-1) vs. Amherst (22-4-2): Stevens Point was the national runner-up a year ago and wants to finish the job this time. The Pointers are in the final four for the eighth time in program history and have never lost a national semifinal game. Stevens Point is cranking out 4.34 goals per outing. The Jeffs come in allowing only two goals per game and will look to use their defense to their advantage. They have won eight consecutive games. The Pointers are on a mission and I like their odds in this one. Stevens Point, 3-2.
Dan Hickling
Trinity 4, Adrian 2 – Bantams rule the roost for another day … at least.
Amherst 1, Wisconsin-Stevens Point 0 – Does Lord Jeffs' goalie Danny Vitale have one more shutout in him? The view here is yes.