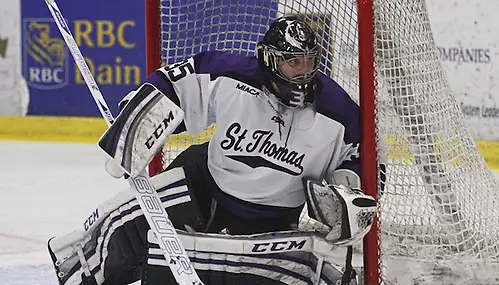 St. Thomas senior goaltender Drew Fielding has been chosen as the 2015 winner of the Sid Watson Award as the best NCAA Division III men's hockey player.
Fielding went 13-6-4 this year with a 1.67 GAA and a save percentage of .934. He had six shutouts on the season and is the second straight goaltender to win the award after David Jacobson of St. Norbert won last year. Fielding is the second player from St. Thomas so honored, the first being Steve Aronson in 2000.
"Drew is the most valuable player of our hockey team for the fourth year in a row and the main reason our team was the third ranked defense in the nation," said St. Thomas coach Jeff Boeser in a news release. "Throughout his four seasons at here, Drew has developed into one of the best leaders and most well-rounded individuals I have ever coached. He leads our team with a 3.88 GPA and heads up our team's study hall, which meets every Tuesday night during the school year. Drew has also taken the lead with our team's chapel that meets weekly through Hockey Ministries International. He works with the chaplain weekly to develop a Bible study that will be discussed at the next meeting. He is the first to volunteer for any activity outside of the rink that needs a leader. Drew takes all our freshmen under his wing and helps them navigate the rigors of being a college athlete.
"His contributions to our team and our school cannot be measured only with statistics. He is one of the most outstanding student-athletes I have ever had the pleasure of coaching."
Fielding has enjoyed an outstanding four-year career at St. Thomas and set the MIAC conference record in shutouts and is in the top three all-time in conference career GAA and save percentage. He has also been named back-to-back MIAC Conference Player of the Year.
The award is named in honor of the former Bowdoin coach, a three-time winner of the Edward Jeremiah Award as Division III Coach of the Year. Watson won 326 games at Bowdoin in a career that spanned from 1959 to 1983. He was also the school's athletic director.
The runner-up for the 2015 Sid Watson Award is Wisconsin-Stevens Point senior defenseman Kevin Gibson.