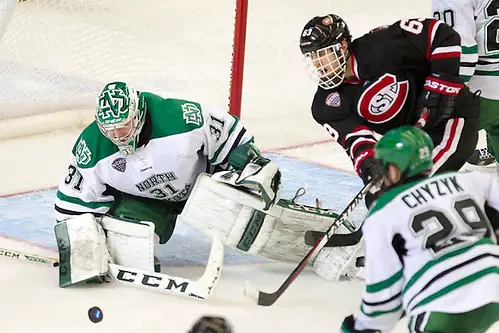 FARGO, N.D. — The arena roared. There was one minute left on the clock but no one heard the announcement.
The regional tournament most outstanding player, Zane McIntyre, spent most of the game in front of a familiar fan base that traveled just over an hour south to cheer on a North Dakota team that was bound and determined to make another trip to the Frozen Four.
2015 NCAA West Regional
See all of our coverage of the West Regional on our regionals page.
It didn't quite look that way at first.
The goaltender was beat by a shot by Jimmy Murray at 1:29 of the opening frame, but that was the only St. Cloud State shot he was going to let past him. The mentality moving forward was simple.
"Just don't let the next shot in, I guess," McIntyre said.
He didn't. The goaltender made 19 saves for UND and held on for a 4-1 victory over St. Cloud State in the NCAA West Regional final on Saturday night at Scheels Arena.
"Zane's been one of our most important guys throughout the year," UND coach Dave Hakstol said. "He's an anchor for us. We all trust him back there. He gives us an opportunity, if we're stumbling a little bit, to kind of regain our composure and get back after it."
UND did just that as it followed up with four straight goals, knowing what was on the line.
McIntyre said he quickly put the situation behind him and maintained a positive mindset.
"This is what we all worked hard for," McIntyre said. "So we just had to reset and refocus, just kind of go from there. You're going to have bounces and you're going to have ups and downs throughout the game and throughout the course of the year, but the best thing I've maybe learned over my past three years here is stay the course. Keep going because you never know what could happen."
McIntyre owns a 5-1 NCAA tournament record with a 1.26 GAA and a .957 save percentage.
The arena where McIntyre spent two years before UND playing for the USHL's Fargo Force sounded a little different on Saturday.
Cheers from UND fans echoed loudly throughout the game, although that was no surprise to McIntyre.
A Boston-bound team fed off an energetic crowd that has proved its loyalty time and time again.
"I think when you look at the attendance rates throughout college hockey, it's no question UND is No. 1 for a reason," McIntyre said. "You go across the whole state, it's UND Fighting Sioux colors and bleeding green and stuff. It's pretty special to be a part of, not only as a player, but as a teammate for all these guys and all these coaches … It's pretty special is all I can say. Thank you guys."