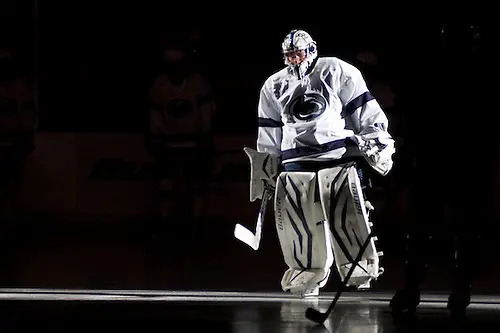 Penn State goalie P.J. Musico has been named the winner of the 2015 Derek Hines Unsung Hero Award.
The award honors Hines, a former Army player who was killed in the line of duty in 2005 in Afghanistan.
Musico started the season as the Nittany Lions' third-string goaltender but ended up playing in 13 games, winning six to help Penn State finish fourth in the Big Ten in the program's third season.
The senior started at Penn State when the school had only a club program, then joined the varsity team when it formed in 2012-13.
Musico, a kinesiology major, is active in the Penn State IFC/Panhellenic Dance Marathon, which raises more than $13 million annually for pediatric cancer research.
He is involved with autism awareness efforts, incorporating the famous puzzle piece into his helmet design in honor of his younger brother, Patrick, who is autistic. Musico is also active with the team's "teach hockey days," where youngsters from Pennsylvania learn how to skate and play hockey for the first time.
The award, coordinated by the Hockey Commissioners Association, is chosen in a vote of conference sports information directors based on one nomination from each league.
The other finalists were Rochester Institute of Technology's Matt Garbowsky, Yale's Carson Cooper, Connecticut's Ryan Tyson, St. Cloud State's Nick Oliver and Bowling Green's Ted Pletsch.