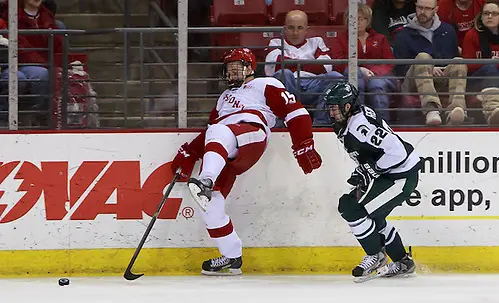 Wisconsin sophomore forward Morgan Zulinick will be leaving school at the end of the spring semester and will return home to British Columbia be with his family, which includes his three-year-old son, Noah.
"I've decided after three years here at Wisconsin, my heart is back home with my family and my son, Noah," Zulinick said in a news release. "I've found my desire to be back home with Noah outweighs my desire to continue on playing hockey. I think I really need this."
Zulinick was third on the Badgers this season in scoring with 15 points on five goals and 10 assists in 34 games. In 78 careers games at Wisconsin, spanning two years and an injury-shortened freshman season, he posted 33 points on nine goals and 24 assists.
"We were having our year-end meetings and Morgan's meeting was this morning at 9 a.m., the first one of the day," Wisconsin coach Mike Eaves added. "He came in, sat down and shared his decision to return home to be a full-time dad.
"In talking to Morgan throughout his time here, he would talk all the time at how much Noah would change when he would see him after three or four months. He tried to stay up with him on the computer, but he had a heavy heart. Probably the best hockey he played this year was over semester break when his family was here. He lit it up on the scoresheet and played with great energy because he was glad his son was here."
Zulinick will finish out the semester before returning home.
"Right now I am paying a lot of attention to school here so I finish off on a good note and don't have any difficulties transferring over," Zulinick continued. "I have applied to a couple schools back home and waiting to see if I get accepted. I've talked to my roommates and a couple other of my teammates, so word has gotten around. Some of the guys have asked me about it, and I told them, and asked them what they thought and what they would do. They have been unbelievable with their support. A lot of them said they don't know how I've been doing it. Every one of them has met Noah."
As one might assume, it was not a decision that came easy, as Eaves explained.
"He talked about the decision process and it sounds like it was a pretty thorough one," Eaves said in the news release. "It has been on his heart for a while. What he shared was that when he was home over spring break with his mom and dad and extended family that he holds in his inner circle, they poked holes at all things, but in the end it was his need to get back and be with Noah.
"As hard as it is from a hockey standpoint, [and] he would have been a leader on our team next year, it is the right decision for Morgan at this time and we wish him well. He is a terrific young man."