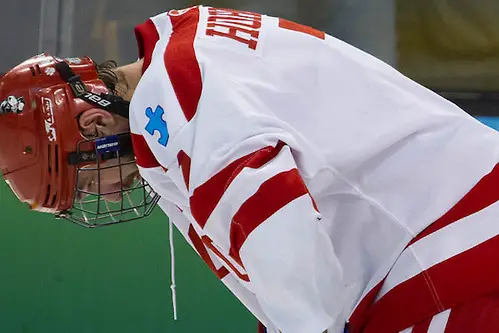 BOSTON — You can play with fire only so many times before you get burned.
And in the national championship game, less than nine minutes away from its sixth title, Boston University went up in flames.
2015 Frozen Four
Follow all of USCHO's coverage at Frozen Four Central.
The Terriers led 3-2 when Tom Parisi flipped the puck in on BU goaltender Matt O'Connor from center ice. O'Connor caught it, but then disaster ensued.
"I was going to throw it to [a teammate], then I wanted to hold it for a whistle, and then I thought maybe it was starting to fall out of my glove, so I dropped," O'Connor said. "Next thing I know, it was in.
"It was just a weird, fluky bounce. Maybe I tried to do a little too much to get the offense going."
Barely more than two minutes later, BU lost a faceoff in its own end and allowed Brandon Tanev to swoop unmolested into the slot. Tanev ripped a laser beam into the top corner of the net, a goal that stood up as the game winner despite furious BU pressure with O'Connor pulled for an extra skater.
"Sports are tough, hockey is tough," O'Connor said. "I thought I was playing a great game.
"Obviously, it's something that's going to be with me the rest of my life. We were really close.
"You could say I'm a big reason for that, but we were a couple minutes away. Bad bounces happen. You just have to deal with it."
One could make the case that the seeds of BU's destruction were sown in the two games leading up to the title contest.
O'Connor gave up a soft goal against Minnesota-Duluth to tie the game, forcing a power-play goal by Evan Rodrigues with only minutes left to get the Terriers into the Frozen Four.
The Terriers had played with fire without feeling the burning flame.
In the Frozen Four semifinal contest against North Dakota, they led 4-1 with eight minutes remaining and a power-play advantage, but a puckhandling snafu by O'Connor provided a gift goal every bit as gut-wrenching as the one to come two days later.
Then a too many men on the ice penalty led to a North Dakota power-play goal, followed by an outrageously foolish penalty that could have given the lead away entirely.
Once again, the Terriers played with fire but got away with it, advancing to the title game.
Saturday, however, with a sixth national championship so achingly close, O'Connor gave up the head-shaking goal, and his teammates allowed 20 third-period Providence shots, including the inexcusably wide-open game winner off the faceoff.
This time, the flames were all-consuming. And O'Connor wasn't the sole arsonist.
"We got to this point because we won as a team," BU coach David Quinn said. "And we lost the game tonight because we as a team didn't play well enough. Bottom line."
"Because of all our success, people lost sight of the fact [that] we're the youngest team in the country. We had four 18-year-old defensemen playing the game tonight. We've had eight freshmen in the lineup.
"Sometimes experience is the best remedy for situations that we were in tonight. And we didn't have a lot of it.
"To go from the year we had last year to be that close to winning a national title is an incredible accomplishment, and it shouldn't be lost in all of this."
Quinn also had special words of support for his goaltender.
"You have college sports for people like Matt O'Connor," Quinn said. "Great athlete. Great student.
"If you spent 10 minutes with him, [you'd say] he acts like he's 35 years old. He's exactly what you want in a student-athlete.
"We wouldn't be here without him. We've won championship after championship this year. [We had] the least amount of losses in the country. You don't do that with just average or just good goaltending.
"It was a 60-minute game. We had chances to a get a two-goal lead. We couldn't do it. We gave up the faceoff goal with six minutes to go.
"So there were a lot of reasons why we lost tonight. And one of them, a big one, was the way that Providence College played."