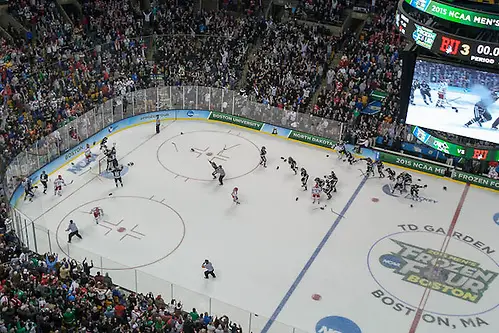 BOSTON — If you asked Providence Friars fans about their chances to win a national championship after the second period Saturday, you would absolutely have sensed some doubt.
They were not a particularly good team when it came to third-period comebacks this year, having gone 2-10-1 through their first 40 games in those scenarios. On the other side of the ice was Boston University, perfect at 19-0 while ahead.
The odds against PC were long; BU was 9-2 when hitting the 40-shot mark, 25-1-3 when scoring three or more goals.
"We played a great team tonight in BU, and they had us on our heels for a lot of the game," said Friars coach Nate Leaman. "We managed to kind of hang in there and hang in there, and [we] saved our best for last. It's kind of like our season this year, where we started off a little slow and just kind of found ourselves and got better and better."
One thing greatly assisting the Friars was their ability to win faceoffs. They finished an even 38-38, with Noel Acciari winning 13 of the 16 he took.
"They were killing us in the neutral zone," Leaman said. "They were getting through the neutral zone with so much speed and we were kind of on our heels. We weren't able to hold the blue line real well. And because of that, you know, we felt like we were on our heels a little bit because they were gaining so much speed through there.
"We tried to adjust a little bit in the neutral zone. I don't know if that helped or not. I think it was really more of the guys just saying, we've got 20 minutes left. We've got to lay it all on the line and get after it."
Bombs away
Before the drama of the third period, the Terriers broke records with the firepower of their offense. Their 40 shots on net through 40 minutes — and subsequent 37 saves by Providence netminder Jon Gillies — set national championship game records.
"We were just very excited to play," said Terriers forward Cason Hohmann. "We came out the same we we've been playing all season. Got pucks behind the defensemen. Dial down low. Won a lot of faceoffs, a lot of goals off faceoffs tonight. So that was huge for us."
BU and Providence finished with a combined 95 shots on goal, also an NCAA championship game regulation record. They fell short by one of tying the all-time record 96 set by Bowling Green and Minnesota-Duluth in 1984. The difference between the two games, however, is that Bowling Green and UMD played four overtimes.
Welcome to the club
With their national championship, Providence became the 20th institution to achieve the ultimate goal of a Division I college hockey crown. They are the fourth Hockey East school to become a national champion, joining Boston College, Boston University and Maine.
It's the third year in a row and fourth time in the last five years that college hockey crowned a new champion, with Minnesota-Duluth, Yale and Union all reaching the summit. The last time we had three consecutive first time champions was 1948, 1949, and 1950 — the first three years of the tournament.
Under the current alignment of teams, Hockey East tied the Big Ten, the NCHC and the WCHA for second-most members with a national championship. The Big Ten (Minnesota, Michigan, Michigan State and Wisconsin), the NCHC (Colorado College, Denver, Minnesota-Duluth and North Dakota) and the WCHA (Bowling Green, Lake Superior, Michigan Tech and Northern Michigan) have four champions.
ECAC Hockey leads all conferences with five champions (Cornell, Harvard, Rensselaer, Union and Yale). Atlantic Hockey is the only current conference yet to produce a national champion.
Speed demons
Think about what you can do in four seconds. You probably just read that sentence.
In the first period, Boston University scored two goals in the same amount of time it took you to read a sentence, when Ahti Oksanen and Danny O'Regan scored at 12:50 and 12:54 to turn a 1-0 deficit into a 2-1 lead.
After Oksanen scored, Jack Eichel won the ensuing faceoff and burst into the Providence zone. He kicked the puck over to O'Regan, who buried it past Jon Gillies for the score.
The four seconds between goals was the fastest in NCAA tournament history. It broke a record set by Michigan's Gordon McMillan and Wally Gacek against Dartmouth on March 20, 1948 — the very first NCAA Division I championship.
Still, it's only the fourth-fastest goal scoring combo in NCAA history. Colorado College (Tony Frasca and Omer Brandt) scored two in two seconds against Michigan Tech in 1952, and both New Hampshire (1971) and Omaha (1997) scored goals three seconds apart against Colgate and Denver, respectively. UNH's is even more impressive when you consider both goals were scored by the same player — John Gray.