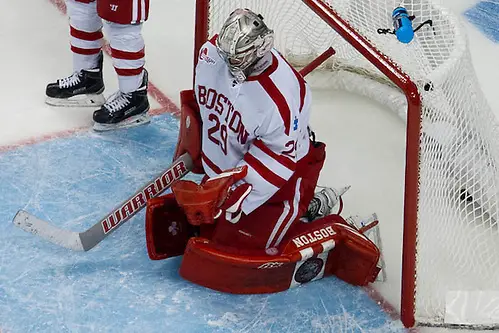 BOSTON — It looked routine. And then it didn't.
From the neutral zone, Providence's Tom Parisi lobbed the puck at Boston University goaltender Matt O'Connor, a high fluttering arc of a shot that O'Connor should have been able to handle like a center fielder handles a routine pop fly.
But he didn't.
"I couldn't really see it in my glove," said O'Connor, a junior. "I thought it rolled out of it. I tried to drop and throw it … [but] it was too late."
Parisi's toss hit O'Connor's right in the glove. The goalie's hand actually closed on the puck briefly, but he turned his glove over immediately and let the puck go, never realizing that he had possession of it.
The puck dropped to the ice just as O'Connor jerked his head to look back over his right shoulder to see where it may have landed and instinctively dropped to his knees to protect the goal.
But the puck dropped a second ahead of O'Connor, hit the ice and bounced backward into the BU net, a self-inflicted five-hole goal that tied the game for Providence at 11:24 in the third period.
The BU players were shaken. Skating near the net, Terriers players Brandon Fortunato and A.J. Greer — both freshmen — brought their hands to their helmets in disbelief, each still clutching his stick and holding it aloft. Fortunato's head dropped.
Two minutes and 19 seconds later in the Terriers' right faceoff circle, the Friars executed a perfect play to get the puck to Brandon Tanev, who fired it over O'Connor's right shoulder to score the game-winning goal.
"Everyone in this locker room deserves a lot better," said O'Connor. "They deserve to be hoisting the national championship right now. Sports are tough."
After the game, BU coach David Quinn tried to preempt any suggestion that O'Connor was to blame for Providence's two third-period goals.
"We got to this point because we won as a team," said Quinn, "and we lost the game tonight because as a team we didn't play well enough. Bottom line: Providence played better and they won the hockey game."
Quinn said that the Terriers, the youngest team in the country, may not have been able to prepare for what they encountered in the third period Saturday.
"We have four 18-year-old defensemen playing in the game tonight," he said. "We've got eight freshmen in the lineup. Sometimes experience is the best remedy for situations that we were in tonight. And we don't have a lot of it."