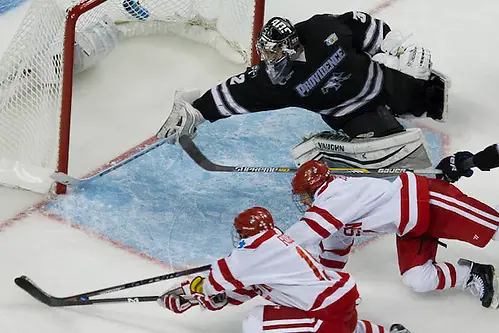 BOSTON — It would be disingenuous to presume that the 18,168 at TD Garden on Saturday will note Providence's resilience as the most memorable aspect of the contest. Even the most fervent Friars fan would have to admit that the game had some other exceptionally impressive moments.
What is likely to get lost in the wash is the determination and bullish intensity with which the Friars chased the win, sparked and sustained by the Frozen Four's most outstanding player, junior goaltender Jon Gillies.
2015 Frozen Four
Follow all of USCHO's coverage at Frozen Four Central.
Gillies surrendered a decidedly
not outstanding
goal with 7:10 remaining in the first period as Ahti Oksanen slipped a short-side shot through what should have been an airtight seal against the right post.
"Obviously that's one in a big game that you'd like to have back, but I think it's a testament to our team where they had my back 100 percent and didn't lose faith in me," Gillies said. "I just tried to reset especially after that second goal. It took kind of a weird bounce … that ended up right in front of our net and Danny O'Regan was able to put it home. After those two things you take a deep breath and refocus and remember it's a long way to the game's end."
The reset button worked like a charm, as the Calgary Flames blue-chipper stopped 49 of 52 by night's end. Gillies faced a game-low 12 shots in the third period, but the flurry became a blizzard as the seconds bled away. The Terriers got pucks near the net, across the slot and into the crease, but nothing found its way through the Friars' sticks, shin pads or goaltender.
"If it does get to me, just kind of play big. And there's a six on five, so there's a lot of traffic in front," Gillies said. "You let the puck hit you. If it does squirt out or something at that point in the game, you just try to get something in front of it and try and battle for the guys that are battling for you in front."
"Jonny held us in there," said coach Nate Leaman. "I have a 5-year-old and a 2½-year-old and a 1-year-old, and we play knee hockey just about every night. And the frustrating thing with me is they all want to be Jon Gillies."
"They were throwing everything at the net. Obviously Jonny, what did he have, 49 saves? They were throwing everything at the net. He had to make a lot of saves. Yeah, they squeaked one in but when they're throwing everything at the net, that's what they're trying to do," Leaman said. "And he was big time for us. He held the ship. I think it's very much like our season. He held us in there. He held us in there. We were able to respond in the third period there, but he was our best player tonight."
Arguably the most impressive element of Gillies' game was his confidence … not in himself, but in his brothers in black.
"I believed in these guys 100 percent all year that we were going to be able to come back and win that thing," said Gillies. "And it's what happened."