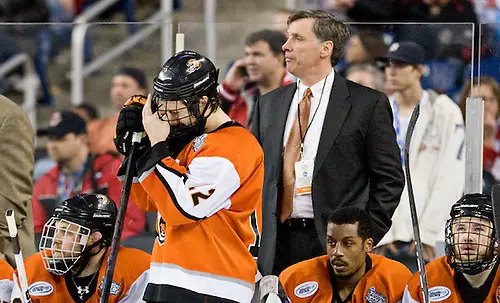 Rochester Institute of Technology men's coach Wayne Wilson has signed a seven-year contract extension that will run through the 2021-2022 season.
In 16 seasons at RIT, Wilson has an overall record of 302-180-54. In 2014-15, Wilson led the Tigers to their second Atlantic Hockey conference championship and second trip to the NCAA tournament.
"Wayne Wilson has become one of the premier collegiate hockey coaches in the nation," said RIT executive director of intercollegiate athletics Lou Spiotti in a statement. "He has consistently led the program to the highest levels within the NCAA. As a former national coach of the year, Wayne brings the kind of excellence and quality that any collegiate program could only wish for.
"Wayne has been the foundation upon which we have built a national caliber program at both the Division I and Division III levels. Coach Wilson has been an outstanding mentor and role model for our student-athletes. We are very pleased that he is willing to remain a Tiger for the next seven years."
Wilson is the only head coach to win both the Edward Jeremiah Award (2001 Division III National Coach of the Year) and the Spencer Penrose Award (Division I National Coach of the Year).
The Tigers have won at least 20 games in a season eight times under Wilson and in 2010, he led the squad to a 28-12-1 record en route to a berth in the Frozen Four in Detroit.
Under Wilson's tutelage, the Tigers have not only excelled on the ice and in the classroom, but have become active members in the community, with several fundraising initiatives for organizations such as the Zeta Tau Alpha Foundation for Breast Cancer Education and Awareness, "One Team One Fight," and the Testicular Cancer Foundation of Western New York, among others.
"I'm very grateful for the faith Lou Spiotti, Dr. Sandy Johnson, Jim Watters, and Dr. Destler have in my leadership of our hockey program," added Wilson. "I can't think of a better place to be coaching than RIT. The support from our administration for the hockey program, my family, and assistant coaches is second to none. I look forward to the challenges of keeping RIT hockey competitive at the national level.
"I am lucky to coach at a school where hockey is very much a part of our student experience. Our corner crew and overall student body are second to none and we receive great support from not only them but the Rochester community."
In late May, RIT announced women's coach Scott McDonald signed a five-year extension.