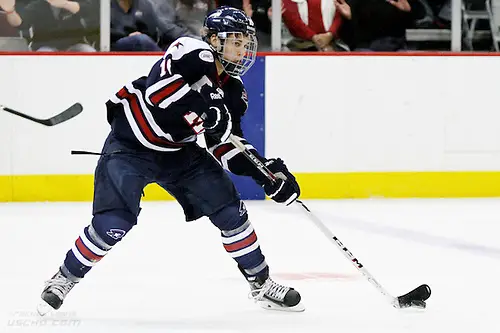 Robert Morris senior forward Greg Gibson has been selected as the Hockey Commissioners Association Player of the Month for October, while Connecticut's Max Letunov is the HCA National Rookie of the Month.
Gibson has recorded a point in each of Robert Morris' first six games and multiple points in five of the six games. He has a team and conference-leading 13 points, which have come from six goals and seven assists. Those totals not only have Gibson sitting in the top two amongst Atlantic Hockey skaters in each category, but they also place the Burlington, Ont., native in the top 10 nationally as well as Gibson ranks tied for first in points, tied for third in goals, and tied for fourth in assists.
Letunov, a Moscow, Russia product, began his collegiate rookie campaign by collecting 11 points in the month of October, good enough to lead his UConn squad in scoring. On the month, he potted five goals and dished out six assists to rank fifth overall in Hockey East. In conference play, Letunov tallied a pair of goals to go along with three assists, putting him third in league point production.
Currently, Letunov sits in sixth in the NCAA in scoring with five goals and six assists for 11 points. He is also tied for the national lead in power-play assists with five.