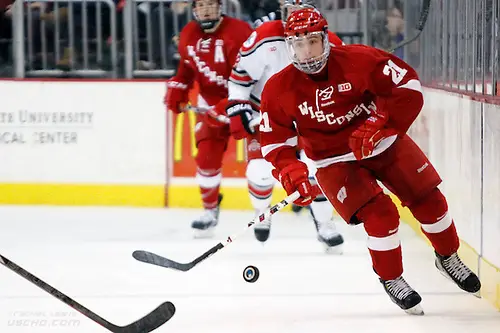 There are wins, and then there are wins.
When Wisconsin beat Arizona State last Friday, it was the first win the Badgers had registered since beating Michigan State on Feb. 20. When the Badgers completed a two-game sweep with a 2-1 win Halloween night, it was the first time that Wisconsin had swept a single opponent in a single weekend since March 7-8, 2014.
As wins go, these were big. The Badgers' reaction? Measured.
"It wasn't like we were giddy off the charts," said Mike Eaves, now in his 14th season with Wisconsin. "I think there was a marked point that we did good things, that we deserved to win. The things we'd been talking about helped us be successful. For the coaching staff, that solidified what we've been preaching and solidified the level of confidence in the boys."
Confidence can be a tricky thing when you registered four wins total in your previous season and you have three seniors and four juniors who remember what it was like to register 20 more than that, as the Badgers did in 2013-14. Eaves said that the word that comes to mind to describe this year's squad is young.
"We've got 28 people on our roster, and 23 of them are underclassmen, 13 sophomores and 10 freshmen," he said. "With that youth there's a lot of passion and energy and we're trying to give them direction and purpose as well.
"We just got our first couple of wins, and that justifies the preaching the pounding that the coaches do. We've got a new staff and so we're all learning from each other."
Joining Eaves and volunteer goaltending coach Jeff Sanger, who's been with the Badgers since 2009-10, are Wisconsin-Eau Claire alumnus Luke Strand (1997) and Ohio State alumnus JB Bittner (2005).
Eaves said that between the new staff and the 10 rookies, there is a lot of new energy. That, combined with the weathering last year's freshmen experienced, brings a new dynamic to Wisconsin hockey.
"Those young people had to play more minutes than we thought they should have," said Eaves of his sophomore class, "and for all the returning guys, they felt bad. Now they're seeing some results for their hard work."
The Badgers are 2-3-3 eight games into the season; Wisconsin began the 2014-15 season 0-8.
Eaves said that the wins against the Sun Devils last weekend were earned, not given.
"Arizona State played well the second night especially," he said. "We were in their zone the whole first night but their goalie played well both nights."
In Friday's 5-1 win, the Badgers outshot the Sun Devils 56-19 and in two games, ASU goaltender Ryland Pashovitz made 87 saves in the series for a .926 save percentage on the weekend.
"Remember that Penn State came in here in their first season as a Division I team and beat us," said Eaves, "so there's that perspective."
The Badgers finished the 2014-15 season near the bottom of the NCAA rankings for scoring offense, averaging 1.69 goals per game. Although it's early in the season, Wisconsin has improved to an average of 2.38 goals per game and — more importantly — there are a number of returning players who have had solid starts in comparison to last year.
Junior forward Grant Besse has three goals and five assists in eight games and his classmate, Jedd Soleway, is 2-2–4 in eight games. In 2014-15, Besse had 11 goals in 32 games and Soleway had seven in 35.
Sophomore forward Ryan Wagner had two goals and three assists in 35 games last season. Reverse those numbers in just eight games and Wagner's headed for better things this year.
The improved Badgers have a particularly tough schedule to finish out the first half of the season. Their next three opponents are ranked, beginning with this weekend's road series against No. 1 North Dakota, and three of their four remaining series before the midseason break are on the road.
This weekend against North Dakota, said Eaves, the Badgers are looking to progress.
"One of the big words we've been using is consistency," said Eaves. "When you go into a place like North Dakota, it's all about puck management."
Games in North Dakota begin at 7:30 p.m. CST Friday, 7 p.m. Saturday and they are televised on Midco Sports Network in North Dakota.
Spreading the youth around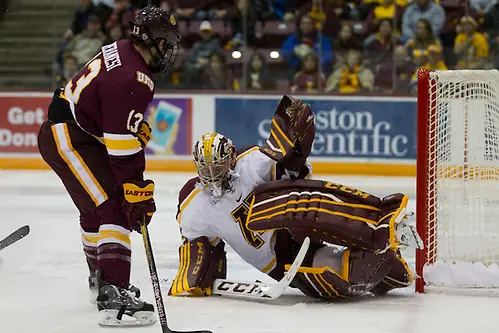 "I think you're going to enjoy us more in a month." That's how Minnesota coach Don Lucia responded when I told him I was looking forward to seeing his young team play on television this weekend.
The Golden Gophers, coming off a bye week, are heading to South Bend, Ind., to play No. 18 Notre Dame.
"They're a better team than they were a year ago," said Lucia, whose son, Mario, is a senior forward for the Fighting Irish. "They're a little bit older, and when I say older I mean a little bit more experienced. They're playing pretty good hockey right now. It's almost like in reverse from a year ago. Last year they brought a young team to our veteran team and we took it to them. This year, we're young."
Minnesota has six freshman skaters and a rookie goaltender, Eric Schierhorn (2.22 GAA, .924 save percentage), who's played every game in net.
"I think the bright spot's been our goaltending," said Lucia. "Eric's come in and given us a chance to be in every game, every night."
The 2-3 Gophers earned their first wins of the season Oct. 23-24 with a home sweep of Northeastern, 4-0 and 4-3.
"I think we're making progress," said Lucia. "Obviously, we would have liked to have continued to play last weekend, not play five games and have a bye week."
Lucia said that the start of the season is exactly what he expected.
"We've got nine or 10 guys in different positions from how our year ended," he said. "When you've got three new defensemen and six different forwards in our lineup than where the previous year ended, there's transition. There's a transition from where guys were playing that secondary role now in primary roles."
Even in the sweep of Northeastern, Lucia said that the areas where the Gophers need to improve were exposed: "The cohesiveness on the ice, the puck movement, too many passes that weren't very good, choppiness, turning pucks over."
In the first three games especially, said Lucia, the Gophers were "not creating many scoring chances, not playing as a group of five most of the time."
Heading into this series this weekend, Lucia said, "There's not an area in our game that doesn't need to improve. We need to win games. Obviously, that's our No. 1 priority."
American Sports Network and NESN are carrying Friday's game, which begins at 7:30 p.m. EST. Saturday's game begins at 6:30 p.m. EST and you can see that on NBC Sports Network.
Three stars of the week
Speaking of Wisconsin, two Badgers rookies earned their first-ever weekly honors, and a seasoned Buckeyes forward was honored for the first time after Ohio State also registered its first win of the season.
First star — Wisconsin freshman forward Seamus Malone: Malone had the game-winning goal in Wisconsin's 2-1 win over Arizona State on Saturday, leading to the Badgers' sweep of the Sun Devils. Malone had two assists in the series, one in each game. He's second among Badgers players in points (2-5–7).
Second star — Ohio State junior forward Nick Schilkey: Schilkey had three goals and four assists for seven points in the Buckeyes' split against Mercyhurst. He had the only goal in Friday's 2-1 loss. Schilkey has five goals and three assists in eight games to lead the Buckeyes in scoring this season; in 2014-15, Schilkey had 10 goals and 12 assists in 33 games.
Third star — Wisconsin freshman goaltender Matt Jurusik: In the two-game sweep of Arizona State, Jurusik had a .956 save percentage and 1.00 GAA. Friday's 5-1 game was Jurusik's first collegiate win.
My ballot
1. Providence
2. North Dakota
3. Boston College
4. Quinnipiac
5. Boston University
6. UMass-Lowell
7. Minnesota-Duluth
8. Denver
9. Omaha
10. St. Lawrence
11. St. Cloud State
12. Bowling Green
13. Michigan
14. Western Michigan
15. Clarkson
16. Notre Dame
17. Penn State
18. Mercyhurst
19. Robert Morris
20. Alaska-Anchorage