It's a trap you see many teams fall into when playing a road weekend series: Jump out to a good start in Game 1 but see the momentum shift in the third period and let a lead slip away as the crowd and the home team get back into the game.
Always a tough loss.
The second game is often a kind of hangover — an even tougher climb for the underdog, thinking its best chance for a win may have come and gone the day before.
That scenario looked to be playing out in Ann Arbor, Mich., last weekend, when on Friday, Robert Morris lost a 3-1 third-period lead at No. 10 Michigan. The Wolverines scored four unanswered goals in the third to win 5-3.
But Saturday afternoon was a different story. The Colonials again jumped out to an early lead, scoring three first-period goals. And this time they put Michigan away, outshooting the Wolverines 25-20 over the final two periods and winning the game 4-0. Dalton Izyk recorded his fifth collegiate shutout, stopping all 34 shots he faced. It was the first time Michigan had been blanked at Yost Arena since Jan. 9, 2009.
"Give credit to our players for forgetting about the third period [on Friday] and coming back the next day," said Robert Morris coach Derek Schooley. "We took advantage of our opportunities. We didn't on Friday, but we did on Saturday."
It was the sixth time in program history that Robert Morris knocked off a ranked team, but this time was different, said Schooley.
"In the past, every one of [those wins], we got outshot handily," he said. "But in a tough place to play against a very good team, we outshot them (35-34). We outshot them 18-9 in the second period."
Experience was key in the game and will be all season for the Colonials.
"We're the oldest team in the nation," said Schooley, whose squad, like most in Atlantic Hockey, tends to have players that started their college career at 20 or even 21. Robert Morris has nine seniors on its roster.
"[Michigan] has one player with more than 100 career games," said Schooley. "We have eight. We've got guys that have been through a lot of things, been through the wars and know what it takes."
Of the 26 goals scored so far for the Colonials, 18 have been by seniors, including Greg Gibson (six goals), Zac Lynch (four) and Brandon Denham (four).
"That's the way it should be with seniors," said Schooley. "Players should be having their best years as seniors.
"They've been doing a great job leading our team."
Robert Morris (3-1-2), ranked No. 20 in this week's USCHO.com Division I Men's Poll is home this weekend against American International. The Yellow Jackets are still looking for their first win.
"We want to remain consistent," said Schooley. "We've seen spurts of the team we can be and we need to play that way every game, no matter the opponent and the venue.
"We need to pay the same way this weekend [at home] against AIC that we did against Michigan. If we do that, we'll be successful."
Incremental progress
Going 3-4 in nonconference play is usually nothing to celebrate, but it's an upward trend for Atlantic Hockey.
Robert Morris' split with Michigan, Mercyhurst's split with Ohio State and Holy Cross' victory over Brown last weekend provided three of the league's eight nonconference wins so far this season (8-28-2). That's not great, but a .237 winning percentage is ahead of where the AHC finished last season (.217).
Looking ahead, Bentley hosts No. 16 Merrimack on Wednesday, and the Warriors will be at Canisius on Saturday. Penn State is at Niagara on Friday. That's three home games on tap as the league looks to keep moving in the right direction.
Looking beyond the record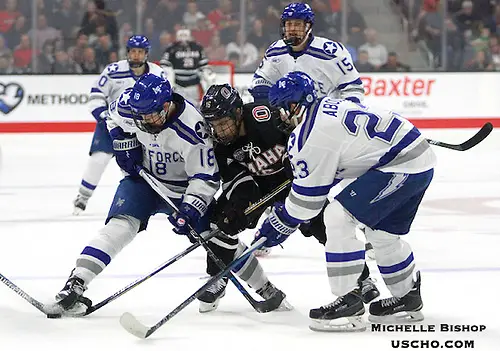 Air Force is just 1-4-1 so far, but four of the Falcons' six games have been against teams ranked fourth or higher, and all six have been against teams now ranked in the USCHO.com poll.
Air Force has split with then-No. 5 Denver and dropped a pair at Omaha, which was ranked No. 2 at the time. The Falcons lost and tied at Robert Morris as well.
Air Force was idle last week and travels to Mercyhurst for a pair of league games this weekend.
Welcome back
Bentley got an immediate boost with the return of junior Max French, who missed the Falcons' first four games due to injury. On Saturday at Army West Point's Tate Rink, French scored both Bentley goals in the third period to lead the Falcons to a 2-2 tie.
On Sunday, at Brooklyn's Barclays Center, he added a goal and three assists in a 6-2 win over the Black Knights.
It was a similar story for Rochester Institute of Technology's Matt Abt. After missing the Tigers' first five games with an injury, the sophomore defenseman made his season debut last Friday at American International and immediately made his presence known, scoring just 1:38 into the contest. He added an assist in RIT's 4-2 win.
Putting all your eggs …
The Canisius line of Ralph Cuddemi, Shane Conacher and Ryan Schmelzer is off to a torrid start, and the Golden Griffins are hoping that the rest of the offense catches up.
The trio has factored in 10 of the 11 goals scored by Canisius so far. Conacher leads the way with four goals, followed by Cuddemi (three) and Schmelzer (two). Each had a goal and an assist in Friday's 3-0 win at Sacred Heart.
Spreading the wealth
On the opposite end of the spectrum was the weekend had by RIT in a sweep of American International. The Tigers got 10 goals by nine different players in the pair of wins, their first victories of the season.
In all, RIT's 18 goals have been distributed among 13 different players, with defenseman Greg Amlong leading the way with three. That's the second-widest distribution in the league, with Mercyhurst's high-flying offense leading the way, getting goals from 16 different players so far.
Weekly awards
Player of the week — Max French, Bentley: French returned from injury to score three goals and add three assists as the Falcons took three points from Army West Point.
Goalie of the week — Dalton Izyk, Robert Morris: The junior from Oswego, N.Y., recorded his fifth career shutout, tying a program record, last Saturday, making 34 saves in a 4-0 blanking of Michigan. Izyk sports a minuscule 1.30 GAA and a .961 save percentage so far this season.
Rookie of the week — Shawn McBride, American International: The rookie had two goals and two assists in a pair of losses to RIT. He has six points so far, second on the team and fourth in the league among rookies.