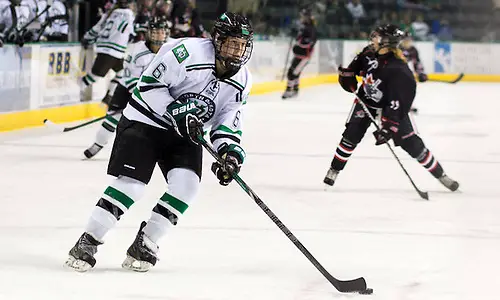 Arlan: As we get a little deeper into the season, certain patterns are becoming clear. Foremost, Wisconsin doesn't allow any goals, at least, not to anyone other than Providence. The team that has the second lowest-scoring offense in the country is the only one that has taken to the ice against the Badgers and avoided a shutout. The last eight games have seen the opponent go ineffectually into the night.
Boston College continues its march forward, perhaps without the thrills and excitement we saw last year. The only team that was thumped by the type of margin we saw last year was Cornell, and this weekend suggests that may be as much about the Big Red as it is the Eagles. Anyway, BC is all business as it keeps pace with the Badgers.
We thought that the CHA would be crazily unpredictable, and that was the case in its first week of league play. Mercyhurst finally won, swept in fact, but the second win came much harder than the first. All three of the teams that lost the first game bounced back with a better game the second day.
Other than the Brown games, the margins were razor thin in the ECAC. We saw a lot of overtimes, and only one of the six produced a goal. Princeton remained perfect, Clarkson is no longer perfect but is undefeated, and Yale used home ice to take down Quinnipiac. Like last season, it looks like Harvard will take some time to get going.
Northeastern keeps rolling, but for the rest of Hockey East beyond it and BC, everything is a struggle.
Then there is former No. 1 Minnesota. Its first loss to North Dakota on Friday might seem to be a break from a pattern, but it continues trends we've seen in the past. The Gophers unbeaten start didn't survive the series heading into Four Nations week last year either. This is the third time in six seasons where North Dakota has ended an undefeated start by Minnesota. Finally, the last three losses for the Gophers have come in Ralph Engelstad Arena, although one was courtesy of Bemidji State.
We also saw a couple of hat tricks by a pair of players that are the best offensive producers of their teams, Kendall Coyne at Northeastern and Shara Jasper of Lindenwood.
Where should we head first?
Candace: Might as well start out west. You had pointed out recently that Minnesota has owned the second period of games. On Thursday, the Gophers romped in the first period with three goals, and then Nina Rogers scored in the second. Yet, in that period, North Dakota outshot the Gophers, 8-5. On Friday, North Dakota really took it to Minnesota in the second. Trailing 1-0 after one, UND opened it up, outshooting Minnesota 17-7 and scoring three goals. Minnesota drew within one on a goal by Kelly Pannek at 7:01 of the third, but Amy Menke took away that momentum with a goal at 8:46 that ended up being the game-winner, as Dani Cameranesi drew Minnesota back within one at 17:21.
It looks like Minnesota may have gotten a little complacent, or North Dakota turned it on and ramped up the intensity. Perhaps it was a combination of the two.
Let's also look at Wisconsin. Yes, the Badgers are a perfect 10-0, and have eight straight shutouts. Ann Renée Desbiens has a ridiculous .985 save percentage and .230 goals against, and has played in nine games. Only Harvard's Molly Tissenbaum has a better GAA, but she's only played one game. BC's Katie Burt is somewhat close to Desbiens in both GAA and save percentage, but Wisconsin's defense really seems to be a brick wall.
However, some of that could be the teams the Badgers have faced. Providence is 35 of 36 teams nationally in offense, Minnesota State is 30, St. Cloud State is 27, Bemidji State is 23, and Ohio State is 16. Only Ohio State is averaging more than two goals a game, and that's largely due to the Buckeyes scoring a lot against Lindenwood and Minnesota State. Until Wisconsin shuts down Minnesota and North Dakota, I'm taking the brick wall with a grain of salt.
What's your take?
Arlan: In the Minnesota at North Dakota series, each team had stretches where they were not only outplaying the opponent but getting the friendlier bounces, so the margin on the scoreboard may have been amplified a bit. In Thursday's first period with the Gophers already up, 1-0, UND looked like it might survive on the penalty kill until the puck hit a body and wound up on the stick of Milica McMillen with a lot of net available. Trailing by two, UND had some good pressure but couldn't get the puck into the net, and the Gophers scored in transition to make it 3-0 by the first intermission.
On Friday, Minnesota had some similar good fortune in the first period, but didn't take advantage to the same extent. The hosts were playing the series without defenseman Halli Krzyzaniak, who had already left for Four Nations along with the Gophers' Sarah Potomak. About three minutes into the game, another of its top defensemen in Tanja Eisenschmid received a five-minute major and a game misconduct for a check from behind. The Gophers didn't score on that extended power play or on a two-minute chance they had shortly thereafter, and they only led by a goal after 20 minutes. Plus, they weren't able to take advantage of the absence of both Krzyzaniak and Eisenschmid as I would have expected. Credit goes to Gracen Hirschy and Jordan Hampton in particular, who played very well. Then UND got the better breaks in the second, including a non-call at a key time and a shot that hit a defender and found a top corner, and that became the decisive rally.
I do think that teams make their own luck. For each team's 3-0 period, it was clearly the better squad at the time, so the puck is more likely to bounce favorably when playing the game in the opponent's end.
Both coaches made some interesting statements in their pre-game comments. Before Friday's game, Brad Frost was asked about his team's lack of a dominant second period the night before, and he said that perhaps his players thought it was going to just happen, but that those stretches are the result of his team going out and putting the throttle down, which they hadn't done on Thursday. Friday, it was UND flooring the accelerator. Frost also mentioned Hannah Brandt being injured to the extent that she's been held out of practice in recent weeks, so that may play a part in her being stuck on 99 goals for four games. Before the series, Brian Idalski was asked whether his team took confidence from beating the Gophers in past seasons, and he said that part of that was catching the Gophers without their "A" game. Missing Potomak and with Brandt at something less than 100 percent could mean that Minnesota wasn't at the "A" level in this most recent series either, but more than anything, North Dakota just competed harder and was the better team all over the ice on Friday. It's reunited top line of Meghan Dufault between Becca Kohler and Amy Menke really took over the game North Dakota won.
I understand your comments on Wisconsin, but in the little that I've seen of the Badgers' games so far, Desbiens is playing very, very well. Not only her numbers, but there have been some prime scoring chances yielded, and she's come up with spectacular saves. The goals against will go up, but all signs are that she's playing at a much higher level in her second season as the starter.
Speaking of tough defensive teams, Clarkson shut out Harvard this weekend, but then was unable to close out a game after jumping out to an early three-goal lead against Dartmouth and its backup goaltender. What are your thoughts on the current ECAC favorite?
Candace: Perhaps a little more vulnerable than I first thought. Considering the Golden Knights had a month of play under their belt and were playing a Crimson team minus Emerance Maschmeyer, I expected a little more. Then again, Clarkson showed a lot more vulnerability the previous weekend in eking out two wins over previously winless New Hampshire. Saturday's game against Dartmouth is the first real sign of vulnerability we've seen from goaltender Shea Tiley, who gave up three goals on 20 shots. Only one was a power-play goal. Tiley had made 23 stops in the Harvard game the night before; perhaps the road wore on her.
I didn't see the game, but it looks like Clarkson may have let up a little late in the second period, and it cost the Golden Knights, as Dartmouth struck twice in the final three minutes. Then again, Clarkson gave up six goals in two games against New Hampshire, which despite this past weekend's efforts is still only averaging two goals a game and is in the bottom third in team offense and power play percentage. Perhaps the Golden Knights are just a little off on defense, especially since Erin Ambrose may still be working her way into playing shape after suffering an injury playing for Canada in September. She returned to the line-up this past weekend, and had an assist against Dartmouth, so that is an encouraging sign.
I think the ECAC is going to be really interesting this year, and I'm not sure who will win at this point. Quinnipiac had been undefeated entering the weekend, and faced a Yale team that it had doubled up on the previous weekend in winning 6-3, but then after taking a 3-2 lead at the midway point of the third period gave up two goals to Janelle Ferrara in the last five minutes.
If that is uncharacteristic, what are we to make of Cornell only getting one point against the travel pair of Rensselaer and Union? The Big Red lost 2-1 in OT Friday to RPI, then could only muster a tie the next night against the Dutchwomen. We knew offense might be a little challenging for Cornell after the graduation of Emily Fulton, Brianne Jenner, and Jillian Saulnier, but I don't think either of us anticipated how much. Cornell only has four goals so far in four games.
We've talked a lot about the parity in the CHA and how every team might end up around .500, but I'm beginning to wonder what the ECAC has in store. What is your take on what we can expect in the ECAC?
Arlan: The ECAC definitely threw a parity party of its own over the weekend. I didn't get to watch many of the games, but I did see some of Union's game at Colgate. Freshman goaltender Melissa Black made 58 saves in that game, and the only puck that got past her during the first 59 minutes was perhaps the least threatening. Shelby Perry ultimately was able to tie that game for the Raiders with a six-on-four skater advantage on a power play with the goalie pulled. What we see from Union exemplifies the league as a whole. The ECAC teams are hard to put away; they just keep hanging around. Colgate was the more talented team in that game, but it's mostly young talent. Young teams often get a rather low rate of return on the energy they invest in a game. Despite not getting a win out of a weekend where they may have been thinking, "Sweep," the Raiders did better than their travel partner, so there's a glass-half-full way to look at it.
It's funny to look at the league standings and see Princeton alone at the top with a game in hand on both Dartmouth and Harvard. Normally the race comes down to those critical head-to-head matches between the power teams. Now, we're not sure who the power teams are. If you're Cornell, will you eventually need to win a big game to earn the league title? Home ice? A playoff spot? Depending on which of those answers applies, that may help determine which conference opponent will be most key — or not. Everyone seems to have a bigger delta in where they may end up than usual. Or it could be a one-week phenomenon, and we'll be back to business as usual next week.
The only team in the ECAC without a point is Brown. It's kind of ironic that the only two teams in the country at this point without either a win or a tie are from Providence. Quinnipiac in particular totally dominated the Bears, allowing only three shots on goal in 60 minutes. It had to be beyond disappointing to the Bobcats that they held Yale to just nine shots only to have four of those wind up in their net.
Offense as a whole is down in the league. Other than scoreless Brown, the next three lowest-scoring teams in the ECAC so far are Harvard, Clarkson, and Cornell. I didn't see that coming, early or not, even with tougher schedules for some.
As for Princeton, we'll find out quickly if the Tigers are truly contenders. They host Cornell and Colgate this weekend, play a home-and-home series versus Quinnipiac a week later, and head to the North Country before Thanksgiving. What would be a good record from those six games? I guess the answer depends on where we see Princeton winding up. It likely needs to go at least 4-2 if it has title hopes. A 3-3 mark would keep it in the hunt for home ice. Even 2-4 keeps it well-positioned for a playoff berth. Princeton doesn't have a particularly daunting out of conference slate remaining, playing series versus the other Tigers from RIT and Penn State, plus one game at Connecticut. Could Princeton possibly reprise its trip to the NCAA tournament from 10 years ago?
Candace: It's possible, but I'm also not rushing to judgment. Princeton has a pair of one-goal wins over a Mercyhurst team that struggled early to get untracked, then a one-goal win over Yale. Let's see how the Tigers do when they run up against Harvard and Clarkson. There are a lot of positives in Princeton. Kimberly Newell is a good goaltender and a senior that can provide leadership. She's got a respectable .929 save percentage, but even with the teams she's played in her three games, her goals-against is 2.00, which doesn't get it done as the season progresses. Freshman Karlie Lund is off to a good start with five points in four games, and junior Morgan Sly has four points. Junior Kelsey Koelzer is that solid defenseman who plays well in both ends.
Having said that, the NCAA tournament is harder than ever to get into. There are now four auto-bids, since the CHA gets one. That leaves four at-large teams. Can Princeton run the table and win the ECAC auto-bid? I suppose anything is possible, but short of that, the Tigers would need to get in at-large. Now, barring an epic collapse, I think Minnesota, Wisconsin, and Boston College are all in, even though play is only one month old. One of Minnesota or Wisconsin is likely to win the WCHA tournament, but it's always possible that North Dakota or Bemidji State could get the upsets in both rounds and claim it, which would be very interesting and put Minnesota and Wisconsin in as at-large teams. The way the schedule shakes out, it's hard for North Dakota or Bemidji State to get in at-large but it's possible.
Now, out east, Boston College hasn't always done well in the one-and-done Hockey East tournament. BC would get in at-large though, and finish high enough to be a top four seed, just like last year, but say Northeastern or Boston University knocks off BC in the Hockey East tournament and claims the Hockey East auto-bid. Further, say Northeastern stays red-hot and finishes high enough for an at-large bid, and then Boston University wins. Now you've got three Hockey East teams, two or three WCHA teams, one CHA team, and then the winner of the ECAC, leaving only one or two at-large bids left, or perhaps none, if the WCHA and Hockey East each get three.
There's still a lot of hockey left, so let's just say that it's possible, but the only sure way I see it happening is for Princeton to win the ECAC tournament. The Tigers do have an edge there with Newell in net in a league that looks to have trouble scoring goals, but can Newell out-duel Tiley and/or Maschmeyer?
Speaking of Northeastern, the Huskies handily defeated Merrimack Friday. Kendall Coyne is scoring at an amazing clip, and currently leads the country in scoring over BC's Alex Carpenter and Minnesota's Hannah Brandt, as well as Wisconsin's Annie Pankowski, and she's played fewer games than all three. While Coyne has in the past often accounted for too much of Northeastern's offense, Denisa Krížová is scoring over two points a game, up from her freshman year and giving the Huskies another weapon. In goal, freshman Brittany Bugalski is showing good development, with a .926 save percentage. Can Northeastern keep up this pace?
Arlan: Yes, as long as we budget for some delays every time BC pops up on the schedule. NU looks to be better than everyone else in the league, at least in terms of how it is playing currently, with a very sizable exception when it comes to the Eagles. A big reason for that is that they are the two teams that stand out as having the type of players that define a generation. Coyne scored her 100th goal last month and Carpenter matched that feat a week later. Jenn Wakefield's 120 goals is the highest career total in Hockey East history, but one has to think that both Coyne and Carpenter will surpass that mark before the year is up. Those two provide an immediate boost over the competition, and they will be subject of my column over the coming two weeks. Northeastern's supporting cast is not at the level of BC, but it is clearly more prolific than anyone other than Boston University, and that can depend on how the Terriers are playing at any given moment. Plus, they've been less stable in goal than Bugalski has looked of late.
Connecticut has had a very steady start to its season thus far, and it did a nice job in holding Carpenter to a single assist last weekend, but it can't stop everyone in maroon and gold. Haley Skarupa had a goal and an assist in each game, the Eagles' blue line showed up in the scoring column both days, and BC was still able to post a four spot each day. Coach Chris MacKenzie said before the season that he wasn't sure who would score Connecticut's goals, and last weekend, nobody did. For the season, senior Brittany Berisoff is the only Husky with more than two goals; she has four. Versus BC, Connecticut appears capable of respectable losses, but perhaps nothing better until some firepower begins to gel.
Connecticut will have a similar problem in a Huskies versus Huskies battle with Northeastern. Bugalski can play well enough to hold off the UConn attack until Coyne and company can get some pucks by Elaine Chuli or Annie Belanger.
While Northeastern looks to have an edge on paper against most of Hockey East, it gets hard to find an advantage versus BC. NU has nice forwards; BC's forwards are better. Bugalski is settling into Northeastern's net; Burt is a year further along. On the blue line, the Eagles have a big advantage. In the short term, it will be interesting to see how the Huskies fare without Coyne as they visit Maine for a game on Friday.
Do you think any other HEA team can mount a charge and displace Northeastern as the closest pursuer to BC?
Candace: I suppose Boston University might. Historically, the Terriers have started slowly and then come on strong in the second half. Of course, that was made easier when they had Marie-Philip Poulin on the roster. While they still have very talented players, Poulin is one of those once-in-a-lifetime types.
Regardless, looking at last year, the Terriers dropped first-half games to Minnesota, Maine, and Northeastern, and had ties with Yale and Harvard, and even had the puzzling January loss to Vermont, but came on strong to win the Hockey East tournament and ensure an NCAA berth. The year before that, with Poulin out for the Olympics, the Terriers tied Rensselaer on opening night, needed OT to beat Union, and were shutout by Robert Morris before starting to pick up. They also had a streak in January where they lost five of six, getting swept by Vermont and losing to Providence, Northeastern, and Boston College, but got hot late and won the Hockey East tournament.
Right now, the big issue for the Terriers is defense. BU's penalty kill is ranked 19, and only succeeding 82.9 percent of the time. Team defense is worse, at 24, giving up on average 3.22 goals per game. The goaltending hasn't been good. Erin O'Neil has a 2.55 goals-against and a .918 save percentage, while Victoria Hanson is at a 3.77 GAA and .879 save percentage. The defense and goaltending need to clamp down for BU to make that push.
Let's look briefly at the CHA. I knew Mercyhurst couldn't stay winless forever, and the Lakers jumped all over RIT on Friday, but then needed overtime to get the win on Saturday. Robert Morris and Syracuse split, with Syracuse winning in OT Friday before Robert Morris bounced back with a 2-0 shutout. The final series was a real surprise for me, as Lindenwood took three of four points from Penn State. Robert Morris is still the only CHA team with an overall winning record.
Is it fair to say that chaos reigns in the CHA?
Arlan: It probably isn't fair for me to say it after I made that claim in the conference preview and only a week of league play has occurred. I'll put a more positive spin on it and go with another "C" word and say that the CHA is very competitive right now.
Consider RIT. The Tigers' m.o. has been to come from off the pace over the last couple of years. Even within the weekend, rather than curling up and saying, "Wait until next week," they came out with a much stronger effort in the second game in Erie. I know that there is a school of thought that their success was all Ali Binnington and RIT will fade away now that she's gone, but I'm not buying it. She wasn't in net when RIT won its D-III title, and having seen them play in March, she wasn't the only reason the Tigers made their latest CHA tournament run. They were within a couple of minutes of getting the split on Saturday, so I'm convinced that they'll be heard from throughout the season in the CHA. Coach Mike Sisti had to be pretty relieved that the Lakers were able to close out the sweep without Emily Janiga.
Both of the other teams that lost on Friday also had a better game on Saturday. In general, it is very hard to beat a team that is of similar ability on back-to-back days. In that series at Robert Morris, it's likely that had either team lost on Friday, it was going to bounce back with a win on Saturday. That's just how it seems to play out.
As far as Lindenwood goes, I think we still tend to regard the Lions as they were their first couple of seasons. The first year they were completely overmatched, and they were still up against it in year two, but at least they had Nicole Hensley. Shara Jasper has provided a whole new element, and although I haven't yet watched them since he took over last year, I'm guessing that coach Scott Spencer has as well. Jasper is averaging nearly two points a game. After last weekend, she's in the top 10 in scoring average in the country. Her linemates, freshman Shannon Morris-Reade and Sarah Bobrowski, are averaging at least a point a game themselves. That's not the image we have previously had of Lindenwood, but apparently, that's who they now are. They aren't entirely dependent on Hensley stealing games. Instead, they are capable of going toe to toe and coming out on top. Penn State doesn't have anybody at close to a point-per-game pace. While the Nittany Lions have an edge in scoring defense, it is offset by an offensive deficit. Lindenwood can match Celine Whitlinger with a senior goaltender of its own, another example of the CHA being competitive.
With the exception of the Bemidji State at Ohio State, a team that had the Beavers' number last year, the WCHA is shut down for the Four Nations tourney. Do you have any thoughts on how that event might play out?
Candace: Yes, either Canada or the U.S. will win it. They are the only two teams that have ever won it. One will beat the other in the final. In the 19 years the tournament has been played, Canada has won 14 golds and five silvers, the U.S. has won five golds, 12 silvers, and one bronze in 18 appearances (sitting out 2001 because of 9/11), Finland has won two silvers and 10 bronzes, and Sweden has eight bronzes. The only year a team pushed either Canada or the U.S. out was 2013, where Finland took silver and the U.S. bronze.
Canada is deep. Meghan Agosta will be back after taking nine months off for police academy training. Former Clarkson standout Erica Howe joins Maschmeyer in net. The defense includes Sarah Edney, Laura Fortino, Brigette Lacquette, Lauriane Rougeau, Renata Fast, and Kryzaniak, names that should be familiar to fans of college hockey. Agosta is joined by former Mercyhurst standout Bailey Bram, and then players like BU's Sarah Lefort, former BU standouts Wakefield and Poulin, Saulnier, and current Minnesota star Sarah Potamak.
Janiga was just replaced by Presley Norby on the U.S. roster, as Janiga was hurt playing against RIT on Friday night. Norby is a senior at Minnetonka High School in Minnesota and will be playing for Wisconsin next year.
There are some surprises left off the U.S. roster. Carpenter isn't on the roster, nor is Skarupa. The U.S. is backstopped by former Wisconsin standouts Alex Rigsby and Jesse Vetter. Both Monique and Jocelyne Lamoureux (the latter now Lamoreux-Davidson) are on the roster, as are former BC stars Kelli Stack and Emily Pfalzer and former Wisconsin stars Meghan Duggan, Brianna Decker, and Hilary Knight.
The Canadians open against Finland on Wednesday, get the U.S. on Thursday, and close round robin play versus Sweden on Friday. The U.S. opens against Sweden and closes against Finland.
To me, the Canadian roster looks deeper, and I think the Canadians win their third straight.
What's your take?
Arlan: I spent the weekend watching the Breeders Cup, and as far as I could tell, the strategy of some of the professional betters is just pick the best-priced horse on the board, or at least one they'd heard of before. I've heard of Sweden; does that mean that's the direction I should go?
On the other hand, that strategy didn't seem to work that well. It's one thing to pass on the low odds given to American Pharaoh, but why bet at all if you're just going to watch some overmatched horse chase him around the track and fail to even be in the camera shot at the wire?
In this four-horse race, Canada is American Pharaoh. With Janiga out, the U.S. roster only has two current NCAA players, Coyne and Stephanie Anderson of Bemidji State. At least in this case, this is pretty much a throwaway tournament. Unfortunately, the United States has made similarly puzzling roster decisions for the Olympics in the past, so who knows if there is method or just the usual madness behind the roster decisions. If nobody is going to offer me any odds and we're picking straight up, I'll join you in going with our neighbors across the border to win.