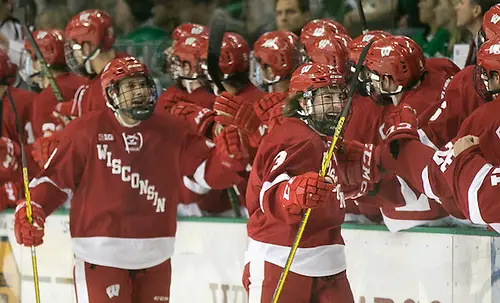 Each week during the season we look at the big events and big games around Division I men's college hockey in Tuesday Morning Quarterback.
Jim: We have a new No. 1 team in the USCHO.com Division I Men's Poll, and that team didn't even have to lace up the skates or throw on the jerseys last weekend. Providence moved from the second spot to the top during its off week after North Dakota lost to Wisconsin on Friday night.
Two things stand out to me: First, there is a true split among the voters. Providence received 29 first-place votes, while Boston College, after a three-win week to improve to 8-1, captured 17 top votes. North Dakota still received a vote and Quinnipiac received three.
That leads me to my second point: Voters finally have noticed Quinnipiac. The Bobcats have slowly moved up the rankings and, as the only unblemished team in the ranking at 8-0, possibly should be at the top. Most voters, though, couldn't justify that large of a move (from fifth to first). Quinnipiac did earn enough respect, however, to pass UMass-Lowell despite the River Hawks' two road victories at Vermont.
All told, it certainly seems like one little loss for North Dakota created a lot of chaos at the top.
Paula: I don't think it's one little loss; I think it's the team to which North Dakota lost that led to that chaos at the top.
Wisconsin is an improved team this season, without question, and the Badgers' rookie goaltender, Matt Jurusik, is giving UW a chance to compete consistently. But the voters remember Wisconsin's 4-26-5 finish in 2014-15 and are not yet ready to give anyone who loses to the Badgers the benefit of the doubt. North Dakota registered its first loss against a team whose only other wins so far this season came against Arizona State. Perhaps all of this is unfair — to Wisconsin and North Dakota (and, incidentally, to ASU) — but losing so early in the season to a team that finished the previous season in the bottom five in both offense and defense is going to hurt anyone in the polls. The fact that the Badgers kept it close in Saturday's 3-1 North Dakota win didn't help North Dakota, either.
Quinnipiac is another matter of perception. Early in the season, wins over Holy Cross, Arizona State and Maine were probably considered routine. After the Bobcats swept St. Cloud State, however, people started to take notice. Yes, an argument can be made for them to be the top team. Even more mind boggling to me is that senior goaltender Michael Garteig is the only Bobcats goaltender of record and that his numbers (1.75 GAA, .928 save percentage) are on pace to give him a career year.
While we're talking about the single team that remains undefeated, I'm still stunned by two of the teams that are still seeking their first wins of the season, Maine (0-6-3) and Colorado College (0-10).
Jim: I actually have a difficult time believing that Colorado College is 0-10. I saw the Tigers play in early October and liked a lot about their team. They get good goaltending and had a few players (possibly too few) who have some good offensive instincts.
You mentioned Garteig at Quinnipiac — impressive statistics no doubt, but they are actually blown away by Boston College's Thatcher Demko. Two shutouts last weekend gave him a three-game streak without allowing a goal for the second time this year. That's mind-blowing. Further, those two streaks have come in the last seven games, giving Demko six shutouts in his last seven starts. He has allowed six goals in nine games for a 0.67 GAA.
While a pace like that likely will be impossible to maintain all season, I don't think it is too early to begin comparing Demko's numbers this season with a goalie you saw a good bit, Michigan State's Ryan Miller, the last goaltender to win the Hobey Baker Award.
Paula: I only mentioned Garteig because he hasn't lost yet, but Demko's numbers are off the hook. Six shutouts in nine games? I don't even know what to say about that, and it's not too early to compare Demko with Miller. In the year that Miller won the Hobey Baker Award, he registered 10 shutouts with a 1.32 GAA and .950 save percentage — but it took him all season to do it, with a streak of five shutouts within six games midseason. That was an amazing year for Miller and it's the challenge for Demko, sustaining that over the course of the season.
Demko has always been solid, but even for him this is an amazing start. Are there any other players that have surprised you so far in the early going? I'm liking junior JT Stenglein's early numbers (5-5–10) at Michigan State, and not just because he's scored more goals this season in eight games than he did in 38 games his first two years with the Spartans. It's also because he seems to have a knack for being in the right place at the right time and he's helping a team that was solid in every other aspect improve the one thing it needed most to improve: scoring.
Jim: Before I answer your question, one last thought on Demko: with six shutouts this early in the season, he could crush Miller's 10 before the December break.
But to answer your question, one player who has probably been overlooked thus far is Robert Morris forward Greg Gibson. There are a lot of guys putting up points early, and Gibson is tied for the national lead in points and has scored in all eight contests the Colonials have played this season. Adding that with points in the final seven games a season ago, Gibson has an active 15-game scoring streak.
Changing topics a bit, before we close I wanted to get your opinion on the rumored game between Minnesota and North Dakota that would be played in 2018 in Las Vegas. With two fan bases that would travel to Siberia to watch this rivalry, it should be well-attended and would receive a lot of attention in the southwestern U.S., a geographic area that could be key to growing the game.
Paula: I was going to mention Gibson — and it comes down to that perception again. For teams like Robert Morris and players like Gibson, it's the curse of Atlantic Hockey, still perceived (unfairly, in my opinion) to be a weak sister.
I love the idea of a game in Las Vegas. In fact, I love the idea of a Frozen Four in Vegas, even though it's not possible under current NCAA rules that prohibit NCAA tournament games in states where gambling on sports is legal. Arizona State is just over 300 miles from Las Vegas — something that seems like a considerable distance to hockey folks out East but what amounts to a trip that can be done in a single day, there and back, to many hockey fans. And Vegas is a destination city that people will travel to just for the fun of it.
Thumbs up
To Mercyhurst coach and all-around college hockey good guy Rick Gotkin, who earned his 500th career victory on Saturday night. If you've met Gotkin, you know why we use the term "good guy" when describing him. Many longtime fans will best remember Gotkin for bringing the first MAAC (now Atlantic Hockey) team into the 2001 NCAA regional in Grand Rapids, Mich., and nearly pulling off the biggest upset of all time, eventually falling to Mike Komisarek-led Michigan 4-3.
Thumbs down
There has to be a light bulb joke in here somewhere. How many votes does it take to change North Dakota's nickname? Thumbs down to voters deciding — or not deciding — the new North Dakota nickname. According to the school's own press release, when voting ended last Friday, no name option received a majority of votes (over 50 percent), and so a final runoff vote will be held to decide between Fighting Hawks and Roughriders. Eligible voters will register their opinions — again — beginning at noon Thursday and ending at 11:59 p.m. CST Monday, Nov. 16.
Coming up
It's a big week for games between ranked teams, with 10 such meetings on the schedule across four conferences.
No. 4 Quinnipiac hosts No. 7 Harvard and No. 15 St. Lawrence hosts No. 19 Clarkson in ECAC Hockey play on Friday.
No. 1 Providence plays for the first time as the No. 1 team in the USCHO.com Division I Men's Poll in a home-and-home series against No. 11 Boston University on Friday and Saturday.
No. 8 Denver is at No. 13 Minnesota-Duluth, while No. 3 North Dakota hosts No. 17 Miami in two-game NCHC weekend series.
And No. 15 Bowling Green is at No. 20 Michigan Tech for a pair of WCHA games.