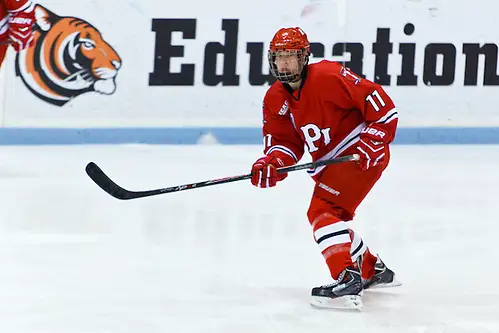 Candace: Several of the top teams were off this week for the Four Nations Cup. I guess it's a good thing neither of us bet, because Team USA came up big and beat Team Canada twice, a 3-0 win in the round robin and an OT come-from-behind 3-2 win in the championship. Former Wisconsin star Hilary Knight got the game-winner on an assist from former Boston College standout Kelli Stack just 36 seconds into the OT. It's been a good year for Team USA, which also defeated Canada twice in the World Championships in April. Whether the U.S. can keep this up and win Olympic gold, or whether Team Canada is playing possum, remains to be seen.
Back here in college games, there were several interesting results. Bemidji State finally slayed its Buckeyes monkey, Robert Morris is starting to take control in the CHA, and Boston College crushed Boston University Saturday.
However, it was the ECAC that saw the strangest results, again. Cornell finally got a win, rallying in the last minute Friday against Princeton to score two. Colgate fought No. 7 Quinnipiac to a draw on Friday, and in perhaps the biggest shocker, Rensselaer beat No. 4 Clarkson on Saturday. I had sort of given up on the Engineers after they lost twice to Robert Morris, but they've shown some strength, first beating Cornell last week, and now beating Clarkson.
What do you make of Rensselaer beating Clarkson, and what it means for both teams?
Arlan: Let's look at RPI first. Usually we only talk about the Engineers in terms of will they or won't they squeeze their way into the postseason. Now they sit higher in the ECAC standings than traditional powers Clarkson and Cornell.
What's different about RPI this time around? First and foremost, freshman goaltender Lovisa Selander from Sollentuna, Sweden. We aren't used to the Engineers having a goalie in the top half of the statistics for goals-against average and with the 11th-best save percentage. In recent years, they've been far more likely to be near the other end of the spectrum. It's a different game if you can win by a 2-1 score despite being outshot 46-18. I watched a lot of that Clarkson game, and the Golden Knights had some high-quality chances. They hit a couple of pipes, and Selander came up with some big stops.
Special teams have been an Achilles' heel for RPI in many seasons. Selander alone improves the penalty kill. The power play is still a weakness, clicking only 10 percent of the time. Against Clarkson, it had a hard time gaining possession in the offensive zone and was ineffective for much of the game, but the Golden Knights were whistled for eight minors, so RPI got a lot of opportunities. Finally they capitalized with the power-play goal in the third period.
RPI also has a couple of confident seniors up front in Lauren Wash and Alexa Gruschow. While they weren't part of the team's two goals, they help to give hope in a game where a team like Clarkson is hammering away and the result seems inevitable. If the Engineers get on a bit of a roll, who knows how their kids will respond to a season on the rise after some down years.
Clarkson played a good game with a couple of exceptions. With the amount of control they displayed in their attack zone, it would have been nice to finish more than once. They failed to put Dartmouth away the weekend before, although that was more about defensive shortcomings than an offensive failing. The big problem for the Golden Knights was the high number of penalties. Some of the calls were a little soft, but in other cases, they were undisciplined. Not only did penalties cost them the game-winning goal, it also forced them to kill two of the final three minutes when they were trying to come back. Sometimes, you need to realize that it just isn't that crucial to get that final shove in after the whistle.
Still, Clarkson is one of the best teams in the country. There aren't too many players in the NCAA more skilled than Cayley Mercer. It has a strong blue line, although it has had to make do without senior Renata Fast the last couple of weekends due to Four Nations. If Shea Tiley has a sophomore season like she turned in as a rookie, then Clarkson will be a major factor all year.
Ultimately, I think RPI's upset will have a greater impact on the Engineers than it will have on the Golden Knights.
You mentioned the Colonials starting to take control in the CHA, but Syracuse and Mercyhurst are right there as well. All three of those teams won series on the road over the weekend, and none of that trio meets head to head until December.  Has the first couple weeks of CHA play given you any insight as to where that league is headed?
 
Candace: Not a clue really. Robert Morris is the only team in the conference that has an overall winning record. Mercyhurst and Syracuse both have three wins in conference, but Mercyhurst is 3-5-2 overall and Syracuse 5-5-1. If they keep playing conference games, that will change, but it doesn't bode well for what will happen to the winner of the CHA tournament when it plays in the NCAA tournament. Mercyhurst had a good weekend, but still only got a goal a game against a Penn State team that has not been stellar so far. Syracuse beat Lindenwood Friday, 3-1, then got a 1-1 tie the next night. Robert Morris looked good against an RIT team that is currently outmatched and outgunned, but the Tigers haven't done well in the first half very often, yet are still right there in the CHA tournament.
Robert Morris is currently top 10 in offense, as is Syracuse if you throw out Holy Cross, which you should, since the Crusaders pretty much play a D-III schedule. Mercyhurst is 17, Lindenwood 19, RIT 29, and Penn State 31. Defense is an issue though for all teams. Syracuse has the best defense in the conference, and still gives up 2.27 goals a game.
I think all the CHA teams are vulnerable. Mercyhurst has so far only played RIT and Penn State. Syracuse and Robert Morris had a series the previous weekend and split. Robert Morris doesn't face Mercyhurst till December, which might count in the Lakers' favor. The games are at Mercyhurst, and the Lakers might have ironed out some more of their issues by then. The Colonials have one other CHA series before that, playing Penn State this weekend at home. The Nittany Lions haven't won in the conference yet, but they are stingy defensively, so that could get interesting. Mercyhurst hosts Lindenwood this weekend, then has Cornell at home and Colgate on the road before the Mercyhurst series.
Mercyhurst is getting good scoring from a pair of freshmen, Rachael Smith and Sarah Hine. Seniors Emily Janiga and Jena Dingeldein should pick up their scoring pace at some point, which will help. Lakers coach Mike Sisti seems to be favoring Sarah McDonnell in net. She's a freshman as well, but her numbers are showing improvement.
Robert Morris has been boosted by the return to health of Brittany Howard, who is scoring at a 1.33 points per game clip. Freshman Sarah Quaranta also seems to be developing nicely, getting a nearly a point a game so far. Goaltender Jessica Dodds seems to be over her sophomore slump, and is posting a goals-against of 1.98 and save percentage of .935.
Syracuse is getting good scoring from Stephanie Grossi and Melissa Piacentini and Nicole Ferrara. The latter two are seniors and should provide good leadership. Jenn Gilligan in net is down in save percentage at .906; if she can get that up a little, it will help the Orange's cause.
I guess at this point I'd give Robert Morris a slight edge, but the teams seem to be very evenly matched, and even Lindenwood, RIT, and Penn State could get hot at the right time.
Speaking of getting hot, Boston College exploded against Boston University Saturday, though Tuesday was a different story. I watched some of the highlights of Saturday's game, and the Eagles had some great special teams efforts. The goal that Alex Carpenter and Haley Skarupa combined for at the end of the second while short-handed was beautiful, with Skarupa backhanding a pass to Carpenter and Carpenter then sending a quick pass back to Skarupa, who redirected it in at 19:59. Carpenter then got another short-handed goal at 48 seconds of the third that buried BU.
The Terriers have demonstrated an ability to get hot in the second half, but what did you take away from that game and how they rebounded last night?
Arlan: The 8-1 game? Virtually nothing new. Northeastern destroyed BU by a very similar score, 7-1, two weeks earlier, and the Terriers still had Sarah Lefort versus the Huskies. Not that Lefort seems to have found her scoring groove yet, but at least she is another veteran presence who has been through the Hockey East rivalry games for three previous years.
The Terriers showed more heart in the Tuesday night game at BC. Falling behind 70 seconds into the game after getting blown out three days earlier had to be demoralizing. For BU to come from two goals down in the second period and then rally again after yielding another early goal in the third was more impressive than anything we've seen to date out of the Terriers, especially against a team that is flat out better than them. It helped their cause that a five-on-three power play was the catalyst for their rebound.
The 10 most important questions for BU to answer will be goaltending, defense, goaltending, defense, and repeat until you get to 10. It still has a top-10 offense. After getting pulled during the game at Northeastern, Victoria Hanson didn't return to the net until the game at Chestnut Hill. Whether that means she was injured or just recharging, it was a boost to get her back in the crease and playing well against the Eagles.
I do expect that BU will eventually put the pieces together better than it has on a consistent basis to date; Brian Durocher always has in the past. February's schedule for the Terriers consists mostly of the other Boston area teams, so by then, maybe we'll see a more competitive Boston University from game to game.
I don't think anyone is going to touch Boston College in the 2015 part of the schedule. The Eagles just have too many ways that they can win a game. Too much offense up front, too much skill on the blue line, and I'd expect that with every game she adds to her resume, Katie Burt is moving from "young goaltender" to "veteran presence in the net." In OT against BU, it wound up being Plan A, Carpenter from Skarupa. The ease with which the Eagles dispatched Connecticut tells me there is still a lot of separation between the Eagles and other solid Hockey East teams, such as Connecticut and Maine. Now that they had a bit of a scare against BU, they should be ultra focused going forward.
Hockey East is so stratified, while the ECAC is this long, closely-bunched pack with Brown trailing behind. Are any ECAC trends emerging in your eyes, or is that circuit going to start to challenge the CHA for the title of least predictable conference?
 
Candace: I think the ECAC is in between Hockey East and CHA. I don't see the ECAC being quite as chaotic as the CHA, where it seems like almost any team could win the division, and I think there are more teams challenging at the top than in Hockey East. I'd put the ECAC similar to the WCHA in that regard. Despite how closely bunched the ECAC standings are, as more league play happens, I expect there to be more stratification. Harvard is currently in first, where a lot of people might have expected the Crimson to be. They have a one-point lead on three teams, two of which, Princeton and St. Lawrence, have a game in hand. However, Harvard already has a win over the Saints. Quinnipiac and Rensselaer are two points back with a game in hand, and Clarkson is three points back with a game in hand.
Clarkson is a team that I expect to chase Harvard for first at the end of the year. Quinnipiac should also be right there. Those three make up the first tier in my mind. St. Lawrence has been too inconsistent, and I'm not completely sold on Dartmouth or Princeton yet. Dartmouth is I suspect better than initially thought, but still might be a little too vulnerable, and Princeton, while it is 5-1 overall and 3-1 in the ECAC, hasn't played any of the top teams yet. I think we'll see Princeton, Dartmouth, St. Lawrence, and possibly Rensselaer battling for the last home ice spot, and then those teams plus perhaps Yale and Cornell battling for the last playoff spot.
I think the chaos in the ECAC is in the second tier, not the first tier. All of those teams have strengths and weaknesses. I think it's interesting that for the second week in a row, a team that racked up points on Clarkson, arguably the better team, lost to St. Lawrence. Perhaps that suggests the Saints are improving after a sluggish start. In retrospect, their tie with Northeastern looks better now, and after losing five of their first six, they have now won six of their last seven, with the lone loss a one-goal loss to Harvard. They've beaten Syracuse, Dartmouth, Vermont twice, and the Rensselaer/Union travel pair. St. Lawrence has a bye week coming up, then resumes with a critical weekend hosting Princeton and Quinnipiac. If the Saints can get at least one win, it will really help them down the road. Sophomore Kennedy Marchment has emerged as a legitimate scoring threat, as has her classmate, Hannah Miller. Freshman Sonjia Shelly, after a slow start, has improved in net and is providing solid goaltending. She seems to have emerged as the starter. If she can settle in more, it will definitely help the Saints. Their defense is anchored by senior Amanda Boulier, one of the best at the position in the ECAC.
Let's look out west now. There was only one series in the WCHA, but it was a big one for the winning team, as Bemidji State, which for some reason couldn't beat Ohio State last year in four tries, despite recording wins over Minnesota, Wisconsin, and North Dakota, swept the Buckeyes. The Beavers are now in second in the WCHA, though first-place Wisconsin, as well as every other team in the conference, has two games in hand. Still, the Beavers have a one-point lead over Minnesota and six points on fourth-place North Dakota, as well as 16 points on fifth-place Minnesota-Duluth. Bemidji seems to have set itself up well for at least securing home ice in the WCHA playoffs.
This weekend, the Beavers face off against Minnesota again. Two of Minnesota's top players, Hannah Brandt and Dani Cameranesi, had been battling nagging injuries, so the bye week should have helped. The Beavers beat the Gophers twice last year, including in the semis of the WCHA tournament. The games are in Minneapolis; do you see the Beavers getting another win, and what is your sense of the WCHA right now?
Arlan: UMD does have four games in hand against Bemidji State, so its deficit to the Beavers isn't quite as hopeless as 16 points makes it appear. After this weekend, both will be done with the first pass through the assumed heavyweights of the league, Wisconsin and Minnesota. It's conceivable that the Bulldogs could close to within a couple games of BSU by the midpoint of the schedule.
As for Bemidji's lack of success versus the Buckeyes, there were some big reasons for that, or, more accurately, tall reasons. Sisters Kari and Sara Schmitt stood just under six feet and logged a ton of minutes on the Ohio State blue line. They helped OSU shut down the Beavers' offense rather effectively; it only scored twice in all four losses combined. The Schmitts were also very important to the Buckeyes' offense, and forwards Taylor Kuehl, Danielle Gagne, and Kayla Sullivan are also gone. OSU graduated five of its top seven scorers, returning only Claudia Kepler, who was third, and Julia McKinnon, who finished sixth.
Compounding the defensive problem, goaltending has been all over the map. Kassidy Sauve hasn't played due to injury, and senior Stacy Danczak hasn't approached the level she demonstrated last year. Sophomore Alex LaMere has gotten the majority of the minutes after not playing at all as a frosh. Jincy Dunne was expected to alleviate some of the pain of losing the Schmitts from the defense, but she has yet to debut. Add in a new coach in Columbus, and the team that Bemidji State swept over the weekend wasn't quite the same outfit that frustrated it a year ago. Still, it was an important sweep for the Beavers, who were outshot in both games, and were without two of their key senior forwards for practically the entire series. Kristin Huber was injured early on Friday, and Stephanie Anderson was away at Four Nations.
Can BSU get a win in Minneapolis this weekend? Sure. It has before, it can again. Both wins over Minnesota last year were 1-0 games. The 2-1 or 1-0 type games are what the Beavers want against UM, because they didn't score much in the series last year either; the most they scored in any of the five games was two goals. Hang around, frustrate the higher-scoring team, force a mistake, get a bounce, capitalize. I think the Minnesota offense is farther along than it was last year when Bemidji shut it down. Despite a strong defensive game by North Dakota, the Gophers in losing still scored three goals without Sarah Potomak. If any WCHA team other than Wisconsin can shut the Gophers down, it will be BSU, but it will be a tough job. I think the Beavers will need to get a break or two, but if they come up short, it won't be for lack of effort.
On the other end of the ice, I think Minnesota has some defensive issues to work through, but I don't know if the Beavers have enough firepower to exploit those as North Dakota did. We'll see. Teams can go in either direction out of a break. They can be re-energized and come out flying, or they can look like they are playing on a slushy pond.
Another key series in the WCHA has Wisconsin heading to Duluth. For years, this series was a barometer on who would be the favorite in March. Now it's been three years since the Bulldogs won a game. It used to be that records mattered little when these teams met, because either could sweep out of nowhere. Now, it is just as realistic to ask if UMD can score, let alone win. What's your expectation; do the Badgers allow their first goal since October 3?
 
Candace: There are two ways too look at it. One is that Duluth scored in both games against Minnesota in Minneapolis three weeks ago, and the games are in Duluth so of course they will at least score a goal in each game, if not more. Combine that with three weeks to practice systems under a new coach and get really dialed in, and yes, the Bulldogs will score, especially if Lara Stalder used the break to get really dialed in and Michela Cava has ramped up. They could possibly even hand the Badgers their first defeat.
The other way to look at is that the Bulldogs could only get one goal in two games against Bemidji State, and Wisconsin's defense is an order of magnitude better than the Beavers' is, so the shutout streak will continue, and Wisconsin won't give up a goal until December, when it faces Minnesota and North Dakota on back-to-back weekends. Before that, they will likely blank Lindenwood and Dartmouth.
Regardless, even if the Bulldogs do get a goal or two, I don't see them getting their first win against Wisconsin in three years. Wisconsin is just too strong, with Annie Pankowski averaging two points a game and Sydney McKibbon, Courtney Burke, Jenny Ryan, Sarah Nurse, Emily Clark, and Maddie Rolfes all over a point a game, and Sam Cogan and Melissa Channel just under that mark. Wisconsin's offense looks fearsome, though I wonder how it will do against Minnesota and North Dakota.
For the second consecutive week, the voters were split between Wisconsin and Boston College, with Wisconsin garnering eight first-place votes and Boston College seven. I'll confess I've been one of the seven voting for BC in the poll since Minnesota lost. I think the Eagles have been very business-like, and since they were already ahead of Wisconsin before Minnesota lost, and BC is also undefeated and untied, I didn't feel that I could just leap-frog the Badgers over the Eagles.
I'll also say that I had dropped Clarkson below fourth in my votes this week, just based on the performance of the Golden Knights the last two weekends, and had moved Bemidji State and North Dakota up. The number 10 spot is perhaps the hardest to vote for, as too many teams have been inconsistent.
How have you viewed your poll of late?
 
Arlan: Before the poll discussion, I wouldn't say that Wisconsin's defense is an order of magnitude better than Bemidji State's defense. Some team could conceivably have a better defense; nobody has a defense that far ahead of the Beavers. What helps a team like Wisconsin defensively is that it doesn't have to defend all that much. The Badgers have the puck more often than not. Bemidji's numbers are a reflection of how well it defends it own net. Wisconsin's numbers benefit a lot from the fact that it won't give up many goals while its forwards cycle the puck 200 feet away. It doesn't get as much practice matching up in its own zone as Bemidji does.
As for the poll, I also dropped Clarkson. I'd have forgiven the loss to RPI on its own, but the previous weekend was messy as well. A tie at Harvard was a decent result, but a scoreless tie against a team that was playing its second game of the season and didn't have its franchise goaltender wasn't all that impressive. That was followed by blowing a three-goal lead at Dartmouth, which isn't what we expect from a top-four team.
I moved Northeastern up to fourth, based in part on the fact that most of its problems occurred before it figured out its goaltending situation. Now that the Huskies have, I see them as being a different team. They survived their trip to Maine, which was a trap game without Kendall Coyne.
I'm just guessing at the order between teams like Bemidji and North Dakota. UND's sweep of RPI is looking better as the Engineers continue to post respectable results, but the tie at St. Cloud State a week after being unable to close out Bemidji was shaky. I might keep going back and forth on those two.
BC and Wisconsin is a close call, and it is all what one chooses to weigh. I'm not sure what you mean by the Eagles already being ahead of the Badgers when the Gophers lost; do you mean you had BC ahead or that other voters did? I don't really pay much attention to what other voters do. With two perfect records, neither was ahead by any objective measurement.
Of course, polls are all subjective. I was voting Minnesota, BC, and Wisconsin in that order, but as the Wisconsin shutout string grew, it became clear to me that the Badgers were playing better than anyone else. Their sweep of Bemidji State was a better series than any team in the country has had all season. IMO, BC's most impressive result was the sweep of Connecticut. Connecticut is a nice, gritty team, but Bemidji is a similar team with better players. So I saw that as advantage Wisconsin, and paired with the shutout string, I swapped Wisconsin and Minnesota after the Gophers lost. That could change coming off a bye week. Being No. 1 most of last season didn't work that well for Boston College, so maybe it will help the Eagles to remain focused coming out of Wisconsin's draft.
Harvard is a top-six team that has yet to play like it, so I'll let the Crimson work their way up. The whole ECAC is a mystery to me when it comes to voting. Quinnipiac is headed in the wrong direction. I don't know that Princeton is a top-four team in the league, but the Tigers have a better resume than most of the teams in the country. I'd like to include a CHA team; it is tough when it is a three-team race and one of those teams is winless outside the league.
We've talked quite a bit about teams. Are there any individuals that have really stood out to you this season, other than the same people that we've been talking about for years?
Candace: There are a few newcomers who are standing out to me, and I think it's worth mentioning a couple of others who have improved on previous seasons. Two freshmen in particular who are playing well are Minnesota's Potomak and BC's Makenna Newkirk. The latter had a natural hat trick in the third period of the game against BU, and two of those goals were on impressive shots. The third was more Carpenter making a perfect pass and Newkirk being there to tap it into the open net.
We've talked about Potomak before, but she's averaging 2.38 points per game, which is just insane for a freshman, and is third in the country after Coyne and Carpenter. That Potomak is achieving that production on a team so loaded offensively is also impressive. Minnesota has four players averaging two points a game or more, and Potomak is tops on the team in that category.
Another freshman who is off to a good start is Quinnipiac's Melissa Samsokevich. She's got 13 points in nine games, good for 1.44 points a game, and gives the Bobcats another weapon in addition to Taylar Cianfarano.
Rounding out the newcomers would be Shannon Morris-Reade of Lindenwood, scoring at 1.10 points per game. The Lions now have some legitimate offensive threats with Morris-Reade and Shara Jasper, who is 11th in the country in scoring with 1.60 points a game.
I think it's worth talking about Potomak's teammate, Kelly Pannek. She averaged a point a game as a freshman, and has nearly doubled that through her first 10 games. She had three points in each game against Minnesota-Duluth, and followed that with a two-point effort against North Dakota in the game Minnesota won.
Newkirk's teammate Megan Keller is having a stellar sophomore season. As a defenseman, she's part of a penalty kill that's been nearly perfect, and her point production is nearly double what it was her freshman year, up to 1.27 points a game.
Some players we might not have talked about before who are having good seasons include New Hampshire's Jonna Curtis, Syracuse's Grossi, and North Dakota's Amy Menke. Curtis is a senior, and her point production is finally back to what it was her freshman year. Of course, that year, she only played five games, and she only played 10 games as a sophomore when she averaged .30 points a game. At 1.27 points a game right now, she's double what her junior year average was. Even if New Hampshire isn't the elite team it once was, Curtis might help the Wildcats get a few more wins like the one they got against Connecticut Saturday.
Menke leads North Dakota in scoring, no small feat on a team with seniors Meghan Dufault and Becca Kohler, and seems to have really stepped up as a leader. She averaged just .36 points a game as a freshman, and .76 points as a sophomore. She's now at almost double that, at 1.40 points a game, and she scored two goals in the team's upset of Minnesota a couple of weeks ago.
Grossi is a sophomore, and she leads Syracuse in scoring, just over teammate Melissa Piacentini, and is tied for sixth in the country in assists. She elevates the scoring chances for her linemates.
Defensively, Robyn Chemago of Dartmouth has been playing well in net, with a 1.44 goals-against and a .940 save percentage; she'll have to keep that up if the Big Green want to emerge as a threat in the ECAC. Lastly, I'll mention Mercyhurst frosh goaltender McDonnell, who has shown steady improvement and is now at a .902 save percentage and a 1.90 goals-against. She seems to have emerged as the Lakers' starter, and will need to keep improving if Mercyhurst wants to return to the NCAA tournament.
Who stands out to you?
Arlan: Curtis at UNH is a redshirt junior. She's a smaller player, and has been hurt a lot during her years in Durham. Injuries limited her to five games her first season and 10 games the next year. Her sophomore season last year was the first time she was around for the whole campaign, and she led the Wildcats in scoring.
We focus a lot on forwards, and when we do notice defensemen, it's often because, like Keller, they're contributing offensively. That can take a while on the blue line. For example, Megan Wolfe at Minnesota bounced between defense and forward her first couple of seasons, and you could see her confidence grow down the stretch last season as she grew more comfortable playing on the back end. She had a nice Frozen Four and carried that level of play into this season.
There are other defensemen that I could see making an impact down the road. Josiane Pozzebon at Clarkson looks to have good offensive instincts on when to jump into the play. Next year when Erin Ambrose and Fast have graduated, I think she'll join with Savannah Harmon to supply the offensive punch on the back end.
Robert Morris has a promising freshmen class overall, and out of that group I've really been impressed by Kirsten Welsh. Maggie Lague may bring a bit more to the blue line offensively right now, but Welsh seems to do a lot of things well, and I expect that Paul Colontino will be relying on her a lot in the years to come.
Colgate is another team with a lot of young talent, but every time I watch the Raiders, my eye is drawn to sophomore defenseman Lauren Wildfang. Her rookie season got a late start due to injury, and she's already surpassed her freshman point total. She makes good decisions with the puck.
When we talk about the St. Lawrence blue line, it is usually Boulier, and rightly so, but I think that Kirsten Padalis will take up a lot of the slack next year when she graduates. She has more size, but still moves well and handles the puck. This weekend when I was watching the Saints, I kept thinking, "Who is that number 21?" Sophomore Amanda McClure made three nice plays with the puck in about 10 seconds, just getting it confidently out of harm's way. I could see her name coming up again in the future.
Finally, senior defenseman Jordan Krause seems to be playing with a lot of confidence for Northeastern after transferring from UMD a couple of seasons back. I've seen her make some key plays to turn the tide in games.
Of course, there are the new goalies. Some of the them are going to be facing a lot of rubber. Samantha Ridgewell at Merrimack is playing for a new squad, so that's expected, and she's already helped her team to a couple of wins. Melissa Black at Union has more saves than anyone in the country, and I guess that's just what goalies at Union do. What is more surprising is her save percentage ranks in the top 10. We'll have to see how she holds up over the season if the barrage continues.
Maybe as key as any freshman in the country is Brittany Bugalski at Northeastern. If she can build on what she's already done, the Huskies look to be in good shape to finally experience the NCAA tournament.
Between the two of us, I think we mentioned about half the players on a roster, so that leaves a lot smaller set of players that we never talk about.