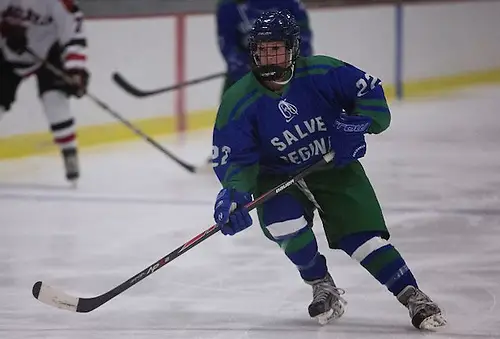 Even after Salve Regina graduated three of its top scorers from the 2014-15 season, the Seahawks had confidence going into 2015-16 and yet, were cautiously optimistic that the returning players would step up.
Count senior forward Danielle Phalon as one of those that has filled the departed skates admirably.
Through five games, Phalon has potted seven goals and added six assists for 13 points, good for a fifth-place tie nationally.
"The team is meshing really well and we are developing great chemistry as the season is progressing," Phalon said. "On a personal level, I have felt very comfortable on the ice and am trying to enjoy and savor every last moment I have during my final season. I have had an amazing three years here and cannot wait to see what this season has in store for our team. I am so lucky to be able to go out every day and play the game I love, so I try to have as much fun while I am playing that I can.
"This year's team is really special, and I am so happy to be able to have the opportunity to close out my last year of college hockey with such a great group of girls."
Last weekend, Phalon, also a captain with the Seahawks, was named NEHC Co-Player of the Week after scoring two goals and adding an assist against Manhattanville Friday night and then contributing a pair of helpers Saturday against New England College — both wins for Salve Regina.
Back on Nov. 7, in just the second game of the season, Phalon popped four goals against Nichols. She has registered at least two points in every game this season.
"Being named one of the players of the week is a great honor and it is an unbelievable feeling knowing that all the hard work that you are putting in day in and day out is paying off," Phalon said. "I owe it all to the teammates and coaching staff, as I would not have been able to do it without any of them skating beside me and critiquing me after each play. During the Nichols game, I personally felt great and the team came out flying on all cylinders. I had some great feeds from my linemates to set me up for numerous scoring opportunities and we were able to capitalize on them. I was just in the right place at the right time and was able to bury the puck when the opportunity came."
Off to a 4-1-0 start, Phalon said the mood and vibe around the team is very positive, adding, "I believe that this team is going to go on to do great things this year, and I am really excited to see where it goes."
"We have so much fun together and all share such a special bond," explained Phalon. "The team is very laid back and relaxed, but we all know when it's time for business and we need to put our game faces on. We really all play for each other and are all on the same page. It's so easy to be around all the girls and it makes playing for this team that much better. This year's team is definitely full of some great talent, and I believe that we are only going to get better from here on out. "
And to think — Salve Regina was not one of the schools Phalon was looking at four years ago.
"I did not know much about the school and was lucky enough to come across it when the coach contacted me," Phalon said. "I set up a visit and as soon as I stepped on campus, I knew Salve was going to be my home for the next four years. I was able to meet with the team and definitely felt very welcomed by the then-current members of the team. Michaela Chiuccariello, who graduated last year from Salve, lives in the town over from me, so we played against and with each other over the years. She was a huge help when it came to deciding on Salve and gave me great insight on any questions I had, and it was also nice having a familiar face around when I visited the campus."
The Salve Regina campus in Newport, R.I., is roughly 80 miles south of her family's home in Stoneham, Mass.. That distance also played a role in Phalon coming to Salve Regina.
"With family meaning so much to me, I knew I definitely wanted to stay close to home and also attend a school on the smaller side," said Phalon. "Salve met all my expectations and you cannot beat the beautiful campus. The breathtaking views of the location of the campus were really a selling point for me on top of everything else. Newport is truly an amazing city. I am so happy when I made the decision to come to Salve; I wouldn't change a thing. I have made friends and memories that will last a lifetime and I am sad knowing it is all coming to an end in a few months."
Still, even when the hockey door closes, another one opening won't be far behind for Phalon, a financial management major with a minor in business administration.
"Almost my entire family is in the field of business and I always knew that I wanted to follow in those same footsteps," Phalon said. "I chose finance because I love numbers and am very intrigued with how the financial system works. With so many routes that you can take within the finance industry, I loved the idea of having so many different opportunities to choose from. I have a few internships lined up that I hope will help to guide to the path I would like to take in the future."
On the ice, Phalon said she wants to make this season her best (and she's well on pace to best her 28 points of two seasons ago) and most memorable.
"Every time I step on the ice, I try to have fun and leave everything that I have out there," said Phalon. "I do not pay all too much attention to my points and just go out and play my game and what happens, happens. I try to be able to say after every game that I gave my all and that I never quit. I would absolutely trade all my points for a team win any day. I've been in plenty of games where the pain of the loss trumps the feeling of getting a point. Of course, getting your name on the score sheet is a great feeling, but there is no better feeling than getting that team win and knowing you're a part of something much greater than yourself.
"That's where I get my passion playing this game, and that's the reason I keep pushing to be the best I can be every day."
Having dealt with injuries during the past three seasons, being healthy and 100 percent has helped Phalon out to her quick start that she hopes coincides with a long run in the NEHC playoffs.
"I can't believe this is already my senior year and I am ready to step up to the plate and play every shift like it is my last," said Phalon. "I don't want to look back knowing I could have done something more, so I am just focused on playing the game that I love and cherishing every last minute of it."
NOTEBOOK
Just four teams maintained their spots in the Division III Women's USCHO.com Poll released Monday — No. 1 Plattsburgh (with all 15 first-place votes), No. 5 Middlebury, No. 7 Norwich, and No. 8 Gustavus Adolphus. Adrian fell from No. 2 to No. 4 and Elmira (No. 2) and St. Thomas (No. 3) moved up one. Lake Forest jumped three places from No. 9 to No. 6. Wisconsin-Stevens Point entered the rankings at No. 10 this week. … After compiling 14 points in her first four games, Canton freshman Tess Adams has just a goal and an assist in her last three games. … Buffalo State sophomore Erin Gehen leads the country with three short-handed goals. … Adams, Plattsburgh's Kayla Meneghin, Salve defenseman Amanda Cronin. and Concordia (Wis.) Brittany Sticha all have four power-play goals this season. … Endicott freshman goalie Vendela Jonsson is 4-0-0 with four shutouts.