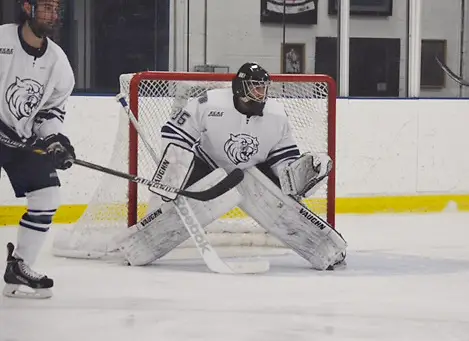 Happy New Year!
The semester break has come to an end and that means more great holiday tournament action to open 2016 in the East.
The picks entering the holidays saw one of my worst weeks of the season at 2-3-2 (.429). That brings the season record down to 21-13-6 (.600) so no time like the present to move that success rate up. There are some great tournaments to pick from and hopefully picking them right to start the all important second half.
Here are my picks for the East this week:
Friday, January 1, 2016
Skidmore @ Hamilton
The nonconference battle between teams from the NEHC and NESCAC should provide a lot of excitement for fans as both teams showed some flashes of brilliance in the first half. This one is likely a tie hockey game, even with overtime, but since I have to pick a winner, the home team gets the nod – Hamilton 3, Skidmore 2.
Nazareth @ Colby
Since this a first-round game at the Plattsburgh Tournament, formerly known as the Cardinal Classic, I fully expect the drama to come from a shootout after three periods of hockey and an overtime session can't decide an outright winner. – Nazareth 4, Colby 3.
Fitchburg State @ Plattsburgh
A rare meeting between two coaches each owning 500-plus wins at the D-III level is on tap when Dean Fuller brings his Falcons to meet Bob Emery's Cardinals. Don't expect the hosts and No. 3-ranked team to be hospitable – Plattsburgh 5, Fitchburg State 1.
Saturday, January 2, 2016
Canton @ Middlebury
The Panthers have remained unbeaten in conference play, but suffered their only two losses in the Primelink Tournament back in November. A nonconference win to open the second half for Neil Sinclair's team will be a big confidence boost in this first-round game of the Middlebury Classic – Middlebury 4, Canton 1.
Neumann @New England College
Playing in the Middlebury Classic gives both teams the opportunity to open up their games on the big sheet, and that means a lot of offense from some very talented players on both sides. Mike Davis for the Knights and Cheyne Matheson for the Pilgrims will lead the way with the Knights having the edge – Neumann 5, NEC 3.
Brockport @ Massachusetts-Boston
The Codfish Bowl has a long history as a holiday tournament, but as the host school, the Beacons have struggled to win it. This first-round game brings a big challenge from the SUNYAC, so coach Peter Belisle's team is going to have to earn a shot at the trophy – UMB 4, Brockport 3.
Johnson and Wales @ Westfield State
This is the classic battle of great offense for the Owls vs. great defense for the Wildcats. Jackson Leef and Dalton Jay are good, but the defensive corps and Joey Ballmer trump the offense and get the Wildcats to the final- Johnson and Wales 3, Westfield State 1.
Everybody should be refreshed and recharged for the second half and a chance to win hardware to open the semester is more incentive for teams to come out flying.
Catch some of the action at a rink near you – drop the puck!
WEST PICKS – Brian Lester
A new year is on the horizon and so is a light schedule for the first weekend of January. The slate includes Adrian playing in the SUNY Oswego/PathFinder Bank Hockey Classic Saturday and Sunday.
So here is a look at my predictions for the weekend ahead.
Lawrence (3-7) at Augsburg (6-4): Lawrence has lost its last two and is 1-3 on the road this year. Renato Engler leads the Vikings with four goals and six assists. Austin Frank and Josh Koepplinger have been key contributors as well, tallying three goals and two assists apiece. Mattias Soderqvist has started eight games in goal for Lawrence and owns a 3-5 record. He has allowed 33 goals and has racked up 97 saves.
The Auggies enter 2016 riding a two-game win streak. Eight players have scored two or more goals. Nate Flynn leads the way with eight goals and seven assists. Jordyn Kaufer is 5-3 on the year, allowing 18 goals and making 191 saves.
With Augsburg at home and momentum on its side, the Auggies should prevail. Augsubrg, 4-2.
Milwaukee School of Engineering at St. Mary's (6-4-2): The Cardinals are looking to get back on track after dropping two to Concordia before the break. St. Mary's has scored 57 goals on the season. The high-powered attack has been fueled by Jay Heinle, who has struck for 10 goals. Bob Kinne has tallied eight goals to go along with nine assists. Phil Heinle is 5-3-2 as the starting goaltender this season.
The Engineers are one of the hottest teams, winning their last four, and they have been impressive on the road, winning four of five. Conner Encisco has paved the way with five goals and three assists. Gage Christianson has been a solid play-maker, dishing out 11 assists. Nick Kohn is 6-3 in goal this year, anchoring a defense that has allowed just 19 goals all season.
This matchup should be tight but the edge goes to the Engineers. MSOE, 4-3.
Williams (5-2-1) vs. Adrian (8-1-1): The Ephs have been a solid defensive team, giving up more than a goal only once this season. They have allowed a total of nine behind the play of goaltending duo Noah Klag (2-1-1) and Michael Pinios. (3-1). C.J. Shugart leads the offense with four goals. The Ephs have scored 17 in all.
The Bulldogs have won five in a row and are unbeaten in their last 10. Adrian has been tough to stop, scoring 51 goals. Connor Armour and Jeremy Olinyk have been effective making plays, racking up 14 and 11 assists, respectively. Olinyk is also tied for second on the team in goals with six. Trevor Boyd leads the Bulldogs in goals scored, punching in seven on the year. Kevin Entma (6-0) and Tyler Parks (2-1-1) have both seen time in goal.
Adrian's offense will be the difference in this one. Adrian, 5-2.