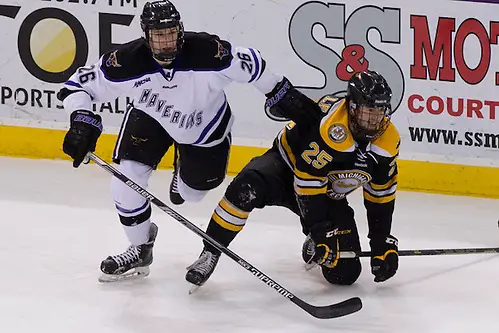 The holiday break is over about as quickly as it started and while most of us would agree that it was too short, WCHA teams haven't wasted any time ramping back up.
On Tuesday and Wednesday, three WCHA teams were back in action (Michigan Tech and Northern Michigan at the Great Lakes Invitational and Lake Superior State at Vermont's Catamount Cup).
And with just about every league team hitting the ice again this weekend (Alaska-Anchorage and Minnesota State are the lone teams continuing their break) it's worth talking about what we think is going to happen in the season's second half.
As we have learned in the WCHA since realignment, nothing is a given and the standings will be an absolute war to the end of the season. But even so, we thought we could look into the crystal ball to see what might be in store for the league in the next three months.
Key second-half series
Jack: OK, so there are way more than three teams who still have a chance to win the MacNaughton Cup. But I think it's clear that the three teams currently at the top of the WCHA standings — Minnesota State, Bowling Green and Michigan Tech — are the in best position to win the conference title. And all three teams play one another in the second half of the season.
Perhaps the most-awaited series will be the one on Jan. 15-16 in Houghton, Mich., where Minnesota State will play Michigan Tech in their only meeting of the season. The Mavericks and Huskies met five times last season (including in the WCHA Final Five title game), with Minnesota State going 4-0-1 in the head-to-head matchups.
Later in the month, Bowling Green will take on both Tech and Minnesota State back-to-back. The Falcons play host to the Huskies Jan. 29-30 and then travel to Mankato to play the Mavericks Feb. 5-6.
Shane: Can't argue with Jack on this. The series between those three teams not only will have a big say in who wins the MacNaughton Cup but should also be very entertaining series, whether you're watching in the arenas or online. Already this season, the Mavericks and Falcons played to a pair of ties in Bowling Green, while the Huskies and Falcons split a series in Houghton.
A couple of other key matchups to pay attention to over the second half of the season include:
• Alaska-Anchorage at Lake Superior State on Jan. 16-17, a matchup of two of the surprise teams in the league, both of which are trying to contend for a home-ice spot.
• Northern Michigan at Ferris State on Feb. 12-13, which also could have major implications for home ice. The two teams split a series in Marquette before the break.
• Bemidji State at Alaska on Jan. 2-3 — that's right, this weekend! — a series between two teams that appear to be better than their records show. They rank eighth and ninth, respectively, in the standings, separated by one point, and the result of the games might determine which team takes a big leap forward in the second half.
How will they finish?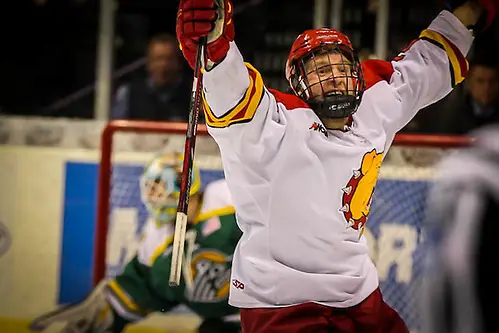 Jack: Again, those top three teams are in the best position to win the MacNaughton Cup. But, because this is the WCHA, the middle is a jumble. Ferris State and Northern Michigan have both been solidly consistent, if not spectacular and are fighting for the final home-ice playoff spot. Ferris is two points ahead of Northern Michigan, but the Cats have two games in hand on them. And don't discount Alaska-Anchorage, which has four games in hand on Ferris and is in a tie for sixth place.
On the other end of the spectrum, all 10 teams are tournament-eligible this season, which means there won't be a ninth-place team sneaking into the playoff bracket this season. Alaska, which should have hosted a playoff series last year but was left out due to NCAA sanctions, is in danger of missing out completely this season, too, with just nine points in 14 games.
Shane: The league, once again, feels like a pull-them-out-of-a-hat jumble. It sure feels like Minnesota State, Bowling Green and Michigan Tech are safe in home-ice position, although the Huskies' six losses and two more games played leaves them a little more vulnerable. Meanwhile, the Mavericks and Falcons have one and two losses in league play, respectively.
From there, things get muddy.
Ferris State seems like the next-best team, and can score (39 goals in league play). But it's also given up a bunch (44).
Northern Michigan, Bemidji State and Alaska have the best talent after that, but Alaska-Anchorage and Lake Superior State have rarely shied away from anybody, both claiming some impressive wins in the first half.
And, adding Alabama-Huntsville to the mix, almost all of those teams have the goaltending to make things even more interesting over the next two-plus months.
Players to watch
Jack: As we pointed out in our first-half wrapup column, there's not really a standout offensive player in the league this year. But I think if the league is going to have a Hobey Baker Award finalist this season, it's likely going to be a goaltender. Right now, I'd throw Bowling Green's Chris Nell's hat in the ring to win the league's goaltending championship and possibly be in consideration for some national hardware as well. He's in the top five nationally in both save percentage (.944) and goals against average (1.42).
Offensively, I'd look for a big second half from Bemidji State sophomore Gerry Fitzgerald. At one point, he led the conference in goal-scoring but missed his team's last four games with an injury. With all three of Bemidji State's Triplet Line healthy, maybe he can get a spark and score some more.
Shane: I'm not sure the WCHA has any All-Americans or Hobey Baker finalists this season, although, it seems, it's the second halves that often push those kinds of players forward.
I think Minnesota State's talent, which was somewhat quiet over the first half, will start to emerge, with Teddy Blueger, C.J. Franklin and Casey Nelson taking charge of that team. Michigan Tech's Alex Petan and Tyler Heinonen ought to continue their strong first-half performances, too.
Perhaps the real star who is emerging is Ferris State freshman Corey Mackin, the only rookie among the league's top 30 scorers. If he can avoid hitting a rookie wall, he's going to have a very special season.
But it is a goaltender's conference, especially with goals being so hard to come by. In this low-scoring era, you'd better have someone solid between the pipes, or you could be in real trouble. Nell's numbers have been outstanding, as have those of Alaska's Jesse Jenks, Lake Superior State's Gordon Defiel, Northern Michigan's Atte Tolvanen and Michigan Tech's Jamie Phillips.
What we want to see
Shane: Goals, goals and more goals! Goal-scoring continues to go down in college hockey, and the WCHA is no exception. If my math is correct, as of this writing, teams are averaging 2.38 goals per game. Only Michigan Tech is averaging more than three goals per game, and the Huskies 3.00 average ranks 18th in the country.
The goalies in this league are good, as we've mentioned, and the league has lost a lot of offensive talent from last year (Matt Leitner, Tanner Kero and Zach Palmquist, to name a few). However, interference and obstruction appear to be way up as well. No one wants to see a ton of penalties called throughout a game, but that stuff, which had been a point of emphasis for so long, needs to be emphasized again.
Jack: It's been a big point of discussion among fans on social media after the league put out its press release on Monday, but I like that the WCHA is switching its uniform policies for the season's second half. Home teams will now wear dark sweaters at home in league contests and road teams will wear white (or light-colored, as a few teams elect to wear orange or gold at home). Obviously, this isn't going to change attendance at WCHA games or anything, but I think it's a nice way to let WCHA fans see both of their team's sets of jerseys throughout the season. I, for one, am excited to see more green at Bemidji State games (although Shane may have a different opinion because Minnesota State wears "all black everything" uniforms as their only color option).
What we don't want to see
Jack: Ties. As I pointed out in the first-half column, the league had 14 total ties early in the season. With the standings being as they are, I'm hoping to see fewer draws — hopefully teams will stop playing safe/defensive hockey in close games and go for the two points instead of being content with the one. As we've learned so many times in the WCHA these past two years, that single point could potentially mean the difference between home ice and a No. 8 seed.
Shane: Hard to argue with Jack on this one, and the NHL's three-on-three play has been making hockey fans drool for more of that action in the future.
Since the WCHA and the NCAA won't be changing the overtime format over the second half, I'm going to switch gears a bit and say: I don't want to see a mostly empty Van Andel Arena during the Final Five in March. While that might be a tough task, trying to at least fill the lower bowl of that building is imperative for the league's championship weekend.
Two years ago, I went to the Final Five there, and almost everything about the event worked: Grand Rapids, Mich., is a great town, perfect for the college hockey crowd. The arena was very nice, and the games were all good. The only problem was that few people showed up.
Hopefully, this year, we'll see some bigger crowds there, along with some great games. And they'll probably be meaningful games, too, because, as of right now, it appears the WCHA will be a one-bid team for the national tournament.