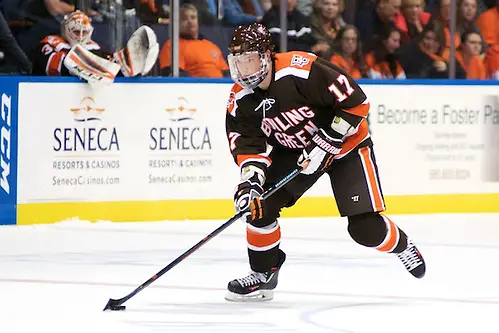 The virtual halfway point is upon us.
And with everybody in the WCHA (save Alabama-Huntsville) taking a break for the holiday season after last week's slate of games, now's the perfect time to look back at the season that has been.
The usual suspects (Minnesota State, Bowling Green and Michigan Tech) are atop the standings, while the middle of the table is, as always, a mishmash. As we know in the WCHA, however, anyone can make a run to the Final Five.
But with the league looking like it's in a single-bid situation, it's worth asking the question: How did we get here?
Here are five notable story lines that we noticed from the first half of the season:
1. No surprises at the top
In the preseason polls, the WCHA coaches and the media who cover the league picked three teams as conference favorites: Minnesota State, Bowling Green and Michigan Tech. Those teams received all of the possible first-place votes and, looking at the point totals, there was a clear line of demarcation between them and the next batch of teams.
Through half the season, those predictions appear to be coming true. Defending champ Minnesota State sits in first place, two points ahead of Bowling Green, a team it tied twice a couple of weeks ago, and three ahead of Michigan Tech.
The Huskies playing two extra games already and having six league losses do stand out among that group but so does their goal total. Tech is the only team in the WCHA averaging more than three goals per game. The Mavericks and the Falcons, meanwhile, go into the break on nine-game unbeaten streaks, tied for second-longest among active streaks behind undefeated Providence.
2. One-bid league?
Commissioner Bill Robertson's goal continues to be to get three or more WCHA teams in the national tournament. A year ago, that was a realistic expectation, and the conference came up just a couple percentage points short of meeting that, as Bowling Green was the first team out when the NCAA field was decided last March.
As of right now, it looks like only the Final Five winner will get to the NCAAs, as only Bowling Green is in the top 16 of the PairWise Rankings. Minnesota State is at No. 17.
A lot can change, of course, in January and February, as is often the case. However, the league doesn't have as impressive of a nonconference record (16-20-8) as it did last year, although teams have a chance to make up for that with 28 more out-of-league games to go. And when it comes to strength of schedule so far, Minnesota State's is ranked highest in the league but 23rd nationally.
3. Good — and young — in goal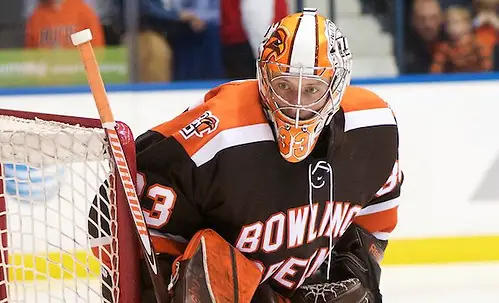 The WCHA once again has an impressive group of goaltenders. Of those who have played at least 33 percent of their team's minutes, 10 goalies have a save percentage of .900 or better and 12 have a GAA below 3.00.
And here's the other thing: It's a young group. Led by sophomore Chris Nell of Bowling Green (.943 save percentage, 1.46 GAA), the top seven goalies in save percentage are first- or second-year players. Same for all but one of the top nine in GAA.
Freshmen Jesse Jenks of Alaska, Atte Tolvanen of Northern Michigan, Darren Smith of Ferris State, Nick Kossoff of Lake Superior State and Jason Pawloski of Minnesota State all have made impressive debuts so far, especially considering none of them necessarily came into the season as the expected starter. And that's not to discount veterans such as Michigan Tech senior Jamie Phillips, who has a league-best 10 wins.
4. No offensive superstars
Who have the been the best offensive players in the WCHA over the first half of the season? Good question.
While the WCHA has been a goaltender's paradise in the last few years — aside from the netminders who are making waves this year, the last few seasons have also seen other outstanding goalies such as CJ Motte and Stephon Williams. But unlike in previous seasons, there doesn't seem to be any surefire offensive stars.
Michigan Tech's Alex Petan and Tyler Heinonen are the league's leading scorers — Petan has 19 points while Heinonen is the WCHA's top goal scorer with 11 (and 19 points). And Ferris State's Gerald Mayhew and Minnesota State's Teddy Blueger are tied for the assists lead with 12 each.
But none of those guys is exactly a household name in the same way that, say, Hobey Baker Award finalist Tanner Kero was last season. (And actually, of the league's top 10 goal scorers, Bemidji State's Gerry Fitzgerald may be the most well-known to casual fans — but more because he is one of three triplets than because of his offensive abilities).
However, as is the case with many of the league's individual teams, the WCHA seems to have a glut of solid players without any clear star. Aside from the other players mentioned previously, Ferris State freshman phenom Corey Mackin, Alabama-Huntsville's Max McHugh, Alaska-Anchorage's Blake Tatchell, Alaska's Tyler Morley and Bowling Green's Matt Pohlkamp are in the top 10 in scoring.
5. Overtime, ties jumble standings
Ever since realignment, the WCHA standings have been perilously close from top to bottom. This year, that's no different. And it's partly due to the fact that the games themselves have been awfully tight.
Twenty-seven league games have been decided by one goal. Six of those went to overtime and an additional 14 were ties. Northern Michigan has played in an NCAA-high eight overtime games and has tied six times — including four in league play. Bowling Green and Ferris State have each played in seven overtime games — tied with Union for second in the country.
The ties make a difference in the league standings. Because the WCHA doesn't use shootouts or three-on-three overtime like other conferences do, conference games are only worth two points and not three. While it would be impossible to speculate what the standings would look like should the league test three-on-three overtime or a shootout, one would have to think there would be more separation in the middle.
Bowling Green coach Chris Bergeron has already advocated using some sort of different way to break ties. Let's see if the glut of them carries over to the second half of the season.