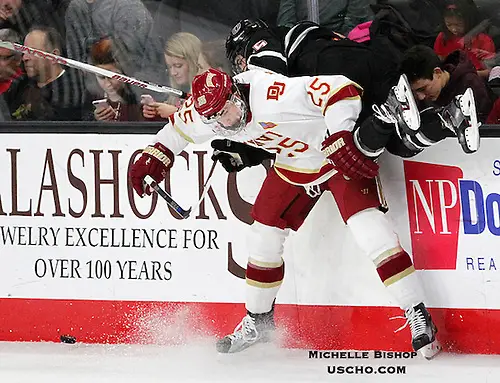 Each week during the season we look at the big events and big games around Division I men's college hockey in Tuesday Morning Quarterback.
Paula: The weekend saw some interesting upsets. Four ranked teams were beaten Saturday night by unranked teams, and even though Denver is ranked, the Pioneers' road sweep of Omaha is big news. Boston College's come-from-behind tie against Providence isn't exactly big news, but it may help define the Hockey East standings.
There were also some interesting sweeps in Atlantic Hockey that help to shape the picture there, including Robert Morris's decisive sweep of Bentley and Mercyhurst's climb in the AHC standings by virtue of the Lakers' sweep of Niagara. In the Big Ten, Michigan dominated Michigan State — and looks to dominate the conference, if the Wolverines continue to roll.
I know there's a lot of hockey left in the regular season and Big Ten conference play is really just beginning, but I can't help but think this may have been a weekend that we'll look back to in March as we head into conference playoffs. I do think for the conference I cover, the Big Ten, that we may already be looking at the final finishing order. What do you see out there?
Jim: I actually see a lot of flux remaining at this point in time. The Big Ten could be the exception because of how small the league is and, even this early, when a team begins to pull away it can have significant impact.
But I feel like in every single league, there will be one or two teams that aren't near the top of the standings right now that will make some sort of leap upward. The difficulty is predicting which teams will make the climb.
With that said, I am talking only about league standings. The PairWise Rankings are a different story entirely. I do believe if a team isn't relevant right now in the PairWise — and by relevant, I would probably say top 20 at this point — that team will, in all likelihood, need to win its conference tournament to qualify for the NCAA tournament. Maybe you could look as low as 25th, but those teams between 21 and 25 in the current PWR have to be near perfect from here on out.
So what teams are we talking about? For one, Bowling Green (13-6-5) has almost no room for error in the WCHA. Robert Morris (13-6-3) and Holy Cross (12-7-1) both have larger-than-uphill climbs if either wants an at-large bid.
Certainly, none of this is set in stone, but it's difficult to imagine a team like, say, New Hampshire (8-8-4) jumping 15 spots in the PairWise to earn that at-large NCAA bid.
I realize I have somehow sidestepped your question. Yes, this weekend had some results that can be pointed to in March as the NCAA field is seeded. Much like some weekends of the past this season, all of which combined at this point may have sealed many teams' NCAA fates.
Paula: I definitely see what you're saying about the PairWise Rankings. As we've seen from seasons past, if a team isn't under consideration in the PWR in January, that team will have to win an autobid for an invitation to the NCAA tournament. I think there's potential for a lot of movement, however, among teams 10 through 20, and teams that are on or near the bubble now may find themselves much further down with just a loss or two to the wrong teams.
As far as movement in the standings, care to go out on a limb and talk about a couple of teams that you think have the potential to play themselves up the standings? While Michigan has the ability to pull away early — and perhaps for good — in the Big Ten, Minnesota and Penn State each have potential for different reasons. Penn State's offense is very good, if not completely consistent. Minnesota seems to be coming together as the season progresses.
In Atlantic Hockey, I know that Robert Morris has a powerful but inconsistent offense. In that league, I never count out Mercyhurst but I am currently intrigued by Rochester Institute of Technology's recent performance. The Tigers are 3-1 since the start of the year, which includes a home-and-home sweep of Mercyhurst and their split with Canisius last week.
In ECAC Hockey, Quinnipiac has opened a big points lead on the rest of the field, but we know that can change quickly with a sweep one way or the other. I think there are up to six teams in that league that have the ability to change their fortunes pretty drastically.
The league that intrigues me the most is the WCHA, and in all honestly because of the way the standings currently remind me of the old CCHA. Twelve points separate No. 1 Minnesota State from the second-to-last teams, Alaska and Alaska-Anchorage. In between, there are a number of competitive teams — most notably Bowling Green and Michigan Tech, but other solid teams as well — that can make a push for the conference championship. Things may be even more interesting after Minnesota State's series at Michigan Tech this weekend, as five points separate those two right now.
Jim: I agree the WCHA might be the most interesting league to watch the movement week in and week out. But I see Hockey East with the possibility for the most volatility.
For one, being a 12-team conference, there are multiple things up for grabs. Besides the league title, there is the first-round bye and second-round home ice for the top four and the ability to host a first-round series for teams 5-8. Additionally, you have UMass-Lowell at the top right now, having played the most games in the conference. Boston College slightly closed the gap last weekend with a three-point series against Providence. Both the Eagles and Notre Dame each do have higher winning percentages than the River Hawks.
But in Hockey East, take a look a little further down the standings. Boston University sits in fourth with 12 points. But 10th place Connecticut is only five points back, something that can be almost made up in a single weekend.
I also believe that a league like the NCHC has plenty up for grabs. Yes, North Dakota and St. Cloud State seem to be pulling away in a two-horse race, but Denver, as you mentioned earlier, made a big statement with a two-game sweep at Omaha. While it would be easy to write off everyone except NoDak and St. Cloud, I'm not sure I am ready to do so and think the Pioneers could be a threat down the stretch.
Paula: We've talked about the interesting things going on in the standings and the PairWise, Jim — and how and why things may play out for the rest of the season — but I've also been thinking about individual players and how we perceive them.
I don't remember North Dakota's Drake Caggiula being quite this good in 2014-15. He has four fewer goals (14) in half as many games as he had all season last year, and when I've watched him play, he's been masterful with the puck. And was New Hampshire's Andrew Poturalski this good last season? He has four more goals in half as many games as he did last year in his freshman season.
Am I taking Caggiula for granted because he plays for a team that is acknowledged as good while overlooking Poturalski because New Hampshire is struggling? And is senior Zac Lynch — with his 17 goals, five of which are short-handed and four on the power play — overlooked because he plays for Robert Morris, a team that is often overlooked?
I am impressed by the season goaltender Kevin Boyle is having with UMass-Lowell. In 41 games at Massachusetts (2011-13), Boyle's save percentage was .896. Fast-forward to this season and Boyle has the seventh-best GAA (1.74) and sixth-best save percentage (.939) nationally. It looks like a case of either landing where he could thrive or thriving where he eventually landed.
I don't hear anyone talking about Bowling Green sophomore Chris Nell and his .947 save percentage. When it comes to rookie forwards, Michigan's Kyle Connor, North Dakota's Brock Boeser and a pair of players from BC — Colin White and Miles Wood — are household names already, while other players like Penn State's Chase Berger and Arizona State's Jordan Masters are under the radar.
I guess what I'm driving at is whether there's more to this than perception. We know that some players receive recognition — or lack recognition — because of where they play. Which lesser-known players would stand out, though, regardless of where they play? And let me say that I know it can be just as difficult for a player to distinguish himself in what's considered to be a more elite program as it is for a player to attract attention while playing for a program (or in a league) that is not quite as esteemed. Who are you noticing that you'd like to see receive more recognition?
Jim: Well, I think you mentioned a lot of the players who are standing out — Caggiula, Poturalski, White, Boyle. But there is one player, most specifically a goaltender, who may — along with his team — be playing himself into a position to not be missed in the postseason.
Quinnipiac goaltender Michael Garteig has created a career at a solid program that has been and continues to be spectacular. Garteig isn't amazing, but neither was UMass-Lowell's Connor Hellebuyck, and he is considered the next big thing in NHL goaltending right now.
Garteig this season has a 1.41 GAA, with 19 wins in 23 starts. His .940 save percentage is fourth in the nation. But he also leads the nation in minutes played and has recorded seven shutouts in 23 attempts.
We all look at Ryan Miller as the gold standard for goaltenders, and right now Garteig is on pace to beat every one of Miller's Hobey Baker Award-winning numbers. That is one player we all need to watch as this season progresses.
Thumbs up
This week, both thumbs go in the direction of football's Minnesota Vikings. Thumbs up to Air Force coach Frank Serratore. A passionate Vikings fan for life, he spent his entire Monday press conference talking about the Vikings' 10-9 loss on Sunday to Seattle. You can tell there is some humor, but this guy actually loves this team and was as pained as many other fans in Minnesota.
Thumbs down
To the Vikings, in general. This NFL team couldn't outscore the Minnesota women's hockey team (remember, they score them one at a time), which scored nine itself in a 9-0 shutout of Ohio State on Sunday. That game was played about two blocks away from the Vikings disaster, though it ended a while after the missed Vikings field goal. If fans needed to be cheered up, perhaps they could have stopped at Ridder Arena on the way home.
Coming up
No. 4 Boston College and No. 10 Boston University play a home-and-home series Friday and Saturday, with Eagles coach Jerry York two wins shy of 1,000 for his career.
There are two NCHC series between ranked teams: No. 1 North Dakota hosting No. 9 Omaha and No. 17 Minnesota-Duluth hosting No. 5 St. Cloud State.
And two ECAC Hockey games Friday match ranked teams: No. 18 St. Lawrence at No. 7 Harvard and No. 8 Cornell at No. 20 Rensselaer.