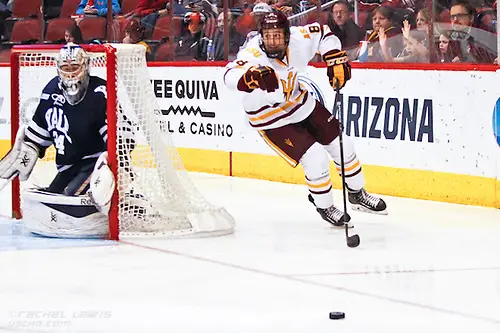 What do you get when you combine warm weather, sunshine and the desert with NCAA Division I men's hockey? The bold experiment of the 2015-16 campaign: the Arizona State Sun Devils.
Its student section, known as "The Inferno," and the school's alumni, continue to support the program, even as it takes a licking in its first varsity season. The evidence this experiment may keep on ticking? Look at the numbers. Certainly, not the 10-game losing streak against NCAA Division I opponents. And certainly not the zero goals the Sun Devils recorded over two games last weekend in the inaugural Desert Hockey Classic at the home of the NHL's Arizona Coyotes, Gila River Arena in Glendale.
Rather, it's the 5,000 fans that showed up to witness a lopsided 4-0 loss on a Friday night to Yale (ASU was ridiculously outshot, 40-12), and the nearly 3,800 that watched the Sun Devils lose handily to a 7-13-1 Connecticut team mid-afternoon Sunday — falling to the former Division III program for the second time in five days.
Those kind of attendance numbers rank favorably among the other 59 NCAA Division I men's hockey programs, in the company of the likes of Denver, New Hampshire, Boston University, St. Cloud State and Maine. To hear administrators, coaches, players and fans tell it, that's the idea — this is no mirage. And having personally enjoyed games in the desert and at more than 40 of the (now) 60 Division I men's venues, I can attest — this is no mirage.
So what gives?
For most, the national perception regarding the state of hockey in Arizona does not match the reality. The national perception? If the Coyotes are an unstable franchise, how could a college hockey program possibly be successful there? It's a logical and practical point of view. Yet the reality is the awful location of the Coyotes arena, in Phoenix's West Valley, has been the biggest contributor to its NHL troubles. And the Coyotes have nobody but themselves to blame. No one put a gun to their head to play here. It was a dumb decision.
Imagine being a Bruins fan and battling traffic to a weeknight home game 17 miles outside of downtown Boston? Say Weston? Or if you're a Wild fan living in Minneapolis or St. Paul — imagine driving to home games in Maple Grove on a weeknight? How about an Avalanche fan catching a week night game in Aurora? Sound like fun? Um, yeah, I don't think so. Well, that's the cold hard reality for Coyotes fans. When the Coyotes played their last three seasons in downtown Phoenix, they averaged a minimum of 13,000 to 14,000 per game — and that was with mostly lousy teams that missed the playoffs.
The Desert Hockey Classic could be a preview of what's to come — not the venue, the scheduling concept. Arizona State, Yale, Connecticut and Michigan Tech played games at Gila River Arena on Friday and Sunday, with the Coyotes taking the ice Saturday night. With the blessing of the NCAA and NHL, this might just be a workable formula — for a dual-use facility in Phoenix's East Valley, where most of the fan base resides. If not this reality, then I'll let a 10-year Sun Devils fan explain another plausible scenario.
"They should make it a doubleheader [on a Saturday], college hockey and NHL," said super fan Erick Vansanford, donning an ASU jersey and hat. Vansanford grew up in Phoenix and attended Central High School. He said he became hooked on hockey when he attended Roadrunners minor league games at the Arizona Veterans Memorial Coliseum, which opened in 1965 and is still standing just north of downtown.
Gila River Arena isn't the Sun Devils' primary home arena. That distinction belongs to Oceanside Ice Arena in Tempe, which, in terms of capacity and design, closely mirrors the Mercyhurst Ice Center — or, put another way, a high-end high school rink in Minnesota. I caught a game at Oceanside Ice Arena, too. It was a sold-out, standing-room-only crowd. Announced attendance was 713.
It was there I met Bryan Grogan, the father of goalie Matt Grogan, a Connecticut product now playing for the Tulsa Oilers in the ECHL. Senior Grogan admits he didn't know the difference between a red line and a blue line when his son signed up for a roller hockey program in a Phoenix suburb through the Gilbert, Ariz., YMCA way back when. But hockey quickly became part of the Grogan family. And ASU has been no stranger, either. Prior to joining NCAA Division I, the Sun Devils qualified for 10 American Collegiate Hockey Association Division I national tournaments and won the national title in 2013-14. The program began at ASU in the late 1980s. Pro hockey was first played in Phoenix in the mid-1970s when a World Hockey Association team played at the Coliseum.
"There's been a lot of hockey in this town," said Grogan, who's lived in the Valley of the Sun since 1980. "A lot of high schools have had club teams, plus, there are a lot of transplants here."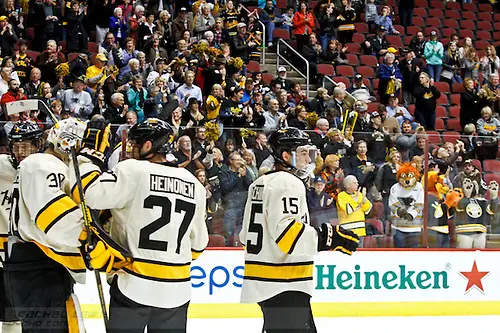 And Jeffrey Solomon is the generation that's followed Grogan. Solomon, 16, was in attendance with several of his junior Sun Devils club teammates at ASU's home game last Tuesday against Connecticut at Oceanside Ice Arena. Solomon's been playing hockey since he was 4 years old. Five players on the Arizona State roster hail from the Grand Canyon State.
"[Hockey's] a lot bigger here than people think it is," Solomon said.
Added ASU student Quinton Brown: "ASU has a lot of students from the Midwest that grew up with hockey."
Brown, a shirtless diehard member of "The Inferno," and his younger colleagues have been learning the ropes of heckling opposing goalies into oblivion under the expert tutelage of former student-turned-remaining-Inferno-maniac Nate McWhorter.
"They brought me in to kind of teach these guys some stuff," McWhorter quipped.
A solid continent of students remained to the very end of the Sun Devils' lopsided loss to the Huskies last Tuesday, heckling Tanner Creel until the final buzzer sounded. With victories, Brown believes the student section and fan base will grow in population.
As Sun Devils players enter their home locker room at Oceanside Ice Arena, they can't help but notice a sign above that reads, "Without passion, you will not win, no matter what else you possess."
More than halfway through their inaugural campaign competing against NCAA Division I competition, the sign epitomizes the current state of the Sun Devils. There's plenty of passion here, but talent and experience are also necessary to win. With 15 freshmen gaining valuable, hands-on experience this season, there appears to be only one way for the program to go: up.
"Even if you're a top freshman, you're not playing much on most [Division I] teams," said Sun Devils freshman defenseman Joey Raats, who turned down scholarship offers from more established Division I programs. "ASU is going to be a top program. We're going to have a winning team, playing in a competitive conference. Our goal is to be one of the top teams in the nation."
Joe Connor is a freelance writer and the author of "A Fan's Guide to the Ultimate NCAA Hockey Experience," which is available at his website, www.mrsportstravel.com