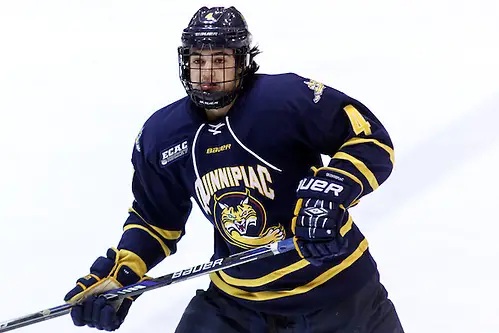 Each week during the season we look at the big events and big games around Division I men's college hockey in Tuesday Morning Quarterback.
Jim: Quinnipiac has been sitting atop the PairWise Rankings and has had the top RPI for a few weeks now. And Monday, the voters in the USCHO.com Division I Men's Poll decided it was time for the trifecta as the Bobcats took over the top spot from North Dakota. The fact of the matter is that Quinnipiac, which was idle last weekend, has been the most consistent team in the nation this season.
That Quinnipiac has reached the top spot for the first time this season is impressive. Voters began the season ranking the Bobcats 18th, but all year Quinnipiac has found ways to win games. In fact, the Bobcats are 5-0 in one-goal games this season (they also have three ties). I always think the ability to win the close games is a great characteristic for a successful team. That seems to be what Quinnipiac is building right now.
Paula: The Bobcats seem to have everything they need to control their own destiny right now. They are sixth in the nation in scoring with 3.78 goals per game and every skater who has seen significant playing time has at least a goal. They're tops in the nation defensively, and as you've noted, Jim, senior Michael Garteig (1.41 GAA, .940 save percentage) is making a great argument for the Hobey Baker Award. Their combined special teams is seventh, their win percentage tops the nation and they are getting good play from every single class combined with great leadership from upperclassmen.
And all of this in one of the toughest leagues in the nation. In the past few seasons, ECAC Hockey has experienced a welcome revival and is producing some really exciting hockey.
We've talked a lot about parity this season. We've talked a lot about perceptions of different leagues, different programs. Consistency, however, is so often elusive at the Division I level, proof of which we're seeing in mid-January. That the Bobcats have been able to maintain their consistency all season is a sign that they are legitimate contenders for the national championship. Their fate may really be in their own hands.
That consistency bug is something that caught my attention last weekend. After playing fairly consistently through the last month of the first half, Bowling Green is now struggling. The Falcons lost in overtime to Lake Superior State on Jan. 9, then followed that up with a 2-1 loss to Miami on Saturday. After sweeping Merrimack Jan. 8-9, Cornell lost a 1-0 game to Rensselaer on Friday and tied Union 3-3 on Saturday after leading that game 3-0. There are so many programs that cannot find ways to maintain consistency, cannot find ways to win those close games.
Then there is the insanity that is Michigan hockey this season. Five unanswered goals in Sunday's third period to beat visiting Ohio State 8-6. A 5-5 tie on Friday. Frankly, if you're giving up 11 goals in a weekend, you shouldn't be winning — but the Wolverines are.
Jim: I will start with Michigan. That offense is impressive, but let's remember one thing: Defense wins championships. I have strong concern over the fact that the Wolverines need to tighten up the back end if they will be successful.
But going back to your discussion of parity, I have some concerns. Look at Hockey East, for example. Last weekend was the first time all season that all 12 teams played league games and all were involved in two-game series — some home-and-home, some not. What was shocking was that not a single series was a split. Four were sweeps and two included a tie to give one team a three-point weekend.
To me, that is simply shocking. At least in Hockey East, I feel like the league is beginning to be a group of haves and have-nots. Boston College, Boston University, Providence, Notre Dame and UMass-Lowell seem poised to battle for the four first-round byes. The other seven teams seem poised to battle to be spoilers, maybe get hot down the stretch and be a playoff upset darling.
The Big Ten and ECAC seem positioned to have similar fates.
So I guess as much as we talk about parity, I wonder how much parity will be left in March.
Paula: I agree that what the Wolverines are doing is unsustainable. Their goaltending is improving, but their overall team defense is awful. Their overconfidence in their ability to overcome large deficits will be their undoing down the road. The goaltending in the Big Ten this season is mediocre at best. Michigan can certainly win the league and return to the NCAA tournament, but the Wolverines will be in for a very rude awakening come late March if they can't defend their end.
I've seen Hockey East as haves and have-nots all season, Jim. Perhaps that's because I'm seeing the league from a distance, or perhaps the league is falling into place along what are some fairly stereotypical lines — or at least along the lines of what people perceive to be the haves and have-nots in the league, in recent years.
What's happening in the NCHC is interesting. I'm not surprised that Omaha and North Dakota split two games last weekend in spite of UNO's stumble against Denver on Jan. 8-9. I think that's another league of the haves and have-nots, with North Dakota and St. Cloud State likely battling in the end for the regular season championship, but Denver appears to have awakened. The Pioneers are 3-0-3 since the first of the year, with a sweep of Omaha and two of those ties against Notre Dame. That league looks to be shaping up to have three tiers, with four middle teams that may make some noise as the season progresses, but two teams that look as though they have little hope of making progress, Miami and Colorado College. Earlier this season, Jim, you expressed your surprise at CC's plight because the Tigers appear to have a decent team. I am stunned that the RedHawks have only seven wins this season and are 2-8-2 in conference play.
Jim: I think the NCHC is so interesting right now. I agree about it becoming a two-horse race with North Dakota and St. Cloud State, but I also see that conference with some teams that will be exciting to watch in March and April. I think Miami could be a spoiler, that Omaha and Denver are both threats to win the national title and Colorado College has a lot of the components to be a scary postseason team.
Let's think about it: When it comes to the NCHC, if the last-place team won the conference tournament, would you really be surprised? I look at every other conference standings and don't think I could make that statement. Even the six-team Big Ten, where the title requires just three wins, I can't imagine Michigan State or Wisconsin making that run. Can you?
Paula: Nope, I cannot see Michigan State or Wisconsin making that run at the Big Ten championship, nor do I see the last-place teams in other conferences making noise, but you are right about Miami and Colorado College in postseason. I am sure that no coach in the NCHC would want to face either team in the NCHC Final Faceoff, where either could win two games in single elimination.
The NCHC does own the best interconference record among all the leagues, even better than Hockey East and ECAC, two leagues that I admit to perceiving as "better" — whatever that means — than any of the other conferences. I think when it comes to the NCHC, it may be the only conference from which a team near the bottom of the standings at the end of the season can not only win the league's autobid but advance through the NCAA tournament quite a ways, too.
Thumbs up
To Miami coach Rico Blasi. Or, really, to the person that took this picture.
.@CoachBlasi is a very happy human after @alouie95 gives Miami the win with 2 seconds left! pic.twitter.com/MuNs6RgCh7

— Blog of Brotherhood (@MiamiHockeyBlog) January 17, 2016
Thumbs down
To the Buckeyes and Wolverines for their brawl at the final buzzer of Sunday's 8-6 Michigan win in Ann Arbor. It began when the Buckeyes' Dakota Joshua shoved the Wolverines' Nicholas Boka from behind in front of the Michigan net as time expired. That brought officials immediately to the spot to attempt to prevent a melee, but Michigan's Dexter Dancs jumped in, followed by Ohio State's Miguel Fidler — and then virtually everybody who was on the ice at the time. Wolverines goaltender Steve Racine — steps from the fray — had the good sense to step away from it all.
In the end, a dozen players received penalties at the 20:00 mark of the third period, totaling 94 of the game's 112 penalty minutes, including game disqualifications for Ohio State's Joshua and Brendon Kearney and Michigan's Dancs and Cutler Martin.
[youtube_sc url=https://www.youtube.com/watch?v=KiYWxo_0zgM]
Coming up
It's a fairly light week for games between teams ranked in the USCHO.com Division I Men's Poll.
It starts Thursday when No. 1 Quinnipiac hosts No. 16 Rensselaer.
No. 3 Providence and No. 8 UMass-Lowell play a home-and-home series Friday and Saturday, while No. 15 Denver hosts No. 19 Minnesota-Duluth for a pair.